Anthony Wayne's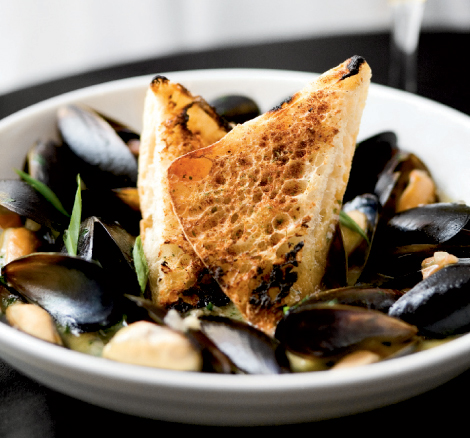 At one time, a membership to The Gateway Club in Waynesville was the only way to gain access to thepalatial halls of this former Masonic Lodge and claim a table at Anthony Wayne's.
Fortunately, the restaurant, named for the Revolutionary War hero known as "Mad Anthony," opened to the masses last fall to share its Southern American cuisine.
Despite the restaurant's former exclusivity, there are no stodgy club classics coming out of the kitchen. The shrimp and grits reflect an updated Lowcountry flair with crisp grit cakes, a tomato relish, and bacon-brandy lobster sauce. The Gateway Gumbo with chicken andouille and turkey tasso is well-loved by diners. When in season, East Coast oysters are served on the half shell with cocktail sauce or flash fried and accompanied by a Creole mustard.
My meal began with a sweet and savory candied pecan and pear salad with bleu cheese crumbles, followed by fresh-baked, airy ciabatta with an herb-pine nut dipping oil. My server wisely recommended a soup for the next course—an enormous, brothy dish of mussels in tomato mariniere. The sautéed garlic, shallots, and fresh tomatoes in herb-flecked white wine and butter sauce was so delicious, I considered lifting the dish to my lips and draining the bowl.
Next, two thick slices of cocoa- and coffee-dusted seared duck breast over wilted greens and root vegetables arrived. I detected beets, sweet and white potatoes, maybe a parsnip, all gently caramelized to create a perfect complement to the succulent fowl.
This string of winning dishes represented the skill of Chef Daniel Morris. The 27-year-old town native doesn't like to disappoint his supporters. "I enjoy cooking in my hometown. It's nice to cook for people who have watched me grow up," says Morris.
He discovered his culinary penchant while attending Appalachian State University. Morris shifted studies to enroll in the Culinary Arts program at Asheville-Buncombe Technical Community College, where he was awarded the prestigious La Chaîne des Rôtisseurs scholarship.
Someday, he says, he'll venture beyond the mountains. For now, Morris should stay just where he is, bringing Anthony Wayne's to the forefront of Waynesville dining.                                                    
Anthony Wayne's
WAYNESVILLE
37 Church St.
(828) 246-0390
www.anthonywaynes.com
L, D; $$