30 Ways to Relax
30 Ways to Relax:
Make the most of winter's laid-back pace with our list of guaranteed ways to pamper yourself—mind, body, and spirit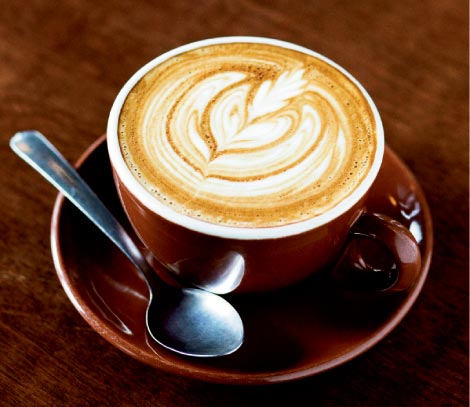 High Five Coffee Bar

In the world of tasty brews, High Five Coffee Bar in Asheville (formerly The Dripolator) specializes in masterful creations in a cup. Admire the free-poured art before you sip on a seasonal pumpkin latte, nibble on a scone, and kick back in the shop-front window seats. If the workday grind didn't leave time for a coffee break, quench your after-hours thirst with a pint of regional beer from the rotating selection on tap. 190 Broadway St., Asheville; (828) 398-0209; www.highfivecoffee.com

---

Sola Salt Cave

Twenty tons of rose-colored Polish salt surround you in the chamber at Sola therapeutic salt cave. Crystals crunch underfoot as you make your way to a reclining, zero-gravity chair and adjust to a dimly lit room made even more tranquil by the sound of dripping water. Soon your skin starts to tingle, and sinus issues subside. By breathing air tinged by 84 trace minerals (the same ones in our bodies), you're absorbing negative ions that, despite their name, do a body good. Helpful for congestion, allergies, arthritis, skin conditions, poor concentration, and a host of other ailments, a 45-minute stay ($25) is so relaxing some folks drift off to sleep. 10 Eagle St., Asheville; (828) 236-5999; www.solasaltcave.com

---



Thyme in the Garden

When spring's lush landscape seems eons away, make a beeline to Thyme in the Garden for a soul-lifting infusion of greenery. With eucalyptus and lavender lotions and soaps scenting the air and the calming gurgle of a fountain, this sanctuary of plants, terrariums, and bulbs feels like a secret garden. For a quick gray-days remedy, owner Laura Carter recommends paper whites, amaryllis, and hyacinths. "When you're in the most pitiful time of winter and yearning for the growing season, they offer a flush of growth in a matter of days." 190 Weaverville Hwy., Asheville; (828) 658-3700; www.thymeinthegardenasheville.blogspot.com

---

Parker Legwear

Cozy socks climb the priority list each winter. Parker Legwear's line of North Carolina-made, eco-friendly socks for Sierra Club cushion and protect cold feet with organic and recycled fibers. Feel even warmer knowing that for every three pairs sold, the Old Fort-based company donates one pair to urban youth and military family members. www.parkerlegwear.com

---

Battery Park Book Exchange & Champagne Bar

If you're looking for a spot as posh as Vanderbilt's library, take shelter among the maze of tomes at this well-versed shop and bar in the Grove Arcade. Camp out in a handsome club chair with a glass of wine in hand and friends at your side, including the four-legged type, who are welcome to snooze on the Persian rugs. 1 Page Ave., Ste. 101, Asheville; (828) 252-0020; www.batteryparkbookexchange.com

---



Blue Moon Elise

The yoga classes and massage offerings aren't the only reasons Blue Moon Elise is a popular oasis. Duck into this aromatic spot in downtown Murphy to shop for essential-oil soaps, lotions, scrubs, and other yummy body products made by store owner Rachel Sylvester. Book a soap-making class, and she'll teach you the process from start to finish using all-natural ingredients, so you can take home custom-scented suds for continued relaxation. 26 Valley River Ave.; $45 per person, group discounts available, limit four per class; (828) 837-2727; www.bluemoonelise.com

---

Thirsty Monk

It's as simple as it sounds: "Glass plus bacon plus pint of beer," says Chris Arrington, bar manager at Thirsty Monk. The two taprooms in Asheville serve a pint glass filled with crispy bacon ($5.35) to wash down with your brew of choice (pints are $5-$11). The savory bacon is a perfect counterpoint to the sweetness of the malt and hops. Sitting inside this convivial hop house on a winter afternoon, debating the merits of Russian stouts and double IPAs, is just this side of hog heaven. 92 Patton Ave. & Gerber Village, Hendersonville Rd.; www.monkpub.com

---



Old Edwards Inn & Spa

If the Norman Rockwell-esque scene of downtown Highlands doesn't immediately lower your stress level, head to Old Edwards Inn & Spa to indulge in 110 minutes of bliss with the Sweet Mountain Metamorphosis treatment ($275). An exfoliating body scrub of lavender, chamomile, rosemary, and refreshing peppermint invigorates the skin, before a rhythmic, calming massage of long sweeping motions. After an application of hydrating body butter and a warm cocooning wrap, you'll emerge transformed. 445 Main St.; 1-(866) 526-8008; www.oldedwardsinn.com

---

The Grove Park Inn

If you're under the impression that the 20,000-square-feet of spa amenities at The Grove Park Inn are strictly guest domain, guess again. Anyone can access the abundance of revitalizing options. A day pass ($90) allows you to hop in the dry sauna to sweat out toxins, recharge with a dip in the natural mineral pool or waterfall whirlpool, and relax in the lounge. Or imagine putting a hard day of work behind you with a twilight pass ($60) for evening access Tuesday through Thursday. Up the relaxation level with the Grove Stone Facial ($199-$245), an 80-minute session that incorporates warm and cool stones and a crystalline gem-stone mask to improve vitality and renew circulation. 290 Macon Ave., Asheville; (828) 252-2711, ext. 2772; www.groveparkinn.com

---



French Broad Chocolate Lounge

At $3.50 per cup, French Broad Chocolate Lounge's liquid truffles may just be the most affordable decadence in town. Unlike lighter-bodied hot chocolate, the liquid truffle is 4.5 ounces of rich, creamy ganache that comes in flavors such as cayenne and cinnamon, lavender and honey, or maple and smoked sea salt. Order the Indian Kulfi, a luscious blend of rose, pistachio, cardamom, and milk chocolate, and settle into the couch by the front window to watch Asheville's comings and goings.10 S. Lexington Ave.; (828) 252-4181; www.frenchbroadchocolates.com

---

Appalachian Vintner

Think of this hangout/shop as your second living room, which just so happens to be equipped with multiple taps and an expertly stocked wine cellar. Brews on tap rotate, but be sure to get a pour from the cask before you hit the couch for a game of wine trivia. 745 Biltmore Ave., Ste. 121; (828) 505-7500; www.appalachianvintner.com

---

SkinFare

When your outer shell takes a beating from the elements, pick up a tube of SkinFare balm. All five varieties, which are made from essential oils, deliver a wallop of healing power from the base ingredient, coconut oil. The Apothecary Prime formula is divine with sage, chamomile, and thyme. Thunder Cake, made with nutmeg, clove, and anise, smells good enough to eat (no licking, please). Your conscience will get a boost, too, knowing you're using a certified organic product in biodegradable packaging crafted by an Asheville-based, family-run business. $10; www.skinfare.com

---



John C. Campbell Folk School

In February, textile artist Lindsay Obermeyer invites you to purl away the hours in her class, The Mad Hatter, at John C. Campbell Folk School in Brasstown. She teaches how to knit perfectly tailored hats for your noggin or that of a loved one. If you've mastered fundamental knitting skills, this weekend class will give you the experience and technique to fashion an endless array of stylish toques before you head out into the frost-covered hills. 1 Folk School Rd.; February 22-24; $334; www.folkschool.org

---

Shoji Retreats

Though the serene vista from your private outdoor hot tub will serve as a reminder that you're still in the Blue Ridge Mountains, the experience at Shoji Retreats transports your mind to an exotic locale. Inspired by Japanese bathing traditions and designed in a fitting Zen style, this Asheville spa and lodge offers tension-melting soaks, an invigorating cold plunge, cedar sauna, and massages. For maximum relaxation, take advantage of the Warming Winter Seasonal package ($162), which includes an hour in the hot tub and 80-minute aromatherapy massage. Request tea service for even more calm. 96 Avondale Heights Rd., Asheville; one-hour soak $42 per person; (828) 299-0999; www.shojiretreats.com

---

Points of Light

Tap in to the spiritual side of rock collecting at Points of Light Crystal & Mineral Gallery, where owner Connie Olson can school stone novices on the properties of a wealth of sparkling specimens. For instance, rose quartz can open your heart, allowing you to embrace and send out unconditional love. Amethyst is said to transmute energy into a higher form (translation: make you a better you). To take meditation to another level, depart with a singing crystal bowl tuned to address the chakra you've neglected.391 Merrimon Ave., Asheville; (828) 257-2626; www.pointsoflight.net

---



Laurey's Gourmet Comfort Food

You cooked 'til you dropped over the holidays—cookies, cakes, pies, casseroles, turkey, stuffing, ham, and on and on. Give yourself a night off, and call Laurey's in Asheville. More than a popular downtown lunch spot, this comfort food café will whip up a nutritious and tasty spread with local ingredients for a take-out dinner. Some nights, smothered chicken with green beans is what's for dinner, others it's shrimp vindaloo with basmati rice. Place your order by noon (each week's menu is posted online), and swing by after 3 p.m. for pick-up. The kids will never ask for pizza again. 67 Biltmore Ave.; dinners $8-$11 per person; (828) 252-1500; www.laureysyum.com

---

 

 

Porter & Prince

If Santa rewarded you with enough tech gadgets to signal a space station, but none of the sumptuous pleasures of life on Earth, you deserve a trip to Porter & Prince. You'll fawn over the silky, fluffy, and stylish nightwear and linens, and then fall head over heels for the coziest of cozy fleece robes by Pine Cone Hill. It'll have you wondering just how far you can take casual Fridays. 6 Brook St., Asheville; robe $88; (828) 277-2337; www.porterandprince.com

---

Buck's Coffee Café

When snow blankets the hills around Cashiers, warm environs and beverages lure locals to Buck's Coffee Café. Whitewashed walls, rough-hewn floors, and plenty of curios and antiques, many of which are for sale, make this a welcoming den. Grab a fair-trade, organic coffee, espresso, or cinnamon-tinged latte, and stake your claim to the handsome leather sofa in front of the stone fireplace. You can take advantage of the free Wi-Fi, or better yet, choose to stay happily unplugged from the rest of the world. 6 N.C. 107, Cashiers; (828) 743-9997

---

Wisteria Southern Gastropub

With exposed rock walls and a dark wood bar, the rustic basement pub at Wisteria is Morganton's prime new location to hideout from the hustle and bustle. Gather around a corner table with friends or cozy up with a date and find bliss in a Godiva's Confirmation cocktail, a blend of Godiva chocolate liqueur, crème de cacao, Buttershots, Kahlua, vanilla vodka, and Bailey's Irish Cream. For comfort food, turn to the four cheese mac 'n' cheese, fried pickle chips served with wasabi ranch sauce, or fries topped with bacon, eggs, whole-grain mustard, Ashe County cheese curd, and brown gravy. If you're dreading Monday, make the most of the waning weekend hours with trivia on Sunday night. 108 E. Meeting St.; (828) 475-6200; www.wisteriagastropub.com

---



City Lights Bookstore & Café

Book a few hours with your favorite Appalachian author and a soothing beverage at City Lights Bookstore and the café one level below. A community gathering spot since the 1980s, the shop's extensive offerings penned by the likes of mountain authors Ron Rash (who teaches at nearby Western Carolina University), Vicki Lane, Charles F. Price, and many others exemplify the owners' reverence for local talent. Make your purchase and head downstairs to the bright and cheery café to flip the pages while enjoying a cup of joe made with Tribal Grounds beans, a glass of organic wine, or a pint. 3 E. Jackson St., Sylva; bookstore (828) 586-9499, www.citylightsnc.com; café (828) 587-2233; www.citylightscafe.com

---

Westglow Spa

Unravel your mind and body during a three-day Stress Relief Retreat at Westglow Resort & Spa in Blowing Rock. The graceful Greek revival manse and idyllic grounds, formerly the estate of late, 20th-century artist Elliot Daingerfield, set the stage. The package includes accommodations, gourmet meals, fitness and yoga classes, massage and spa treatments, and two stress management sessions with licensed counselor and Wellness Director Marla Gentile. Whether you're dealing with difficulty sleeping or anxiety, Gentile imparts tools and techniques such as breathing exercises and time management advice that promote balance and relaxation. "The big thing I hope people take away," she says, "is how to better care for themselves physically and emotionally." 224 Westglow Circle; retreat starts at $1,695; (828) 295-4463; www.westglowresortandspa.com

---

DeWoolfson

Nothing brings about restful zzzs like a bed made with fresh linens, cloud-like pillows, and a cushy down comforter. Get a dreamy ensemble at DeWoolfson in Banner Elk, which carries a wealth of North-Carolina made items. With a custom order, from outer fabrics to the weight of European down, you'll feel like Goldilocks once she got her nap just right. 9452 N.C. 105 S.; (828) 963-4144; www.dewoolfsonlinens.com

---



Heinzelmännchen Brewery

The fine couple who owns Heinzelmännchen Brewery in Sylva knows there's more than one way to enjoy fine brews, hence their hardy and comforting recipe for beer-cheese soup. Grab a growler of Gopher or Honey Blonde ale, and head home from the cold to create this delicious bowl of goodness. 545 Mill St.; (828) 631-4466; www.yourgnometownbrewery.com

 

Beer-Cheese Soup

Courtesy of Heinzelmännchen Brewery

1/2 cup butter
1/4 cup diced celery
1/2 cup diced carrots
3/4 cup diced onions
1 medium garlic clove, minced
1/3 cup flour
1/2 tsp. ground dry mustard
14 oz. chicken broth
8 oz. half and half
Pinch of cayenne (optional)
12 oz. sharp cheddar cheese, shredded
14 oz. Gopher Ale or Honey Blonde Ale
Salt & ground black pepper, to taste

Heat butter in large, heavy Dutch oven over medium heat until foaming; add onions, celery and carrots and cook, stirring occasionally, until softened, about four minutes. Add minced garlic; cook until garlic is fragrant, about one minute. Add flour and dry mustard and cook, stirring to coat vegetables, until mixture begins to brown on bottom of pot, about two minutes. Gradually whisk in chicken broth and half and half. Increase heat to medium-high and bring to boil; reduce heat to medium-low and simmer until vegetables soften, about 10 minutes. Add cayenne. On medium-low to low heat begin to stir in cheddar cheese, a little at a time, alternately with the beer, until all is fully blended and cheese completely melted. Season with salt and pepper and serve immediately with a crusty French bread.

---

Max Patch + Trust General Store & Café

You can hibernate for only so long before you need to shake off the winter doldrums. Madison County's Max Patch is crawling with hikers spring, summer, and fall, but the bald is equally impressive (and much more serene) during the off-season. The Short Loop trail (1.5 miles) will take you to the summit for wide-eyed views of the Unaka, Black, and Great Smoky mountains. It's always colder at the top, so be liberal with the layers of clothing. Keep in mind, the drive up can be more challenging this time of year. After the excursion, reward yourself and defrost with a helping of old-fashioned chicken and dumplings at Trust General Store & Café just 10 miles south on U.S. 209. Max Patch from Asheville: Travel west on Interstate 40 for 39.2 miles to Exit 7 at Harmon Den. Turn right on Cold Springs Creek Road and go 6 miles, then turn left on Max Patch Road. Drive 1.5 miles to the parking area. Trust General Store & Café, 14535 N.C. 209, Hot Springs; (828) 622-7400; www.trustgeneralstore.com

---

Hot Springs Resort & Spa

If the scenic drive to Hot Springs doesn't bring on a sense of calm, the walk along the wooded path to your Jacuzzi will. At a private pavilion, submerge yourself in mineral-rich, slightly effervescent waters piped in at a naturally occurring 103°F. Soothing steam rises to the tin roof over your space, situated discreetly along Spring Creek or the majestic French Broad River. (Tub five sits on a point where the two merge.) Libation-friendly and clothing-optional, a one-hour soak costs $13 for solo dippers and $27 for up to three during the day or $32 at night. 315 Bridge St.; (828) 622-7676; www.nchotsprings.com

---



Adawehi

You can get a mind, body, and spirit tune-up with the wellness classes (yoga, tai chi, and more) offered at Adawehi healing center. Or opt to experience healing modalities, such as deep-level emotional release massage. Acupuncturist Autumn Singleton helps guests tone up by using music and light to retune the body's seven centers of energy. Cueing the music, she applies pressure while you bathe in light that recharges a particular chakra. 93 Adawehi Lane, Columbus; $70 for one-hour session; (828) 894-0124; www.adawehi.com

---

Catawba Science Center

Witness the ever-shifting nighttime sky in the warmth of the Catawba Science Center's planetarium during a Winter Stargazing show. Lean way back in your seat to be whisked away on a tour of the solar system. Following your galactic journey, a guide will verse the group in constellations, planets, galaxies, and other deep sky objects, so you'll have a clearer perspective on just how miniscule some of the stresses on Earth really are. 243 3rd Ave. N.E, Hickory; (828) 322-8169; www.catawbascience.org

---

Dobrá Tea

Whether you prefer green, black, oolong, pu-erh, or herbal, Dobrá in Asheville will brew a cup of exotic warmth. With a menu that represents teas from around the world and yummy nibbles including assorted olives or matcha green tea cheesecake, there are plenty of reasons to linger. If the origins of a delicious pot intrigue you, join the tea tastings held Wednesdays from 1 to 3 p.m. You just might be swayed to say goodbye to joe for good. 78 N. Lexington Ave.; (828) 575-2424; www.dobrateanc.com

---

The Tree House

Whether you need to tackle a pesky to-do list or clear a much-deserved hour of solitude, The Tree House, A Café at Play in North Asheville offers drop-off child care for ages 12 months to eight years old. For up to three hours Tuesday through Thursday, your little ones can climb like little monkeys on the indoor tree house, get crafty, or kick back with a book. 1020 Merrimon Ave., Ste. 103; (828) 505-2589; www.ashevilletreehouse.com

---

WNCW's "Music Mix" host Martin Anderson shares his local picks for sound therapy.



Fake Blood
Floating Action's latest is for putting on killer headphones and groovin'.



When Bitter Met Sweet
The Honeycutters deliver a great one for crying into your beer.



Breathing Underwater
Singer-songwriter Aaron Burdett crafts an impressive fresh album.
 
RESOURCES:
Written by Paul Clark, Rita Larkin, Hali Ledford, Melissa Reardon & Kathryn Stewart