Sage-and Sausage-Stuffed Acorn Squash
Sage-and Sausage-Stuffed Acorn Squash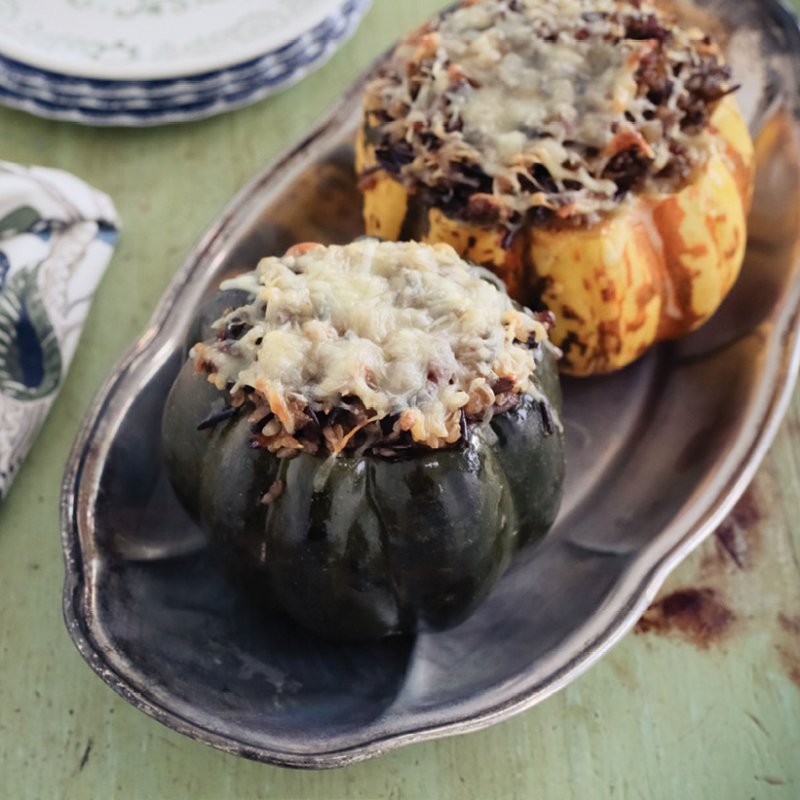 DESCRIPTION:
From The Farmhouse Chef: Recipes and Stories from My Carolina Farm by Jamie DeMent. © 2017 by Jamie DeMent. Used by permission of the University of North Carolina Press
This dish can be a meal all by itself. Our farm interns especially love these squash, and they are just as good the next day. So make a big batch when you make them. To reheat, just put in a 350° preheated oven and warm up for 10–15 minutes. This dish can also be made with peppers or eggplant substituted for the squash. Make a direct swap, and you're good to go.
INGREDIENTS:
1 lb. pork sausage with extra sage
3 garlic cloves, finely chopped
1 small onion, finely chopped
1 cup broth (chicken or pork)
2 cups grated Asiago or Italian-style cheese
1 cup bread crumbs
3 medium acorn squash
Water for boiling
1/2 cup unsalted butter, melted
DIRECTIONS:
Preheat the oven to 350°F. Brown the sausage, garlic, and onion in a skillet or frying pan. Set aside to cool. In a large mixing bowl, combine the broth, 1 cup of the cheese, and the bread crumbs. Then stir in the cooked sausage, garlic, and onion.
Cut the squash into halves and remove the seeds (save those seeds for roasting later). Place the squash, cut portion down, in a large wide saucepan. Pour in enough water to come up 1 inch on the squash. Bring the water to a boil, and cook for 5 minutes. Remove squash from the water, pat dry, and brush the inside with melted butter.
Fill the centers of the partially cooked squash with the stuffing mix. Place in an oven-safe dutch oven or deep roasting pan, cover, and bake for about an hour—until the squash is fork-tender. While baking, brush with butter occasionally to keep squash moist. Remove the lid, and for the last 5 minutes of baking, top the squash with the rest of the grated cheese for a crusty, cheesy top. Let the squash rest on the counter for a few minutes before serving.