Rib Roast with Crushed Aromatic Spices
Rib Roast with Crushed Aromatic Spices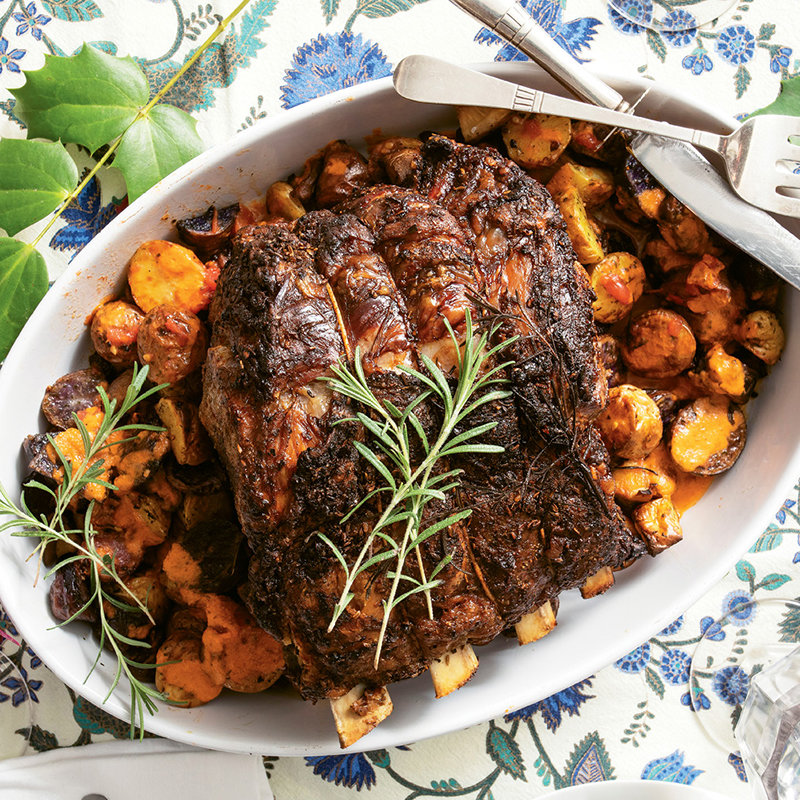 DESCRIPTION:
Courtesy of Chai Pani's Meherwan Irani
Chef's Note: A rib roast is a spectacular alternative to a Thanksgiving turkey. It can be carved at the table so you're not missing out on tradition, and this recipe will guarantee a juicy, marbled roast with a salty crust of blackened spice. Serve with roasted fall vegetables or oven-roasted potatoes.
INGREDIENTS:
7-8 lb. bone-in beef rib roast
Kosher salt
Garlic powder
2 Tbsp. whole black peppercorns 
2 Tbsp. fennel seeds 
1 Tbsp. crushed red chili flakes 
2 Tbsp. dried rosemary 
1 tsp. cumin seeds 
2 Tbsp. salt 
Olive oil
1/2 cup chicken stock
1/2 cup red wine
DIRECTIONS:
Dry brine the roast by generously seasoning with kosher salt and garlic powder, and let sit in the fridge for at least 30 minutes before cooking.
Toast peppercorns, fennel seeds, chili flakes, rosemary, cumin seeds, and salt in a dry pan over medium heat until the spices start to darken and become fragrant, about three to five minutes. Cool and pulse in a coffee grinder or food processor until you have a very coarse powder. Rub the blend generously all over the rib roast, patting it in to ensure it sticks.
Preheat oven to 425°F. Heat olive oil in a large oven-proof pan and sear the rib roast, lightly browning on all sides. Add the chicken stock and red wine and place pan in center oven rack. Cook for 10 minutes, then reduce the temp to 350°F and cook for an hour and a half, or until internal temperature reaches 130°F. Remove and cover with tin foil and let rest for at least 10 minutes before serving.
Read more from A Friendsgiving Feast