Pumpkin Whoopie Pies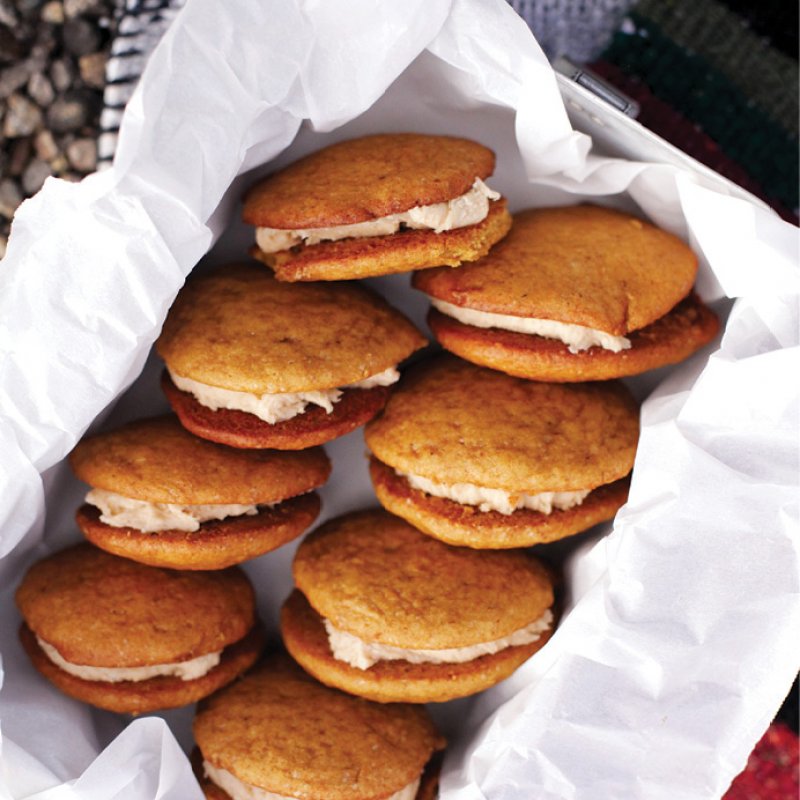 DESCRIPTION:
From A Year of Picnics by Ashley English. All rights reserved. © 2017 Roost Books, an imprint of Shambhala Publications, Inc. Photograph © 2017 by Jen Altman
By definition, a whoopie pie consists of two round, mound-shaped pieces of cake with a sweet filling sandwiched between them. I tend to of think of them as a cupcake in reverse. This version embodies the flavors of autumn: pumpkin, cinnamon, ginger, cloves, and nutmeg.
INGREDIENTS:
Cookies
2½ cups all-purpose flour
1½ tsp. sea salt
1½ tsp. baking powder
1 tsp. baking soda
1 tsp. ground cinnamon
1/2 tsp. ground ginger
1/4 tsp. ground cloves
1 cup (2 sticks) butter, softened
1½ cups packed light brown sugar
3⁄4 cup granulated sugar
2 eggs, at room temperature (see note)
1¼ cups pure pumpkin puree
2 tsp. vanilla extract
Buttercream Frosting
3 cups powdered sugar
1 cup (2 sticks) butter, at room temperature
2 Tbsp. whole milk
1 tsp. vanilla extract
1/2 tsp. ground cinnamon
1/2 tsp. ground nutmeg
1/4 tsp. ground ginger
1/4 tsp. ground cloves
DIRECTIONS:
Make the Cookies: Preheat the oven to 350°F. Line two baking sheets with parchment or silicone baking mats and set aside.
In a medium bowl, combine the flour, salt, baking powder, baking soda, cinnamon, ginger, and cloves. Whisk to fully incorporate. Set aside.
In a large bowl, beat together the butter, the brown sugar, and the granulated sugar with an electric mixer until pale and light, about 3 to 4 minutes. Add the eggs, one at a time, beating well after each addition. Scrape down the bowl and beaters with a spatula as necessary. Add the pumpkin and vanilla and beat until combined. With the mixer set to low, beat in the flour mixture just until incorporated.
Drop the dough by heaping tablespoons 2 inches apart on the prepared baking sheets. Bake for 15 minutes, rotating the pans halfway through. Repeat in order to bake all the batter, which yields slightly more than 4 dozen cookies. Transfer to a cooling rack and allow the cookies to cool fully before spreading with the filling.
Prepare the Filling: In a large bowl, beat together all the filling ingredients with an electric mixer.
Assemble the Whoopie Pies: Spread about 2 tablespoons of filling on the bottom of a cookie, and top with another cookie. Repeat until all the cookies have been used. Store in the refrigerator until ready to serve. These are tasty served either at room temperature or chilled.
Note: You can easily bring refrigerated eggs to room temperature by placing them in a bowl of hot tap water for about 10 minutes.