A World of Difference
A World of Difference:
Embrace international flavors at WNC's great global markets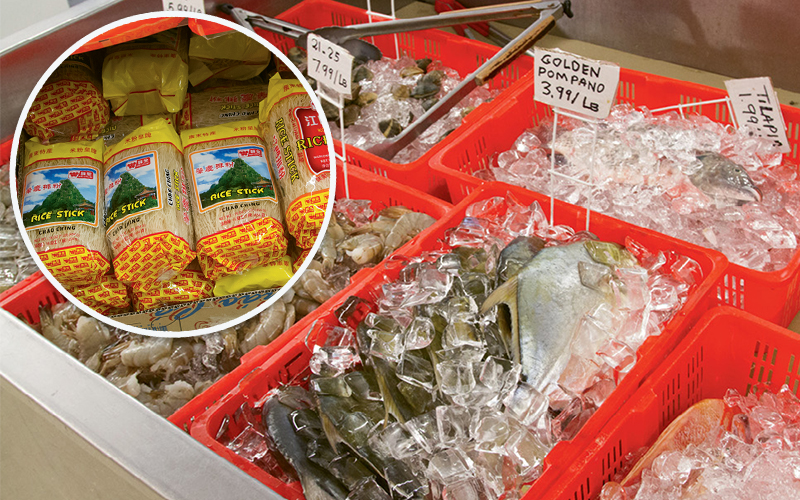 YZ Asian Market
As foreign flavors continue to seep into our culinary vernacular, it's no surprise that the trend is leading people into their local international grocers. Mexican bodegas, Asian markets, and European delis are bastions of flavors unseen on the shelves of your local supermarket. While a soy sauce variant like Golden Mountain sauce or chili paste may be necessary in a Thai dish like drunken noodles, those same ingredients can kick up the flavor of a pan sauce when cooking steaks or pack extra umami when preparing fresh mushrooms. New and exotic ingredients are not only for international dishes, they work for everyday eats as well. Let your exploration start at one of these area markets. 
YZ Asian Market in Asheville [22 New Leicester Hwy. Ste. D] offers a labyrinth of dried goods and spices, but the real jewels here are the colossal frozen food section, with everything from dumplings to squid, and the selection of fresh fish. Pick your own crab or lobster from the tanks in the back, or choose from an array of fish displayed on ice, some so fresh they're still flopping.
And while Abarrotes y Novedades Olea in Wilkesboro [803 Statesville Rd.] stocks the shelves with a host of dry goods, canned ingredients, an array of spices, and produce, as well as baked goods and cakes for the holidays, Zyzy's Market in Jefferson [419 E. Main St.] has similar offerings with the bonus of a kitchen that serves up tacos, tortas, and burritos the size of your head.
In Fletcher [5360 Hendersonville Rd.], Smiley's Flea Market (pictured above) encompasses a variety vendors, including HñaHñu, hawking fresh and exotic produce like prickly pears, plantains, and myriad peppers, and El Toro, a Latin meat market and taqueria. Every cut imaginable—trotters, tongue, and tripe—and marinated meats like pastor pork line the deli cases, while El Toro's restaurant serves up tacos and menudo (tripe soup), a legendary hangover cure.
If homemade pho is what you crave, head to Vinai Asian-International Market in Hickory [1221 16 St. NE] for the fresh beef bones necessary to make the soup's fragrant broth. Hit up the produce section for tasty additions like lemongrass, daikon, and watercress.
Opened in 1999, Foreign Affairs Oriental Market (pictured above) [611 A Tunnel Rd.] is Asheville's oldest Asian market, and boasts one of the friendliest staffs in town, able to explain everything from the varying nuances of their fish sauces to the different uses for each of their coconut milks.
Asheville's European Food Store [1483 Patton Ave. B] may be tiny, but its selection is strong. Try the robust Russian bacon or any of the various cured meats sliced fresh. Pelmeni dumplings, breads, pickles, and even caviars line the shelves in this family-owned market.