Wild Thyme Gourmet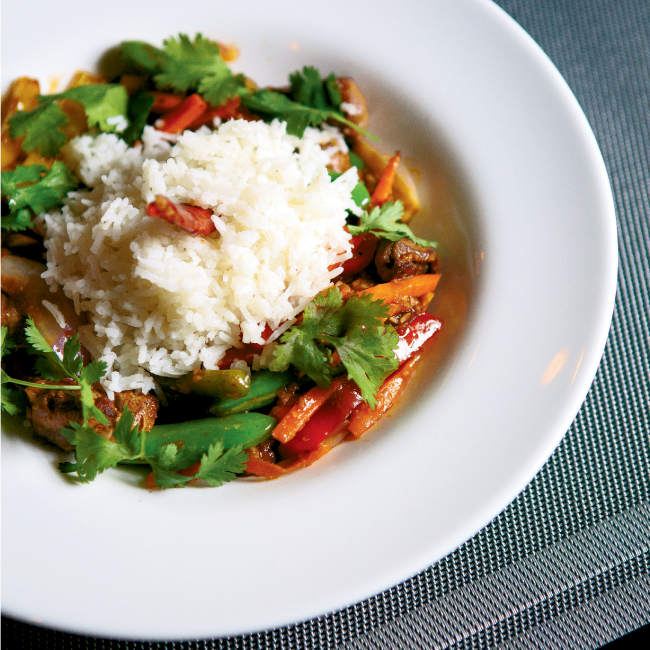 Highlands's elevation can make for shorter summers, but what it lacks in quantity, it makes up for in quality. It's a place where time seems to slow as friends linger alfresco under sun umbrellas while day fades to dusk. Such scenes are common at Wild Thyme Gourmet.
The 15-year-old restaurant, which has been owned by Dindu Lama for the last six years, has a perfect perch on Main Street, tucked into a quaint courtyard filled with fashion and food boutiques. Shoppers, day-trippers from Atlanta, second-home owners, and vacationers continuously trickle into the charming square.
Loyal customers claim outdoor tables early under the leafy canopy of trees, sipping summery cocktails from Wild Thyme's bar. Since Highlands changed its liquor laws only a few years ago, an extensive wine list and a full-time bartender have ensured a steady flow of libations.
Lunch is composed of elegant, lighter fare. Walnuts and fig relish accent an open-faced goat cheese sandwich. A warm sesame chicken salad with ginger dressing and snap peas tempts as well. I begin with the popular wild mushroom soup, which is packed with the flavorful nuances of several types of forest fungi without being unctuously rich. A crisp, mineral-laced Leonard Kreusch Riesling Spatlese pairs well. Nicely chilled, this Mosel wine hints at melon and pear.
Another lunchtime signature dish is the well-portioned BLT of grilled salmon, applewood-smoked bacon, country tomato, greens, and an herbed mayonnaise of tarragon, fresh parsley, and dill. The wild-caught salmon is delicate and moist, even sushi-grade, one might infer. And the mayo carries the essence of classic French sauces, making this meal much more than a mere sandwich.
Cool beige banquettes with a silky geometric pattern and black tables accent booths in the comfortable dining room, and  hurricane-style lamps hang low overhead. A partnership with Atlanta and Charleston galleries rotates art throughout the year. During my visit, the kinetic equestrian canvases of Susan Burns lent a contemporary, high-design quality to the bistro.
 Everything about Wild Thyme, in fact, feels modern American bistro. Yet, return toward evening, and Lama's international heritage infiltrates the menu.
 Lama moved to the United States from his native Nepal in 1995, seeking opportunities for a handmade carpet business. To augment his income, he began working in kitchens at Chinese, Thai, and Indian restaurants in New York and Ohio. He was finally lured to Highlands by a relative who promised the quiet solitude and beauty of the WNC mountains, recalling those in Nepal.
Working his way up from line cook to executive chef at Wild Thyme, Lama bought the restaurant from the retiring owners and inherited a loyal clientele. Therefore, he continues to keep most of the restaurant's most popular dishes, including the salmon with Vidalia onion crust. He pairs bacon-wrapped quail with honey-balsamic reduction on wilted spinach, and a double-cut pork chop receives a creative flourish with apricot-rosemary sauce.
For the more adventurous, a bit of the exotic is showcased in the Thai-inspired stir-fry waterfall beef with ginger, cilantro, and lime juice on basmati rice. The delicately marinated beef tenderloin receives a flash sauté treatment in a screaming hot pan.
"The consistency of our dishes is what makes them favorites. I knew our loyal customers would demand that we keep the original menu, but we introduce new thoughts through the daily specials," says Lama. "Especially the younger generation likes to see more interesting, modern decoration on the plates and prefers modern cooking techniques." Lama also subtlety incorporates traditional Nepali flavors like cumin and coriander, but is ever aware of the more sensitive palates of his diners.
Some favorites will never go away. Take the lump crab fillo purses: Sweet crabmeat sautéed with Gruyère and sherry is wrapped in fillo leaves and baked. A luxurious but light sherry-laced cream sauce bathes the bottom of the bowl. As for dessert, some diners come just for the house-made butterscotch pudding or the moist toasted coconut cake drizzled with a tangy lemon curd sauce.
Like a true entrepreneurial American, Lama has been thinking about how he could package and sell his popular soups. "My American dream has come true," he reflects. Diners, old and new, can rejoice with him.
---
The Draw: An airy bistro with a seasonal patio serving light lunch fare, cocktails, and creative dinners with exotic flourishes by a Nepal-born owner and chef
The Drawback: Patio is only usable part of the year
Don't Miss: The coconut cake
Wild Thyme Gourmet
Highlands
343-D Main St., Highlands
(828) 526-4035
www.wildthymegourmet.com
$$$