The Whole Truth
The Whole Truth:
Chef Jason Sellers of Plant dishes on vegan versatility and offers a fresh summer meal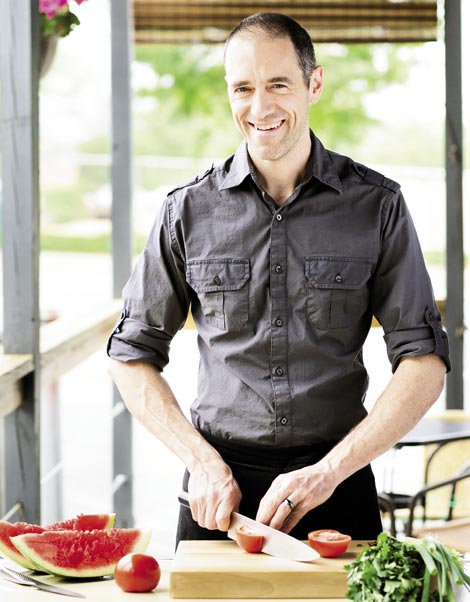 "It seems to me that there are doors people will not open, dishes they will not try, because they haven't been exposed to well-prepared, delicious, meatless dishes," says Chef Jason Sellers.
The creative meat- and dairy-free menu at Asheville's Plant restaurant is breaking down those doors for many folks. Since launching the Merrimon Avenue eatery with partners Leslie Armstrong and Alan Berger last year, the establishment has received accolades from omnivores and vegans alike, thanks to Sellers' ability to complement and enhance the flavor of each wholesome ingredient.
"Some people think that by eating a vegan diet or even one vegan meal, they'll feel deprived or that the food will be bland and tasteless," says Armstrong. "Nothing could be further from the truth. A vegan meal only excludes a few food items, but replaces them with endless varieties of vegetables, fruits, grains, nuts, seeds, and legumes."
Sellers' creativity comes through in everything from ginger ale made with fresh rootstalk steeped overnight, then mixed with agave nectar, lemon juice, and soda water to nibbles such as apple-smoked almonds, dried and smoked mushrooms (which taste amazingly similar to bacon), and coconut milk-based ice cream. "A no-meat meal sometimes calls for simplicity and attention to small—a Zen palate, if you will," says Sellers, who  once led the kitchen at Laughing Seed Café.
For those ready for culinary exploration, Sellers offers this delicious menu of perfect-for-summer flavors that doesn't lack a thing.
FIRST COURSE: Watermelon-Tomato Gazpacho
Sellers suggests a starter of watermelon and tomato gazpacho. "This soup should be made in celebration of its seasonality," Sellers notes. "The ratios should be left to the cook. Once melded, the delicious partnership of watermelon and tomato is hard to obscure." Sweet and tangy, the soup holds a spicy kick, which is complemented by the toasted nuttiness of the pepitos.
MAIN COURSE: Peppercorn-Crusted Seitan
In place of a meat protein, Sellers enjoys seitan, a wheat gluten of Asian origin. "Frying it just elevates it, and for our purposes, we're browning it," he says. "You can add ground pepper to make it pop also." The seitan, which has the mouthfeel of steak,  is accompanied by grilled vegetables. Sellers piles the components of the main dish into a pretty stack, noting how easily a dinner becomes spectacular with just a bit of effort in the presentation.
COCKTAIL: Sake Spear with Cucumber Ice
"The art of cocktail-making," says Sellers, "is in hiding the overt flavors of certain types of alcohol, while enhancing the more subtle ones." For a truly refreshing summer beverage, he suggests a gingery sip made with high-quality cold sake and cucumber ice cubes.
DESSERT: Lemon Cream Tart
"Make the tarts the day before your guests arrive," suggests Sellers. "Chilling in the refrigerator will improve its texture." Fresh strawberries garnish this velvety smooth, lemon-laced treat.