Where the Living's Easy
Where the Living's Easy:
An Insider's Guide to Charleston's Lowcountry leisure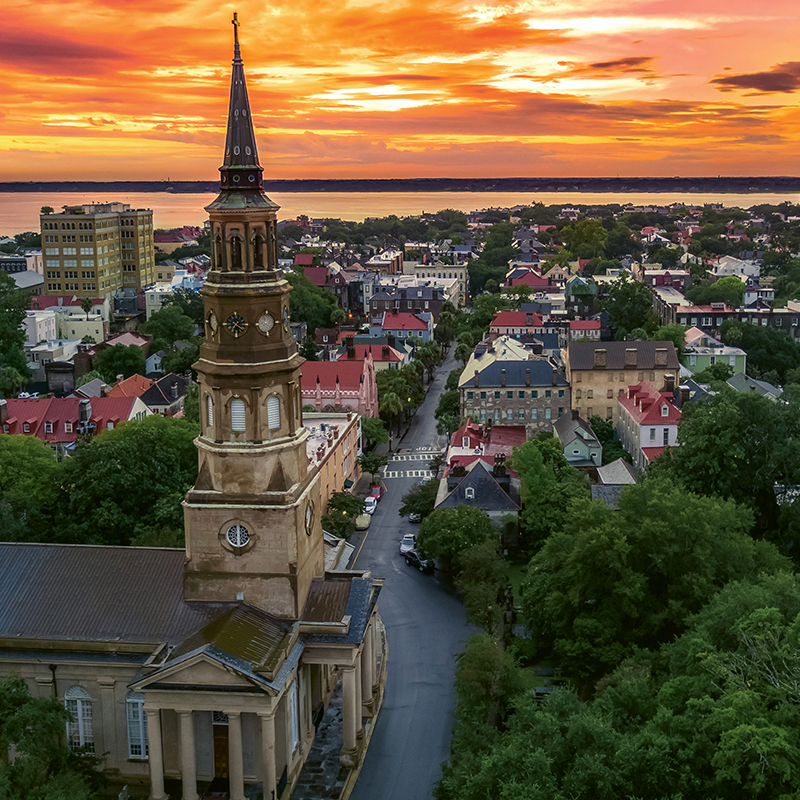 Once a slow-paced city by the sea, Charleston has transformed from regional secret to international sensation. The accolades—including a 2016 nod from Travel & Leisure as the "No. 1 City in the World"—are well deserved. An intrepid foodie could book a month's worth of memorable dinner reservations. Or, visit during Spoleto Festival USA (May-June), Charleston Wine + Food fest (March), or Charleston Fashion Week (March), and you'll experience a cultural scene that rivals New York City's, minus the hectic pace. That's not to mention a chain of inviting barrier island beaches, each with its own character and unique appeal. Follow Charleston magazine contributor Stratton Lawrence's lead to discover the Holy City's best places to eat, stay, and play.
Folly Beach
Best of the Beaches - Charleston's top spots where the sand meets the surf
Sullivan's Island - Best for nature lovers, history buffs, and architecture aficinados
The closest beach to downtown Charleston, Sullivan's is also the most charming. The quaint community atmosphere comes with a price—there are fewer rentals, and they're generally priced higher—but once you're here, it's impossible not to fall in love. Sullivan's is the only local beach with a genuine Historic District, including mansions, a chapel, and officers' quarters dating to the US Army's nineteenth-century presence here.
Maritime Forest Nature Trail While its neighboring islands fight erosion, Sullivan's has experienced decades of accretion at its southern end, resulting in a 200-acre forest, walkable via trails that begin at Station 16 and wander through the woods and the dunes. It's an incredible escape into nature along Charleston Harbor. https://kiawahconservancy.org/maritime-forest-reserve-and-nature-trail
Poe's Tavern Bite into a Pit & Pendulum or Tell-Tale Heart burger at this stalwart pub inspired by Edgar Allen Poe's tenure with the Army on Sullivan's Island. The porch is the perfect place to enjoy a post-beach brew. (843) 883-0083; http://poestavern.com/sullivans-island/
Kiteboarding at Station 28.5 A unique offshore sandbar forms a protected cove near Sullivan's northern end, creating ideal conditions for kiting. On a breezy day, go here to watch the action, or book a lesson with Sealand Adventure Sports ($300 for three hours of private instruction) and catch some wind. https://sealandsports.com/
Fort Moultrie South Carolina's iconic state flag has its roots at this fort, which withstood British bombardment thanks to its shock-absorbing palmetto-log construction. The brick and earthen structure there today was of equal importance during the Civil War. Stop into the excellent museum, operated by the National Park Service, and then explore at your leisure. https://www.nps.gov/places/fort-moultrie-national-monument.htm(843) 883-3123
The Obstinate Daughter Downtown residents drive to Sullivan's just to eat at this Italian/seafood eatery. Start with the raw bar and then share a bowl of the divine ricotta gnocchi and a Five Fathom Hole pizza with local clams. Downstairs, BeardCat's serves as the island coffee shop and gelateria for post-meal indulgence. (843) 416-5020; http://www.theobstinatedaughter.com/
Local Knowledge
• Visitors need a $35 permit to walk their dogs on the beach, obtainable in person at Town Hall. Unless you're here for a week or more, it's easier to take your dog to Isle of Palms beach.
• The number of public parking spaces on Sullivan's Island was cut in half in 2017, meaning longer walks to the beach and earlier arrival times to guarantee a spot. The payoff is more of a community feel and smaller beach crowds, except on holidays.
Isle of Palms - Best for families, golf, tennis, and boating
Arriving on "IOP," the biggest of Charleston's beaches, feels like you're immediately on vacation. Rental homes abound, including in Wild Dunes Resort, a gated family paradise of beaches, pools, and bike trails. The island is home to Coda Del Pesce, a fine dining Italian/seafood joint by lauded local chef Ken Vedrinksi, and a host of more laid-back, casual options for family dining along a kitschy but charming strip of trinket shops.
The Windjammer A rare oceanfront music venue, "the Jammer" helped build the career of acts like Hootie & the Blowfish and Edwin McCain. It's still a sought-after stage for local and touring bands and the go-to spot for beach volleyball in Charleston. https://the-windjammer.com/
The Sea Biscuit Heaping helpings of brunch favorites emerge from the kitchen of this tiny cottage. Sundays are particularly busy, but the benedicts and loaded omelets are available seven days a week. (843) 886-4079
The Links Course at Wild Dunes Often overlooked by visitors dead set on Kiawah tee times, this Tom Fazio-designed course offers sweeping views across the Atlantic at half the cost of Kiawah's Ocean Course (green fees range from $75-$165). (843) 886-2002; https://www.destinationhotels.com/wild-dunes/golf/charleston-golf-links-...
Tidal Wave Water Sports This local outfit makes it easy to get on the water with its Safari Tours along the Intracoastal Waterway (or in the air, via its top-notch parasailing experience). Tidal Wave rents Jet Skis and boats out of the Marina, or hire them to tow you around on a banana boat ride. (843) 886-8456; http://tidalwavewatersports.com/
Isle of Palms Marina You'll find the locals partying to live bands at Morgan Creek Grill on Sunday afternoons. The island's only boat landing makes this the gateway to explore Capers Island and the Cape Romain National Wildlife Refuge. (843) 886-0209; http://iopmarina.com/
Local Knowledge
• Dogs are allowed off-leash—a local rarity—from 5 to 9 a.m. on summer mornings.
• Arrive before 10 a.m. to find a free parking spot. Otherwise, steer toward the Isle of Palms County Park for convenient parking—and bathroom access—which costs $10 on weekdays and $15 on weekends
Kiawah Island - Best for family reunions, luxury seekers, and spa experiences
Championship Golf Kiawah's Ocean Course is legendary—it will once again host the PGA Championship in 2021—but it's just one of five world-class courses at the resort. Jack Nicklaus' Turtle Point has three oceanfront holes, and the Tom Fazio-designed Osprey Point offers a full Lowcountry tour, traversing from salt marsh to lakes to forests. Cougar Point received upgrades in 2017, and Oak Point is a Scottish-style course that's a bargain in the off-season. (843) 768-2121; https://kiawahresort.com/golf/the-ocean-course/
The Spa at The Sanctuary Indulge in pure luxury at this Forbes five-star spa offering massages and facials in an oceanfront locale. Go all the way with the Blissfully Unaware package, including a signature massage, custom facial, and mani/pedi. (843) 768-6340; https://kiawahresort.com/the-sanctuary-spa/
The Ocean Room The crown jewel of resort dining in the state, this steak house tempts diners with sprawling views across the Atlantic and an Oysters and Caviar starter menu. It's an experience worth the splurge. (843) 768-6253; https://kiawahresort.com/dining/the-ocean-room/
Roy Barth Tennis Center Kiawah consolidated and upgraded its tennis operations earlier this year, now offering 22 clay and hard courts at this state-of-the-art facility, still under the leadership of its namesake tennis pro. Of particular note is the practice court with its unique ball retrieval system—perfect for honing your backhand. (843)768-2706; https://kiawahresort.com/tennis/barth-tennis-academy/
Beachwalker Park Named one of America's best beaches year after year, this county park has parking, bathrooms, and lifeguards, but the main draw is the access to Captain Sam's Spit, a remote stretch of sand that leads to a rare tidal beach fronting the Kiawah River, where dolphins are known to chase fish onto the sand in a technique known as "strand feeding." (843) 762-9964; https://www.ccprc.com/1411/Kiawah-Beachwalker-Park
Local Knowledge
• Kiawah is a gated community, but a reservation for dinner, tennis, or golf gains you entry. Beachwalker Park is outside the gate and does not require a Kiawah pass.
• Leashed dogs are welcome on Kiawah, year-round.
Folly Beach - Best for surfers, foodies, fishermen, and fun-loving families
Locals call Folly Beach "The Edge of America," a moniker that reflects the island's funky attitude. The end-of-a-one-way-road vibe makes this South Carolina's answer to Key West—expect barefoot bards performing to outdoor crowds on summer Saturday afternoons. Folly is also home to The Washout, one of the South's most consistent surf breaks, and more than 20 restaurants, varying from fried catch-of-the-day joints to adventurous ramen bowls at local hangout Chico Feo and vegan curries at unassuming hot spot Jack of Cups.
McKevlin's Surf Shop This family-owned shop has been Folly's surfing hub since 1965. Board rentals are $9/hour, or free with a $40/hour one-on-one lesson (highly recommended for newbies who want to learn fast). (843) 588-2247; http://www.mckevlins.com/
The 'Wich Doctor If the line for a table at Lost Dog (an experience, but arrive early) has your belly rumbling for an alternative, this humble sandwich shop around the corner doubles as a Pan-Asian test kitchen for fiery curries and stir fries, especially during its Vietnamese Brunch on Sundays. (843) 588-6666; http://thewichdoctor.net/
Folly Beach Pier Time your visit to shag the night away at a Moonlight Mixer on the Folly Pier, scheduled for May 25, June 15, July 6, August 17, and September 4 in 2018. Or visit any day to rent a fishing rod and cast for redfish and sharks from the second longest pier on the East Coast. https://www.ccprc.com/1618/Moonlight-Mixers
Bert's Market "We may doze, but we never close," read the signs (and T-shirts) at this local icon that's a staple for missing dinner ingredients and late-night beer runs. Now operated by Bert's daughter and son-in-law, the shop has reinvented itself for the modern era, featuring a gourmet deli, growler fill station, and extensive organic selections. (843) 588-9449; https://www.facebook.com/bertsmarket
Lighthouse Inlet Heritage Park The Morris Island Lighthouse rises from the water a magical beacon. The island it was built upon 140 years ago has eroded away, but a restoration by nonprofit Save the Light has kept it standing. See the lighthouse—and explore the maritime forest and boneyard beach—by parking at the far northeast end of Folly and walking the quarter-mile paved trail. (843) 795-4386; https://www.ccprc.com/3149/Lighthouse-Inlet-Heritage-Preserve
Local Knowledge
• Parking is free along residential roadways, but make sure that all four tires are completely off the pavement to avoid a fine.
• Dogs are not allowed on the beach 10 a.m.-6 p.m. during summer, so leave your pooch at home in the AC.
• Traffic onto the island backs up by 11 a.m. on weekends, so arrive early for a stress-free beach day.
• A renourishment project between 8th block east and The Washout will close one block of beach at a time over several months during summer 2018. See http://www.cityoffollybeach.com/ for details.
Escape to Edisto
An hour south of town but worlds away, Edisto Beach still feels like a classic Carolina beach town untouched by time. It's an affordable place to rent a beach house for the week, or just make a day trip down the moss-draped Edisto Island National Scenic Byway. https://www.edistobeach.com/
The island's hidden attraction is one of its newest to be publicly accessible: Botany Bay Plantation. The 3,363-acre preserve offers access to a stunning boneyard beach, where the ocean has gradually overtaken the forest, leaving trees emerging from the surf. There's also a driving loop through the plantation's forest and wetlands, and unparalleled birding opportunities. Pack binoculars and a picnic lunch. Although shell collection isn't allowed at Botany Bay, it's one of the state's best places to find massive whelk shells. Take photographs, then head further south to the state park to collect your own treasures. (843) 869-2713
Rodney Scott, Rodney Scott's BBQ
Dining and Nightlife (The Delectable Dozen) - Build your dining tour around these tastemakers
1. Bullish on Brunch: Fat Hen
Owner/chef Fred Neuville made John's Island a brunch destination with his French/Southern fusion. Sunday brunch here is an institution, thanks to decadent dishes like a deconstructed pastrami and waffle sandwich and crème brûlée French toast with strawberries doused in Grand Marnier. (843) 559-9090; https://thefathen.com/
2. The Ultimate Shrimp & Grits: Hominy Grill
In a town where shrimp and grits is ubiquitous, Hominy Grill's James Beard award-winning owner/chef Robert Stehling deserves credit for his bar-setting masterpiece, a simple but intoxicating amalgam of mushrooms, scallions, bacon, and shrimp over a perfect plate of cheesy grits. In 2017, Hominy pivoted to focus on breakfast and lunch only, so put it on your morning itinerary. (843) 937-0930; http://hominygrill.com/
3. The Hyper Local: Husk
Nearly eight years in, it's easy to take Husk's contribution to the South's culinary scene for granted, but when chef Sean Brock first introduced the idea of a 100-percent locally sourced restaurant, the notion was revolutionary. The brand—and the concept—have now spread across the region, but the mothership on Queen Street still maintains its integrity. Every bite has a back story, and every flavor leaves a lasting impression. (843) 577-2500; http://huskrestaurant.com/
4. Flavor Explosion: Xiao Bao Biscuit
When XBB opened in 2012, it filled a void in international flavors in Charleston. The perennial hot spot introduced the city to bold Asian flavors and the iconic okonomiyaki cabbage pancake. Earlier this year, the owners launched a new venture, Tu, that defies categorization by borrowing flavors from pretty much everywhere. WNC diners may feel right at home: Before Patrick O'Cain returned home to open Gan Shan Station in Asheville, he worked as the original XBB sous chef. http://xiaobaobiscuit.com/
5. Soul Food That Sings: Martha Lou's Kitchen
For her first two decades, Martha Lou's meat-and-three cooking was a local secret (although not one that was well-hidden in its hot pink roadside building). Fortunately, even after gaining accolades from New York media, her cooking holds true. There's a rotating special each weekday—think: chitterlings, turkey wings, barbecue ribs—but her fried chicken and pork chops are a daily constant. (843) 577-9583; http://marthalouskitchen.com/
6. Seafood Extravagance: The Ordinary
Charleston's cuisine has been largely built on the ocean's bounty, and chef Mike Lata proves that even three centuries of history can be improved upon. The triple-decker shellfish tower runs $125, but it's a strong contender for the highlight of your eating adventures in Charleston. Follow it up with the plat du jour, including Caribbean fish stew Thursdays and a Sunday fish fry. (843) 414-7060; http://eattheordinary.com/
7. The Sweetest Pulled Pork: Rodney Scott's BBQ
In a city known for seafood and Southern food, there's never been a barbecue restaurant that deserved true celebration—until 2017, when Rodney Scott left his family's legendary pit-smoked outfit in Hemingway, SC, to bring the same authenticity to the city. The pulled pork sandwich is as bold and joyful as Scott's broad, genuine smile. (843) 990-9535; http://www.rodneyscottsbbq.com/
8. The Neighborhood Café: Harold's Cabin
Forget that Bill Murray is a part-owner of this upscale Westside neighborhood diner. Look past the tastefully eccentric shabby-chic décor, lorded over by a wall-size jackalope mural. Eat at Harold's Cabin because it's quietly building the city's most exciting sandwiches (tempura fried chicken thigh, anyone?) and satisfying, unique entrées like boar meatloaf. The ground floor doubles as one of the city's best coffee shops. (843) 793-4440; http://www.haroldscabin.com/
9. Hidden Gem: Bar Normandy
Chef Alex Lira earned this year's most unconventional James Beard nomination for his nightly pop-up in Normandy Farms Bakery. Each evening features three one-time-only dishes based on local availability. The only constants are delectable raw oysters and a tap where the rosé flows freely. (843) 789-4509; https://www.instagram.com/barnormandy19/
9. Splurge in Style: Zero Restaurant + Bar
Its location in a tiny boutique hotel keeps this charmer largely off-the-radar, but a romantic meal here leaves a vivid impression—one you can take with you through an intimate three-course cooking class each Saturday and Monday with chef Vinson Petrillo. (843) 817-7900; http://zerorestaurantcharleston.com/
11. The Trendsetter: The Macintosh
"The Mac" now feels like a staple on King Street, but its usage of unconventional cuts (like beef deckle) and rich flavors like cappelletti pasta with beef consummé and short ribs were novel when chef Jeremiah Bacon debuted his passion project in 2011. Don't leave without ordering the bone marrow bread pudding. (843) 789-4299; http://themacintoshcharleston.com/
12. The Next Generation: Basic Kitchen
This newcomer hits all the right buttons for what's hip right now, from its gorgeous, sun-filled design to its smart menu of organic acai bowls, veggie-based protein bowls, and pan-seared local fish. It's tempting to eat here three times a day. (843) 789-4568; https://basickitchen.com/
  Vendue
Atmosphere is Everything - These bars set the scene
The Rooftop at the Vendue Few bars are more enduringly classic than this double-decker rooftop staple with sweeping views of the Cooper River. (843) 577-7970; http://www.thevendue.com/
Stars Ambitious from the get-go, this massive Upper King Street restaurant has thrived, thanks in part to its sprawling rooftop. It's a go-to for brunch-time Bloodies, and one of the hottest tickets for weekend revelers on steamy summer nights. (843) 577-0100; http://starsrestaurant.com/
The Griffon Stepping into this classic pub feels like visiting the Charleston of decades past, evidenced by decades of dollar bills tacked to the walls. Live bands guarantee a rowdy, packed-house vibe on weekends. (843) 723-1700; http://www.griffoncharleston.com/
Salty Mike's Deck Bar If your next stop after Charleston is due east to Bermuda, you'll find your captain and crew at this sailors' bar at City Marina, where high tide occasionally washes over the patio. (843) 937-0208
(left) The Living Room at The Dewberry; (right) The Belmont.
Classy Cocktails - Where the mixologists roam
The Getaway A fresh face on Upper King, this hangout lives up to its name on the tucked-away back patio, where the daily sangria or a pisco-yerba maté cocktail feel like an escape to America del Sur. (843) 203-3294; https://thegetawayonking.com/
The Belmont Timeless by design, this swanky lounge projects black-and-white films onto the wall, a fitting complement to bespoke cocktails like the jalapeño honey-infused tequila and mescal amalgam, The Bells of Jalisco. (843)743-3880; http://www.thebelmontcharleston.com/
South Seas Tiki Lounge Charleston finally has a tiki bar that would make Trader Vic proud. Grab a comfy couch and wash down the pupu platter with 
a rum and cream of coconut
Mermaid Trap elixir. (843) 306-0101; http://southseastiki.com/
The Living Room at The Dewberry This swanky hotel's lobby bar, The Living Room, has already garnered a nationwide James Beard nomination for Outstanding Bar Program.
(from left to right) 66 Bull Blond, West Brook Brewing White Thai, Holy City Brewing Pluff Mud Porter, Skipjack Oyster Gose.
Perfect Pints - 10 essential Charleston beers
1. Charles Towne Fermentory Skipjack Oyster Gose. 4.2% ABV. Fermentory founder Adam Goodwin built a national reputation at Boston's Trillium Brewing Co., before heading south to further his legend with beers like this briny sour brewed with whole oysters.
2. COAST Brewing Co. HopArt IPA. 7.7% ABV. The flagship brew from the husband/wife team that launched Charleston's craft beer revolution. Even the pale-averse find it refreshing.
3. Edmunds Oast Brewing Co. Coin Operated. 5.5% ABV. The adventurous brewers at this craft-lovers haven dug out an old-style grisette recipe for this super dry ale that's akin to an herbal saison.
4. Freehouse Brewery Ashley Farmhouse Ale. 6.1% ABV. All-organic and bursting with tarty tang, this yeast-forward saison matches the idyllic views of the brewery's riverfront tasting room.
5. Holy City Brewing Pluff Mud Porter. 5.5% ABV. Medium body and just the right amount of chocolate make this a dark beer suitable for summer days—or after a Sunday brunch Bendy Brewski yoga session at Holy City's inviting North Charleston taproom.
6. LO-Fi Glitter Pony. 8.4% ABV. Pisgah Brewing cofounder Jason Caughman migrated south to open LO-Fi. He's quickly made a mark with this spicy golden brew that packs a wallop.
7. Munkle Brewing Co. 66 Bull Blonde. 5.4% ABV. Local honey and German hops intermingle in this highly drinkable, crisp Belgian ale.
8. Revelry Brewing Gullah Cream Ale. 5% ABV. This light but flavorful beer has locally milled grits in it, but still goes down smooth.
9. Tradesman Brewing Co. Shift Change. 6.5% ABV. Through the addition of lactose and roasted barley, this beer manages to blend the best of a rich cup of joe with a light-bodied ale. Tradesman bills it as a "White Coffee Stout."
10. Westbrook Brewing White Thai. 5% ABV. This Mount Pleasant mainstay's gose helped launch the national trend, but their Belgian witbier with a ginger kick earns nods for all-day drinkability.
King Street downtown Charleston
Discover the City (#SoCharleston Experiences) - Enjoy a week's worth of quintessential Lowcountry faves
Stroll the Battery The heart of Charleston's appeal is its architecture, displayed prominently in the South of Broad neighborhood. Allow at least two hours to walk the Peninsula's perimeter to The Battery, taking you past Rainbow Row (the nation's longest cluster of colorful Georgian row houses), the Edmondston-Alston House, and White Point Garden, with its views across the harbor to Fort Sumter. Consider renting bikes ($7/hour) from The Bicycle Shoppe on Meeting Street. There are no public bathrooms south of Broad Street, so being on two wheels will let you see more and allow for a quick exit back to the heart of the city. (843) 722-8168; http://thebicycleshoppecharleston.com/
See the Original Charles Towne Charleston's original settlement, established in 1670, wasn't on the city's peninsula, but in present-day West Ashley, where the 664-acre Charles Towne Landing State Historic Site includes replicas of the original village and the Adventure, a functional seventeenth-century sailboat. The $10 entry fee also includes an excellent interactive museum, a zoo that's home to indigenous animals like puma and buffalo, and six miles of trails. https://southcarolinaparks.com/charles-towne-landing
Shop King Street and the Market King Street serves as Charleston's central thoroughfare and its upscale retail hub. Shops like Hampden Clothing and The Finicky Filly rival New York's stylish boutiques, while Las Olas provides the threads for bikini season. http://susanlucas.typepad.com/kingstreetfashiondistrict/
Around the corner, Market Street's Historic City Market is where local craftspeople sell their wares, from pralines to sweetgrass baskets, woven on the spot by Gullah-Geechee artisans. Beat the heat and plan to go on a Friday or Saturday evening (6:30-10:30 p.m.).
Take a Taxi Across Charleston Harbor Charleston's Water Taxi runs from the South Carolina Aquarium to Patriot's Point, and at $12 for an all-day pass, it's a bargain way to get on the water. Use it to visit the USS Yorktown aircraft carrier if you're staying downtown, or to arrive in style at the Party at the Point concert series on summer Friday evenings. The Taxi also offers dolphin tours around Charleston Harbor, included in the all-day ticket cost. http://www.charlestonwatertaxi.com/
Eat Oysters at the Source On the way to Folly Beach, Bowens Island restaurant beckons passersby with its crafty billboard and inviting dirt road across the salt marsh. That dusty path terminates into a creek, where local oystermen off-load their daily haul from September through April. Order a bucket, steamed in the classic manner of a fiery hot steel plate and smothered in salty burlap. Wash it all down with a cold local beer while the sun sets over the salt marsh horizon. (843) 795-2757; https://bowensisland.com/
Float the Nation's Longest Free-flowing Blackwater River Fans of the French Broad and the Green rivers will love the wildly unique experience of floating the Edisto River by inner tube or canoe. The sandy-bottomed river is the color of iced tea, due to tannins from the trees that line its banks, including picturesque cypress and tupelo. Carolina Heritage Outfitters offers rentals and shuttles for day trips or overnight adventures. Camp on a wide, inviting sandbar, or book one of the outfitters' enchanting, rustic tree houses for a romantic escape. http://www.canoesc.com/
Discover an Island Wilderness Bulls Island is part of the Cape Romain National Wildlife Refuge, a certified wilderness that's only accessible by boat. The Bulls Island Ferry, operated by Coastal Expeditions, runs twice a day through the vast Bulls Bay wetlands, dropping passengers off on the island for a day of exploring impoundments rich with wildlife. Bring your camera to capture the stunning boneyard beach and the near-guaranteed close-up encounters with the island's thriving alligator population. (843) 884-7684; http://coastalexpeditions.com/bulls-island-ferry/
Drink Sweet Tea in a Rocking Chair Visiting the Charleston Tea Plantation would be worth it just for the drive across rural, scenic Wadmalaw Island, but the working farm sweetens the deal with trolley tours of the grounds where American Classic Tea's product is grown. There's also a processing plant and a museum, but the real draw is the sweet tea, brewed fresh at the source, and sipped from a rocking chair that looks out across the scenic fields. (843) 559-0383; http://www.charlestonteaplantation.com/
Belmond Charleston Place
Rest and Refresh - (Downtown Luxury)
The Dewberry - From the mahogany walls to the travertine marble floors, this new landmark on Marion Square is an exercise in distinguished class. There's a top-notch on-site spa, a lauded restaurant (Henrietta's) and a wide rooftop that's currently available to guests and may open as a public bar by this summer. (843) 558-8000; https://www.thedewberrycharleston.com/
Belmond Charleston Place - Once called the Omni, Charleston Place helped Charleston turn a corner over three decades ago. It's the hub of King Street and is still the standard bearer for downtown accommodations—a status that a complete modernization of each room over the last several years helps it maintain. (843) 722-4900; https://www.belmond.com/hotels/north-america/usa/sc/charleston/belmond-charleston-place/
Hotel Bennett (Opening late summer) - Downtown's newest luxury hotel promises pure Grande Dame opulence. It's opposite Marion Square from The Dewberry, prompting immediate competition for its spa and restaurant amenities. Of note is Camellias, billed as the city's first "ladies lounge." (844) 835-2625; http://www.hotelbennett.com/
The Vendue - This stalwart off East Bay Street reinvented itself as an art museum, and it's more than lip service—the rotating exhibits and visiting artists are captivating. The former warehouses manage to balance stylish modernity with historic touches, like exposed brick interior walls. (843) 577-7970; http://www.thevendue.com/
Grand Bohemian - Eclectic and inviting, the gem of this glamorous hotel is the on-site restaurant, Élevé, and its adjacent rooftop bar that's outfitted with Astroturf and futuristic lounge furniture. There's also an art gallery on the ground floor. (843) 722-5711; https://www.kesslercollection.com/bohemian-charleston/
Live Like a Local
Rent a beach house If you're deal-seeking, VRBO and Airbnb rentals on Folly Beach and Isle of Palms can be found on weeknights and off-season for under $150/night. For a curated selection of homes that meet requirements like pet-friendly or ocean views, look to a local agency like My Ocean Rental on Folly Beach or Dunes Properties on IOP and Folly.
Book a cottage on the harbor Still a relative secret, The Cottages on Charleston Harbor is a newer option at Patriots Point. These whole-house rentals offer all the amenities of a hotel, including continental breakfast, with room to spread out, free parking, and stunning views across the harbor. It's a 10-minute Water Taxi ride to downtown, making it almost as convenient as a hotel in the city. (843) 849-2300; https://www.thecottagesoncharlestonharbor.com/
Airbnb downtown
As in Asheville, short-term rentals are a testy topic in Charleston, subject to ever-changing local laws and varying levels of enforcement. They are legal in the www.Cannonborough/Elliotborough neighborhood, however, so book early and secure walking-distance access to the Upper King district.
Under-the-Radar Stays
James Island County Park – Ten minutes from downtown, this well-kept county park is a local favorite for its biking trails, dog park, public dock, and water park. It's also a peaceful place to RV or tent camp. The park also has reasonably priced, marshfront three-bedroom cottage rentals that book far in advance.
Ride the Rising Tide – A handful of industrious boat owners have converted sailboats and houseboats into Airbnb rentals. For under $200/night, you can toast the sunset from the bow of your own yacht. The best listings are at https://www.airbnb.com/users/1918595/listings.
Find even more great info about Charleston, including an awesome bucket list of things to do, a guide to summer, a video on Bowens Island restaurant, and more from our sister publication at www.charlestonmag.com.
RESOURCES:
Photographs (beach path) by Betsy Shrader; opposite (fort Moultrie) courtesy of National Park Service; (Poe's Tavern) by Ruta Elvikyte; (kiteboarding) by ben williams; (Obstinate Daughter) by Andrew Cebulka; courtesy of the Windjammer; courtesy of Wild Dunes Resort; (park) courtesy of Charleston County Park & Recreation Commission. Photographs courtesy of (IOP Beach, Beachwalker Park, Folly Beach, lighthouse) Charleston County Park & Recreation Commission; (fish) Isle of Palms Marina; (parasailing) Tidal Wave Water Sports; (golf and spa) Kiawah Island Golf Resort; courtesy of McKelvin's Surf Shop; (Wich Doctor) by Peter Frank Edwards. Photographs by (Hominy Grill) Mac Kilduff; (Husk) Andrew Cebulka; (Xiao Bao and Martha Lou's) Ruta Elvikyte; (The Ordinary) Olivia Rae James. Photographs by (Rodney Scott) Mac Kilduff; (Harold's Cabin) Leigh-Ann Beverley; (Zero) K.T. Merry; (Basic Kitchen) Taylor Drake; (The Macintosh and Stars) Andrew Cebulka; (cocktail) courtesy of Vendue. Photographs (2, Charles Towne) courtesy of South Carolina State Park Service; opposite (oysters) by Peter Frank Edwards; (canoeing) by Alice Tubley; (tea) by Christopher Nelson; (2, Bull's Island) courtesy of Coastal Expeditions. Photographs courtesy of (2) the Dewberry Charleston; The Vendue; Belmond Charleston Place; Grand Bohemian; the Belmont. Photographs courtesy of (IOP beach house) Dunes Properties; (airbnb) Ryan Reichlyn; (RV camping) Charleston County Park & Recreation Commission; 4 beers) by Brett Tighe