What's In A Name? Worry & Joy
What's In A Name? Worry & Joy:
Don't worry, be happy: there's a humorous story behind the unique moniker of one WNC community, and there's a splendidly contrasting place name just down the road.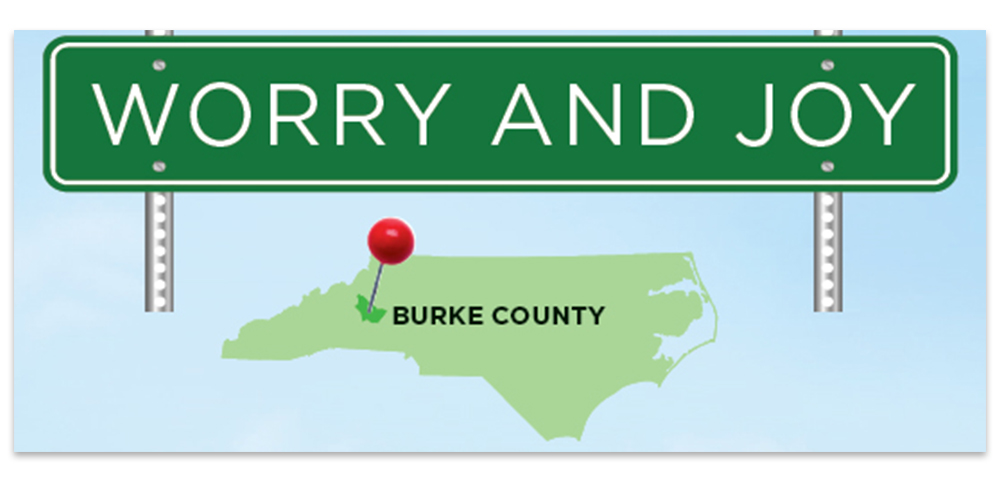 "You have to go through worry to get to joy"—so goes an age-old axiom in Burke County. Over a hundred years ago, this was a phrase spoken to visitors seeking directions to the community of Joy. And there's a little-known tale about two of the county's early settlements, located just three miles from one another.
The lore of how the places got their monikers spans across multiple generations of Burke families, one in particular being the ludicrous predicament that led to Worry's official naming in 1888. Before then, local resident Joe Hall's store had become a community cornerstone for social activities and was infamously referred to as Loafer's Joy. Mr. Hall's store became the town's first post office in 1884. However, it wasn't until the early 1900s before it was shortened to Joy. As told by storyteller John Parris and a seperate 1981 historical account of Burke County, the small population of 30 or so residents that would make up the town of Worry were frustrated because of the constant rejections they received when proposing names for the town. In fact, each suggestion had already been established elsewhere in the state, rendering it unusable.
The postmistress at the time, Mrs. W.C. Henderson, was among the disgruntled, and in the heat of the moment exclaimed, "Just name the post office 'Worry,' for that is all it has been to me!" The postal officials accepted the outlandish idea, and the name has been in use since.