West First Pizza
The earthy aromas of burning white oak and baking bread scent the air of West First Wood-Fired Pizza in Hendersonville. A pair of chefs slide savory pies from the oven on wood paddles. Each stone-ground wheat pizza is baked just so—oozing mozzarella, and the slightest shadow of a char on the edges of the thin, crisp crust. But unlike most wood-fired pizzerias this side of the Atlantic, West First isn't trying desperately to replicate the quaint surroundings of old Tuscany.
A gigantic clay oven studded with a mosaic depicting a flame stands as the focal point of the cavernous, industrial-style interior. Painted windows akin to stained glass and massive contemporary portraits covering one wall lend a loft-like atmosphere to the otherwise casual eatery.
Co-owners Scott Unfried, who is also the proprietor of Flat Rock Village Bakery, and Dave Workman bring plenty of baking cred to the place, but they also serve house-made pastas, calzones, torts, and less-expected fare like shrimp tagliatelle. If this is your first visit to West First, pizza is the undeniable choice.
There are 12 specialty pies, including the prosciutto pizza topped with fragrant bits of aged Parma ham, brushstrokes of marinara, warm mozzarella, and a sprinkling of nutty arugula. Goat cheese with garlic-laced basil pesto, spinach, marinated artichoke hearts, olive oil, and sun-dried tomatoes, make a splendid white pie. (Wood-fired goat cheese pizza shown below)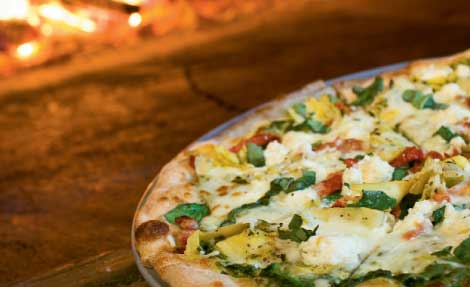 True Italian desserts like homemade gelato and chocolate-hazelnut tiramisu vie for attention with the more exotic wine-poached pears. This is the kind of eatery that has the ability to transport you right to the heart of lo stivale—the best part is that West First takes you there by way of the food, not the décor.
West First Wood-Fired Pizza
101 First Ave. W., Hendersonville
(828) 693-1080; L, D; Tuesday-Saturday
Entrées: $$