Wear 'em Out
Wear 'em Out:
Just when you start to lose steam, the kids' energy reserves always seem to kick in. Here are ideas for curbing their enthusiasm.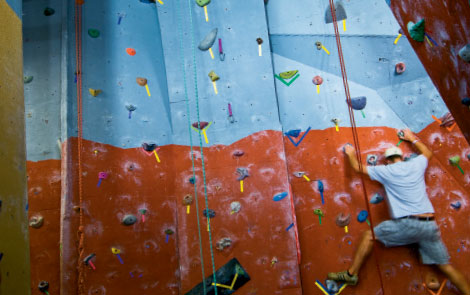 FLIP OUT
Trampolines, foam pits, balance beams, high bars, and a spring-board floor create an ideal playground for daredevils in training. High Flight Gymnastics in Asheville offers classes for Mary Lou Retton types, but Friday Fun Nights are open to the public. Kids ages five to 13 can drop in from 7-10 p.m. for organized activities and supervised free time. Rest assured your child won't ask to stay up late when you pick them up.
50 Coxe Ave., Asheville; $10 per child, $19 for two and $7 for each additional child; (828) 252-8746; www.highflightgym.com
BONUS: The Little Gym, 1000 Brevard Rd., Asheville;
(828) 667-9588; www.tlgashevillenc.com
---
ON FOUR WHEELS
WNC's largest indoor skatepark, Zero Gravity in Brevard, offers enough ramps, ledges, and bowls to keep kids rolling for hours. Too young to skateboard? The first Monday of each month, ZG opens the ramps to toddlers who can run, slide, and squeal to their hearts' content.
920 Old Hendersonville Hwy., Brevard; $7 Tuesday-Friday & Sunday, $12 Saturday, equipment and safety gear available for rent; (828) 862-6700; www.zerogravityskatepark.com
BONUS: Food Lion SkatePark, 3 Cherry St., Asheville; (828) 225-7184
---
BREAK IT DOWN
Joseph Adams of Asheville's break-dance troupe Hunab Kru, teaches kids of all ages the basics of break dancing during free drop-in classes, Wednesdays from 7-9 p.m. at Stevens-Lee Recreation Center in Asheville. Once your kid can pop and lock, or do the robot with some amount of skill, they can sign up for a semester-long class (starting August 18) at the Asheville Arts Center.
30 George Washington Carver St.; e-mail bboyeducator@gmail.com
---
SPIN CYCLE
In addition to multiple baseball and soccer fields, and eight tennis courts, Jackson Park in Hendersonville has a BMX track that offers plenty of ups, downs, zigs, and zags. Can anyone say, helmets?
801 Glover St., Hendersonville; (828) 697-4884; www.hcprd.com
---
JUMP AROUND
KidzPlay in Forest City is an 8,000-square-foot wonderland of giant inflatable rooms, slides, obstacle courses, and developmental games where bouncing off the wall is encouraged.
114 Michael Dr., Forest City; $5, ages 1-13 only; (828) 245-4543;
www.kidzplay.us
---
REACH FOR THE TOP
If your kids are driving you up the wall, return the favor at Climbmax in Asheville, a climbing facility that offers bouldering for the younger set and instruction for kids 13 and older.
43 Wall St.; $9 bouldering day pass, $6 per half-hour, $25 for instruction and equipment rental; (828) 252-9996;
www.climbmaxnc.com
---
KEEP ON ROLLIN'
Chances are, you'll wipe out at least once at the roller rink, giving your kids plenty to laugh about. But you'll be able to reclaim your pride during a round of glow-in-the-dark bowling, both at the Franklin Family Entertainment Center. If you want to get more laughs, regale the kids with stories about the days when skate wheels were made of metal. It'll confirm your dinosaur status and explain your lack of coordination.
38 John Justice Rd., Franklin; skating, $1 to $4.50 depending on day, $.50 skate rental, bowling $2.40 adults, $1.80 for ages 12 and younger, $1.75 shoe rental; (828) 524-8567; www.franklinlanes-skate.com
BONUS: Tarwheels Skateway, 2134 U.S. 70, Asheville;
(828) 298-6606; www.tarwheelsskateway.com