Waste Not, Want Not
Waste Not, Want Not:
Two local organizations fight food waste in WNC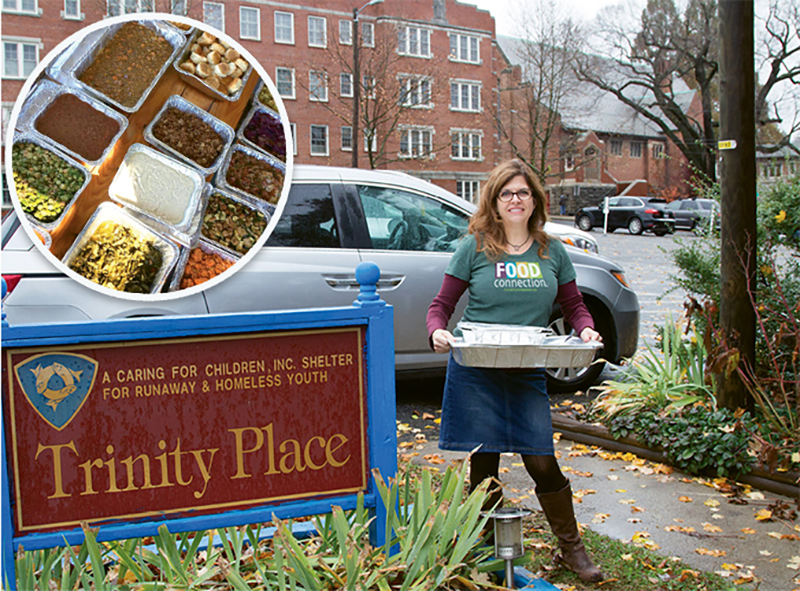 Food Connection's Flori Pate.
Amid WNC's rising food and beverage scene, the region also faces increasing food insecurity, hampering access to nutritious consumables. According to 2015 statistics from the Southeastern University Consortium for Food Security and Health, over 34,000 people in Buncombe County alone—WNC's most populated county—don't have enough to eat. Complicating the issue is the fact that a lot of perfectly good leftover food—unused by restaurants and grocery stores or left over after catered events—ends up in landfills.
Kim Lloyd, owner and chef at Asheville's Celine and Company Catering, says that throwing away perfectly good food at the end of events feels "traumatizing." But now, as a partner with Asheville's Food Connection, she only has to text a number at Asheville Taxi's dispatch, and a driver will come pick up leftovers and take them to local nonprofits and shelters that make sure it goes to use. The brainchild of Flori Pate, Food Connection started four years ago after Pate had an eye-opening discussion about food waste with a client.
With support from Grace Covenant Presbyterian Church, Pate partners with organizations across town including UNC Asheville, Deerfields, Packs Tavern, and The Crest Center. "We connect the dots between those who have too much food and those who don't have enough," she says. A partnership with Hall Fletcher Elementary's after-school program means parents in need can take prepared meals home for the weekend, introducing kids to healthy foods they might not have tried before. Partners get tax benefits, and their donations are perfectly legal, thanks to the 1996 Bill Emerson Act, which has helped boost food donations by minimizing liability.
 (Left)  F.A.R.M. Café runs a restaurant in Boone and helps feed the hungry through its Full Circle Program; (Right) BeLoved Asheville's Amy Cantrell
Since its inception, Food Connection has delivered over 100,000 meals and continues to grow. Earlier this year, the organization added Food Connection East in Black Mountain; with partners including Ridgecrest and Black Mountain Children's Home, the organization has delivered record amounts of monthly meals.
In Boone, F.A.R.M. Café is working on a similar effort to alleviate food insecurity in the High Country. Focusing on "community and dignity," Renee Boughman cofounded the café in 2012 as way to supply lunch to the hungry regardless of their means, hoping that a homeless person and a college professor, for example, might be able to enjoy food and conversation together, she says. When possible, the restaurant purchases produce from local farms and grocers to create its daily menu.
Through the years, it became clear that there's enough food in the community to feed everyone, says Elena Dalton, coordinator of F.A.R.M.'s Full Circle program; it just needs to get to the right place at the right time. The program, started last May, partners with local business owners, farmers, grocers, and restaurants to turn imperfect produce, food that was over-ordered, and more into heat-and-eat meals, meal kits, and other value-added products. These meals are available at the café or delivered to local faith-based organizations and nonprofits serving the hungry. Dalton says that the organization was projected to receive one ton of food within the first year, but it hit that mark within the first week and expects to reach 10,000 pounds in the very near future—all of which will go to those in need.
Food Connection
22 S. Pack Sq., Asheville
(828) 407-0353
food-connection.org
F.A.R.M. Café
617 W. King St., Boone
(828) 386-1000
farmcafe.org
RESOURCES:
Photographs courtesy of (3) Food Connection; (F.A.R.M. Café) Kathryn Ray