The Village Café
The Village Café:
If you're looking for reasons to drag yourself out of bed in the morning, the Village Café in Blowing Rock offers plenty: French toast made with dense Argentinean fugasa bread; eggs Bernice with smoked turkey and tomato; Scandinavian eggs with vodka-cured salmon; crepes with Canadian bacon, Swiss cheese, and hollandaise; mimosas made with fresh-squeezed orange juice. But if you hit snooze, you won't miss out.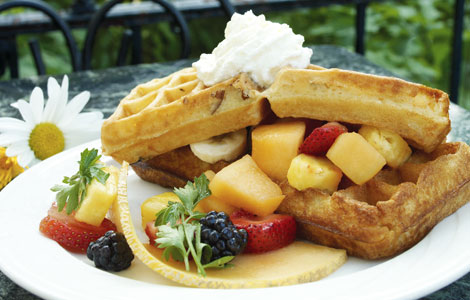 That's because owners Annie and Andy Whatley happily highlight the most important meal of the day until close at 2:30 p.m.
The café is tucked into the Randall Memorial Building, a darling, white-frame cottage on the National Register of Historic Places, but many patrons take the opportunity to dine in the courtyard surrounded by a bevy of cultivated blossoms and wildflowers.
Still, this isn't a one-note establishment, the lunch menu is punctuated with elegant flourishes such as grilled molasses-glazed salmon and divine soups including a velvety hazelnut-mushroom.Proprietors since the early '90s, the Whatleys know that consistency is what keeps their patrons coming back year after year.
But clearly, diners also appreciate Andy's penchant for experimentation. The chef likes to get creative with seafood, including the Creole crayfish hash and Charleston eggs Benedict topped with a crab cake. Guests
can look forward to slow-roasted duck with a kalamata olive sauce which will make an appearance on the menu this fall.
After all, like Annie says, "Life is too short to have a mediocre meal."