Veggie Might
Veggie Might:
From the founder of Thirsty Monk, Asheville's new salad eatery delivers on fresh and healthy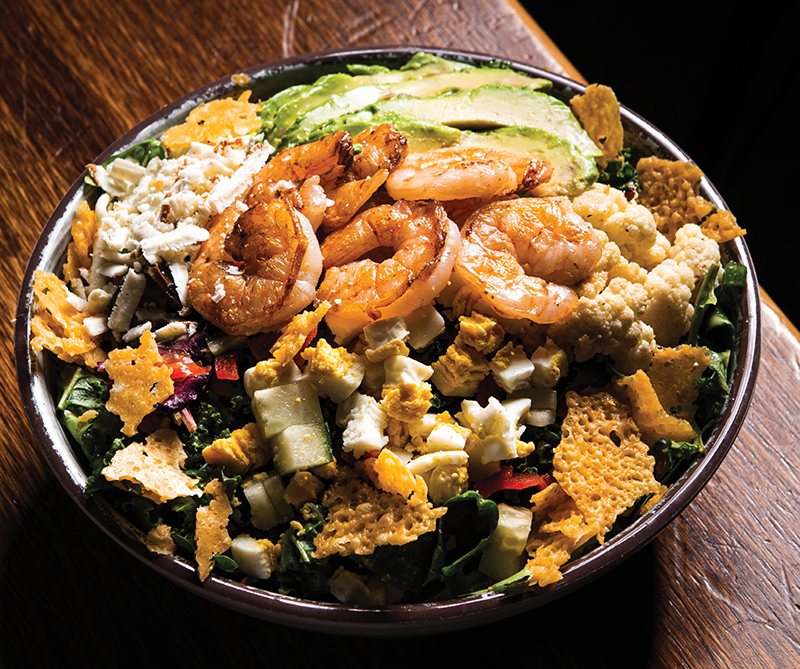 What do nutrient-rich salads and beer have in common? In Asheville, it's Barry Bialik, the creator and owner behind Thirsty Monk brewery and Tasty Greens, a salad and grain bowl concept restaurant that launched in September in Biltmore Park and will open its downtown location (a takeout window for now at Thirsty Monk) in March. "I've been a vegetarian since I was 15," says Bialik, "so my comfort food has been salads and healthy bowls"­—especially during the pandemic. Warm bowls with quinoa, black or cauliflower rice, and veggie-packed, protein-optional salads comprise the menu, though Bialik prefers the build-your-own route. His favorite version—which he likes to enjoy with Thirsty Monk's Holy Water hard seltzer—blends shrimp, cotija cheese, jalapeño for a kick, vegetables, and an apricot vinaigrette. "In salads I like a lot of texture," he says. "The house grilled cotija (recipe online) is really good with the shrimp and jalapeño, and the cheddar crisps (recipe online) add that crouton-like texture. It all blends really well together." You can order Bialik's favorite salad at Tasty Greens as a build-your-own option, or mix it up at home with this recipe.
Barry Bialik's Build-Your-Own Salad
(Courtesy of Tasty Greens)
Spinach
Kale
Mixed greens
Sweet peppers
Cucumbers
Grape tomatoes
Avocado
Cauliflower florets
Jalapeno
Boiled egg
Grilled shrimp
Grilled cotija cheese
Cheddar cheese crisps
Apricot Vinaigrette
(Yields 2½ cups)
1/2 cup apricot preserves
1 Tbsp. fresh tarragon
1/2 cup rice wine vinegar
1 tsp. garlic, crushed
1/2 cup grape seed oil
1/2 cup extra virgin olive oil
Using a blender or food processor, combine all ingredients except the oils and blend until smooth. With the machine running add the oils slowly to emulsify the dressing.
Cheese Crisps
(Yields approx. 1/2 cup baked)
1 cup fresh grated cheese (sharp cheddar or Parmesan)
On a parchment-lined baking pan sprayed with nonstick cooking spray, spread the grated cheese evenly and thinly. Bake at 325°F for about 30 minutes or until the cheese has fully melted and begins to change color. When done, remove from the parchment immediately by turning it cheese side down and peel the parchment paper off. If the cheese sticks to the paper cook for a few more minutes. Allow to cool completely. It should be brittle and break easily. Crumble to desired size.
Grilled Cotija Cheese
Slice desired amount of cotija cheese about 1-inch thick. Heat a nonstick pan over medium heat for a couple of minutes. Add a small amount of oil and wipe with a paper towel. Add slices of cheese and cook for several minutes on each side until golden brown. Remove and let cool. Cheese can be diced or shredded for desired flavor.
Tasty Greens
Asheville; (828) 774-6012
tasty-greens-usa.square.site