Tyler Ramsey's New Lost Ages
Tyler Ramsey's New Lost Ages:
Guitar, vocals, lyrics—the Asheville-based musician does it all. Go behind the scenes to learn about Ramsey's life on the road, the joys of playing music live, and his journey home.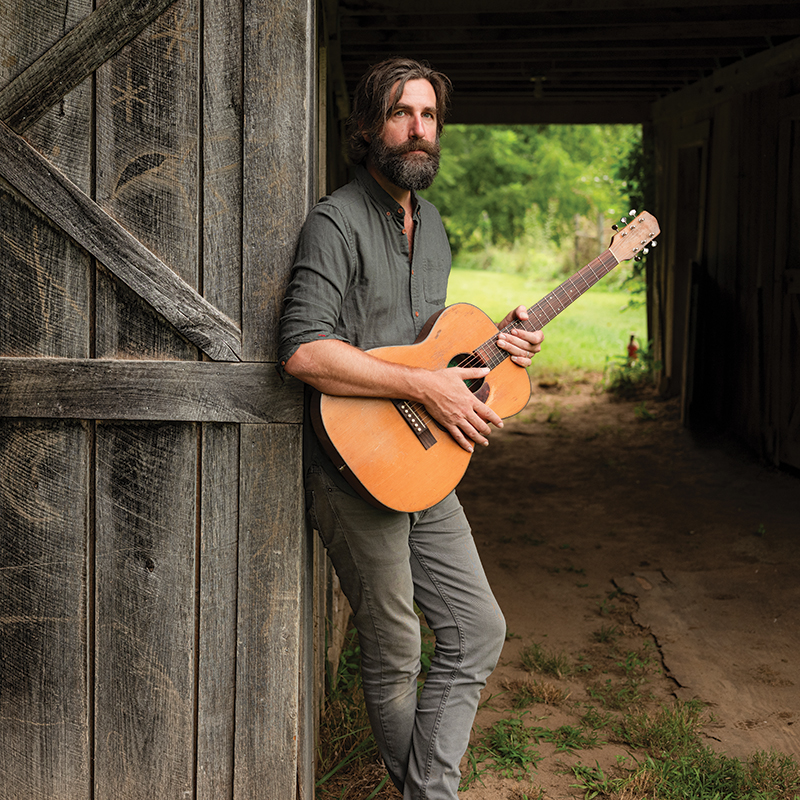 The firepit sparks and crackles on the front porch where a few stragglers warm their hands while the rest of the forty or so guests file into the house to find their seats.
Packed into a beautiful little modern ranch house on the outskirts of town, the small crowd is gathered for an intimate living room performance from one of Asheville's most beloved songwriters, Tyler Ramsey, who seems to be poking his head out from his homestead for the first few shows on his roster since the COVID-19 pandemic. But unlike his usual local shows—a packed house at the Grey Eagle with a full band on stage—this small crowd is treated to a one-man show. A perfect environment to test out a few new tunes from his forthcoming record, New Lost Ages. Just the month before this tiny house show, Ramsey was on the stage of Harrah's Cherokee Center performing for 7,000 fans at the Warren Haynes Christmas Jam.
"I'm not trying to play in Asheville all the time, but I've realized that there's such a cool energy when I perform for an audience that's not going to drive all the way into the city to see me play," he says. Most of his shows, as of late, have been more intimate. He's played Yonder (a small market in Franklin), a songwriter's night at Highland Brewing, and the Cold Mountain Music Festival in Canton. "It's really a special night to show up to a place that is not always a music venue and play music for people in their town."
For Ramsey, It's always been about the music, which means stripping the whole staged spectacle back to the roots of good songwriting. "I think when you get to a certain level, there's a certain amount of hype that is really distracting from what is actually happening," he says. "But I'd rather play to a small group of people that are really into it and have a night together where we are just taken somewhere else for a minute. No one needs to post about it, it's just a thing that happened. To me that's what's really satisfying about what I do—I can hopefully take an audience and give them a break from life for a while."
A family man, Ramsey has two children: a two-year-old son, Elliot (pictured above left), and a daughter, Sylvie. Once he and his wife had Sylvie, they purchased some land outside of Asheville, settling down and letting Ramsey take a break from many years on the road with Band of Horses; (Right) In August, Ramsey performed at the inaugural AVLFest, a venue-based music and arts festival that debuted this summer. He played  to a crowd of loyal, local fans at outdoor concert hall The Outpost.
Born in Cincinnati, Ramsey's family moved around a lot. Living outside of Chicago, he started taking jazz piano lessons when a teacher recognized his penchant for playing by ear. "Being able to improvise was a lot more fun than sitting there trying to read sheet music," he recalls. "I think that's really what got me into music was that freedom." By high school, the family had relocated to the Nashville area, and Ramsey had acquired his first electric guitar. He developed an interest in fingerstyle guitar (using his hands to pluck strings rather than a pick), and eventually found his way to Western North Carolina, where he had a brief stint studying outdoor education and classical guitar at Brevard College. "I just wanted to rock climb and play guitar," he laughs.
After abandoning school and moving to Asheville, he took a job at Almost Blue, a record store run by Brian and Susan Haynes. Below the store was a small music hall, The Basement. A respite for up and coming Americana and alt-country acts, the venue hosted artists like Ryan Adams and Drive-By Truckers. "It was a big shift in my musical taste, being around them and what they were listening to, and having access to that kind of music all the time."
Asheville was still a burgeoning artist haven, in a time when rent was cheap and most of the buildings stood empty, making it an ideal spot for quirky little recording studios, music venues, and bars like the much beloved Vincent's Ear, where Ramsey quickly found a home, plugging into the city's vibrant local music scene. He recorded and gigged with local favorites the Hellsayers and DrugMoney, connecting with Seth Kaufman (of Floating Action) and the not-yet Grammy nominated bassist and producer Bill Reynolds (the Blue Rags, Donna the Buffalo, Band of Horses).
"It was such a cool group of people and such a cool time, to have a place where a music scene can be fostered and is thriving like that," he says recalling evenings at Vincent's Ear. "Everything that happened there seemed exciting."
He cut his first record, simply titled Tyler Ramsey, with Brian Landrum of Black Eyed Dog in Landrum's tiny basement studio. The earnest and witty lyrics and his singular-yet-familiar guitar stylings meshed well with Landrum's vintage production style, and the sepia-toned record caught the ear of the music community.
Echo Mountain recording studios had recently opened and were launching their own record label, to which Ramsey was one of the first artists signed. In 2007 he gathered with Reynolds, Kaufman, and Landrum to record A Long Dream About Swimming Across the Sea, a record that drew the attention of critics, with Stereogum labeling him one of their Artists to Watch.
During those recording sessions, Ramsey and Reynolds crossed paths with Band of Horses, who were in the process of recording their seminal album Cease to Begin at Echo Mountain. After drafting Bill Reynolds into the band to replace a missing bassist, Ramsey also joined. He began co-writing songs with bandleader Ben Bridwell, even landing some of his own songs on the Grammy-nominated Infinite Arms, Mirage Rock, and Why Are You Okay. His song "Evening Kitchen" was a clear gut-punch standout on Infinite Arms, with Ramsey and Bridwell crooning in harmony over a solitary acoustic guitar. "If you're ever left with any doubt what you live with and what you'll do without, I'm only sorry that it took so long to figure out."
(Clockwise from top left) Tyler Ramsey Collaborations - Jr. James Second of Nine (2001); DrugMoney MTN CTY JNK (2004); Wayne Robbins & the Hellsayers The Lonesome Sea (2004); J Dimenna Awkward Buildings (2006); Hope & Anchor The Wait & Wonder (2006); Band of Horses Why Are You OK (2016); Band of Horses Mirage Rock (2012); Band of Horses Infinite Arms (2010); Seth Kaufman Research (2008)
"That whole record is very lush, and I wanted to make sure that song was what it was, just one acoustic guitar and two vocals," he says. While Band of Horses records continued to evolve into a wall of sound, Ramsey pushed in a different direction, often reigning in the arrangements and stripping it back down to the meat of the songwriting and the simplicity of a truly great performance. If anything, he considers that his primary influence on the band during his ten year stint.
The band played Letterman, performed with Neil Young, played for Pete Seger's ninetieth birthday, headlined Bonnaroo, and toured internationally. While it may have never been his intention, Ramsey found himself playing with one of the biggest rock bands in the world.
"As it evolved, it became less and less [collaborative], and it just became a one-man show," he recalls. "It was never my intention to water down someone's vision, but as it went on, it was less and less like we were in it together and felt more like we were hired guns."
After his daughter was born in 2014 Ramsey recalls, "I missed a lot of my daughter's first years of her life. There were times where I would be getting on a plane to go on tour for a month and putting my sunglasses on because I was going to have a good cry on the way out." He left Band of Horses in 2016. "I didn't have any big rock and roll fantasies ever in my life, and still don't, really. But I got to do things that I never really even dreamt of and I've got tons of cool memories and stories from that."
As always, Ramsey returned to the music and to the craft of writing songs. He followed up his moody 2011 record The Valley Wind with For the Morning in 2017, where he sings:
"There's a dream of home
For those that work out on the road
And there's a vision of the road for all the others
I can tell you what I've seen
Because I've been at both extremes
There'll be a time you'll wish you could trade your life for another's."
Ramsey's forthcoming record New Lost Ages, due in early 2024, finds him working in Seattle with the legendary producer Phil Ek—most famous for his work with Built to Spill, Modest Mouse, the Shins, and Fleet Foxes. "I got to work with him for a minute on [Infinite Arms] . . . and he was so detailed and his sounds were incredible," he says. "I really appreciated his style in the studio and I always thought it would be really cool to get to work with him."
But in his usual fashion, it's not about the glitz of having an iconic producer but about working in service of the music. For Ramsey, the goal has never been stadium tours or rock stardom, but the curation and creation of an experience.
(Clockwise from top left) Tyler Ramsey (2004); A Long Dream About Swimming Across the Sea (2008); The Valley Wind (2011); Found a Picture of You - EP (2020); L'ospite - Original Motion Picture Soundtrack (2019); For the Morning (2019)
"My aspiration has always been based on one moment," he recalls. "I've always been a huge Leo Kottke fan, and the moment I saw him pull up to Be Here Now—that old venue that used to be in Asheville—in a rental car, pop his trunk, get two guitars out, shut the trunk, talk to a couple people and walk in, and then just blow everybody's minds at that small venue. When the show is over, he just walks back out, puts his guitars in the trunk and drives off. That was the moment where I said, that's what I want to do. That was it. I just want to play music for people that are there to see me play, and it doesn't really matter how many people there are."
For more information on Tyler Ramsey's upcoming album and subsequent tour, visit tylerramsey.com