True as Steel
True as Steel:
Penland fellow Seth Gould elevates toolmaking to an art form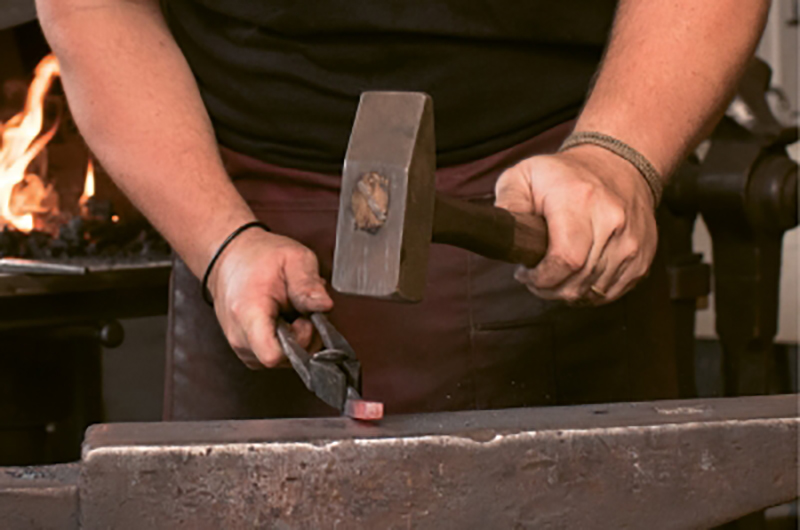 Looking at Seth Gould's exquisite handmade dividers, calipers, and hammers, it's hard to imagine ever getting them dirty by actually using them to make something. The lines are so sleek, the surfaces so refined, they look like sculptural objects. And yet, they are meant to be used and perform their functions perfectly. The Penland School of Crafts resident artist borrows from the culinary world to describe his approach to toolmaking: There are high-end kitchen knives and low-end kitchen knives, he says, and each will perform its function to a degree, regardless of its appearance. However, "In anything you make, there's an element of craft and refinement. How far you take it is your choice," says Gould. While there are some for whom a tool is just a tool, there are others, like him, who value a finely crafted implement on both an aesthetic and practical level. "If using a beautiful tool enhances your experience," he says, "it can result in better work."
Gould grew up on Cape Cod around his family's service station, and while he didn't inherit his father, uncle, and grandfather's gift for mechanics, he says, the environment influenced his approach to work. The floor of the shop, people often commented, "was clean enough to eat off of." It was a space where tools were well used and respected.
After studying fine metalsmithing at Maine College of Art—learning everything from blacksmithing to jewelrymaking—Gould had an aha moment while visiting Musée le Secq des Tournelles in Rouen, France, known for its exquisite antique lockworks, keys, and decorative ironwork. These kinds of iron creations—with intricate moving parts—were a revelation to him, and when he returned, he tried his hand at toolmaking, creating a hacksaw as his first project. He studied as a core fellow at Penland for two years, honing in on toolmaking before opening his own shop in Cleveland, Ohio. The designs he developed include calipers (which can used by makers in a variety of crafts), chasing and planishing hammers (tools used by metal workers), hatchets, saws, and measuring tools.
It's not coincidental that Gould draws comparisons between his realm of work and the culinary world: His interest in impeccably crafted tools extends to kitchen implements. After reading a New Yorker story about a pressed duck dish (canard á la presse) made by famed restaurateur Daniel Boulud, Gould took it upon himself to make a duck-pressing tool, which can now be seen in Penland's visitor center gallery. While visiting the school, TV personality Anthony Bourdain saw the press and sought Gould out to compliment him on his elegant design.
Gould was awarded a three-year residency at Penland, starting last fall. While he's at the school, he'll continue to make his production line of tools, but spend the other part of his time pursuing passion projects such as the intricate locks and clockworks that inspire him. Designing and rendering one of these creations can take hundreds of hours, but that's been no deterrent for a craftsman bringing a time-honored craft into the modern world, making objects that perform their functions beautifully while remaining beautiful.
Seth Gould's designs can be seen at his Resident Studio at Penland School of Crafts or on his website, www.sethgould.com.
RESOURCES:
Photographs (2, Gould) by Robin Dryer; (4, artworks) courtesy of the artist