Trail Guide - Fonta Flora Trail
Trail Guide - Fonta Flora Trail:
Lake James State Park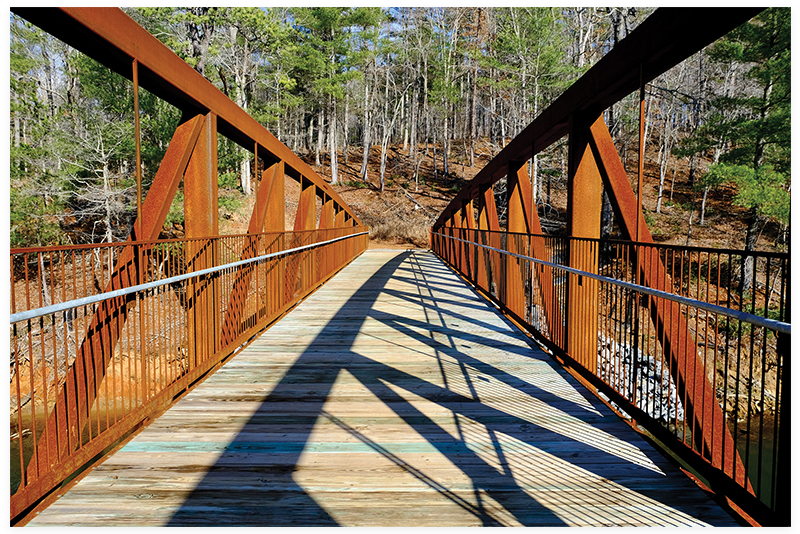 Distance: Seven miles one-way between spotted cars at two parking areas, fourteen miles round-trip out and back from either parking area.
Difficulty: Moderately strenuous one way, strenuous out and back.
When Lake James State Park's spectacular new visitor center opened in early March (daily 9-5), a new 250-foot trail bridge debuted a short distance away on a paved path. Spanning this previously-impassable cove now makes one of the least accessible sections of the Fonta Flora Trail an easy out-and-back walk from the Paddy's Creek part of the park. 
Better yet, carpool and spot a car at one end or the other. The entire seven-mile route becomes a great day hike or mountain bike ride between the visitor center and the Linville Access.  No longer is double that distance required to explore a long, rolling, natural-surface trail through a lake-flanked region just above the wooded Long Arm Peninsula (where the park's paddle-in campsites hide along the shore).
Navigate: The Paddy's Creek Area is about twenty miles west of Morganton and east of Marion, and not far west of Burke County's Fonta Flora County Park. Keep in mind: these multi-use sections of the Fonta Flora area hiking and biking trails are closely monitored and closed when wet to prevent damage. Do not make the drive without checking the state park's website or the Fonta Flora State Trail Facebook page.