The Review: Fourk
The Review: Fourk:
Chef Joyce Boston serves up a sizable menu of classic comfort foods with unique flourishes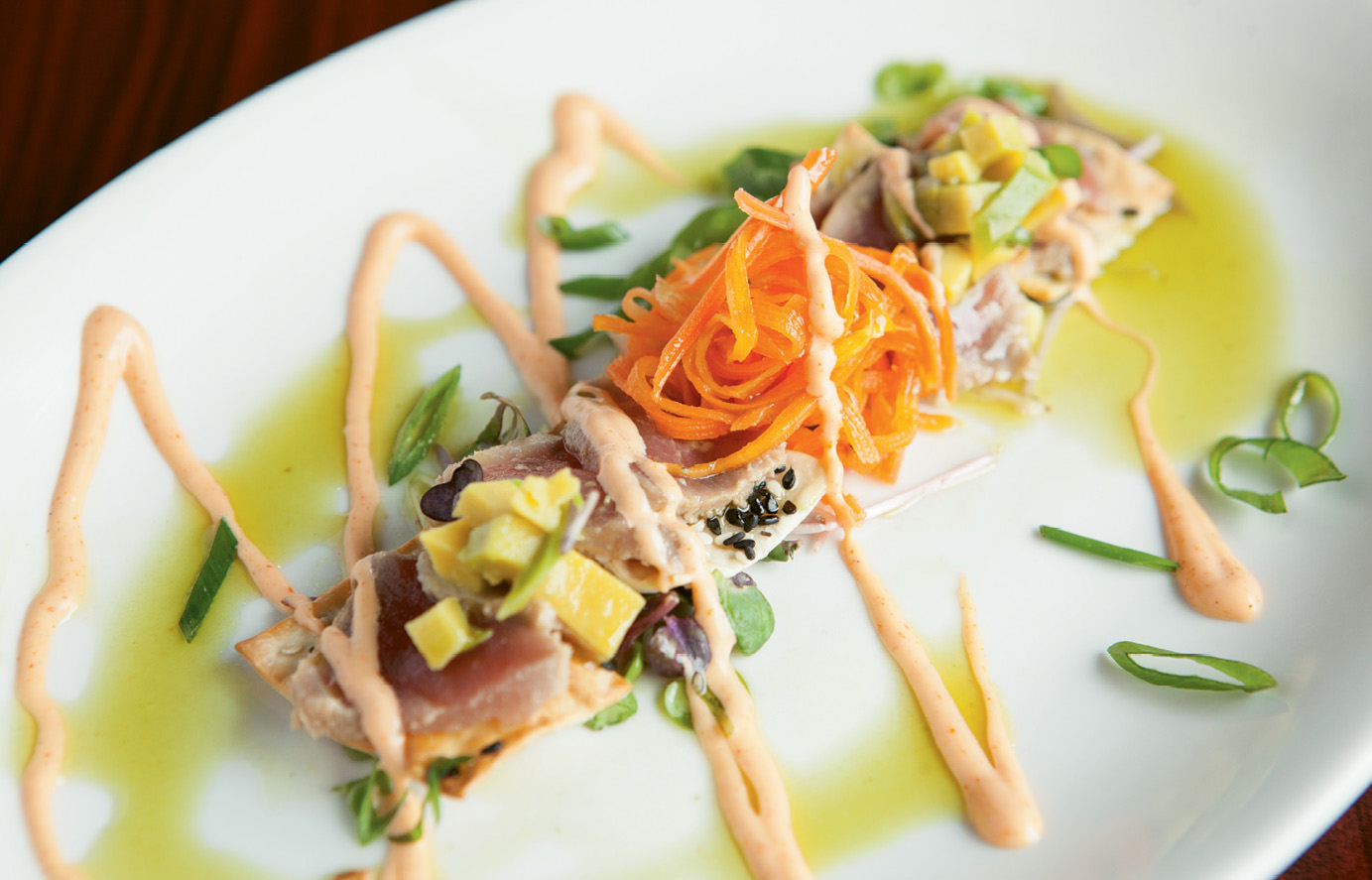 The Draw: A lengthy rotating cocktail list, big-as-your-hand steaks, and comforting bowls of pasta
The Drawback: Ordinary crackers have no business on a top-notch charcuterie board.
Don't Miss: The array of cocktails and a big dish of seafood pasta
Located in a mixed residential/business neighborhood, Fourk fills a splendid niche for Hickory. Its understated credo, "Food with a twist," only begins to convey how this stylish local watering hole serves up chic cocktails and satisfies with hearty comfort foods like pasta, pork, steaks, and a host of more adventurous dishes.
Colorful exotic flower arrangements in glass vessels greet visitors at the host stand, where patrons can opt for one of three distinct dining areas. Tucked behind a cascading glass pane waterfall, the pastel-painted bar seats 10 and leads to the casual minimalist dining room. Mid century-style sconces accent beige walls, and frosted glass pendant lamps hang low over maroon-colored booth seating.
The main dining room is accented with large throwback chrome sputnik chandeliers and metal botanical 3-D wall art. A third room, on a shadier side of the restaurant with green plants accenting the wide-plank wooden floors, serves as overflow space and hosts private events.
Fourk, a play on the spelling of its Fourth Street Drive address, opened in April of 2015 to immediate steady attendance. Owners Sean and Erica Boustead had years of marketing and restaurant management experience under their belts and brought on Chef Joyce Boston, a Johnson & Whales graduate, to create a menu pleasing and varied enough to satisfy regular diners, the after-work crowd, and special occasions.
Boston's no-nonsense platters of buffalo bites, deep-fried turkey meatballs and marinara, revolving flatbread pizzas, and the Cha-Cha Board are crowd-drawing appetizers. Mondays with a Twist—featuring cocktail, wine, and tapas specials for $5 each—smartly invigorates a generally quiet night of the week for Hickory professionals.
As for the Cha-Cha: Fourk's charcuterie board showcases the wealth of local and regional butchers and creameries, providing a formidable pairing of two summer sausages—one mild, the other offering smoky and spicy notes with an underlying sweetness. The Brie is soft and unctuous, the blue cheese solidly decent, and the garlic and basil goat cheese balls hugely flavorful. The board's only hang-up is the simple, butterfly-shaped crackers—a selection this good deserves hunks of crusty bread or perhaps a rustic lavash.
But the crackers proves the most minor of setbacks amidst Fourk's avidly consumed dishes. Next to me, gentlemen in button-down shirts toss off their ties and dig into thick steaks. Massive bowls of pasta, including the Seafood Mélange of sautéed shrimp, crab, mussels, scallops, sun-dried tomatoes, and wilted spinach tossed in white wine-pesto sauce, adorn many a table, with diners gleefully twirling away with their forks.
The Caribbean ceviche, likewise, doesn't make a misstep. In a delicate chilled citrus and slightly coconutty broth, chopped white fish, scallops, shrimp, papaya, cilantro, red bell pepper, chili pepper, and green onion have steeped in the acids, providing a refreshing bite of the remains of summer. Vertical-cut dried plantains are a perfect accompaniment.
Another crowd pleaser, the Asian pork—a grilled eight-ounce rib eye with a hoisin orange glaze—seems to exit the kitchen nonstop. Incredibly tender and succulent, the meat is cooked to perfection, with al dente ribbon-cut carrots and long beans and a scoop of mashed potatoes. That said, the bracingly sweet sauce over the pork and plate could be served at half its portion or tweaked to a more savory state.
The sesame scallops, little lumps of flavor encrusted with a spiced batter, came recommended. Customers loved this dish so much, Fourk brought it back from last winter's menu as a regular staple. Gorgeous lemony-Parmesan risotto and emerald-green warm wilted spinach elevate the dish all the way.
We found the California Conundrum—a blend of Chardonnay, Sauvignon Blanc, Semillion, Muscat, and Viognier—to be a most versatile white. Chosen from Fourk's small but well-planned wine menu, it paired well with both the pork and the scallops.
All desserts are made in-house, except for the blackberry wine cake, which is baked by a local lady who's been making this specialty for years. Airy and delightfully pink in color from the wine, this cross between a bundt and pound cake is plenty light after a large meal. And a dollop of fresh blackberry sauce balances a dessert so comforting it could come from your godmother's kitchen. Fourk is much like that—comfortable and familiar, with just enough overtures into the stylish and fashionable that it feels like a true night out.
Fourk
Hickory
1410 Fourth St. Dr. NW
(828) 855-3437
L, D (Monday-Friday), D (Saturday)
www.fourkrestaurant.com
RESOURCES:
Photographs by Eckard Photographic