Tasty Paste
Tasty Paste:
American Miso meshes global cultures and flavors from its base in Rutherfordton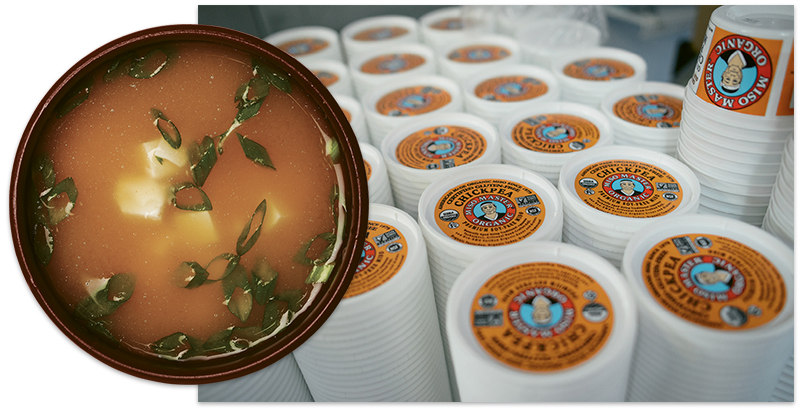 "Essentially, miso is fermented soybean paste," Marnie Mikell says, pausing as her words trickle into a laugh, "which by itself doesn't sound too appealing, but the outcome is delicious." Mikell's speech lilts with an Appalachian tenor as she describes the distinctly Japanese character of miso, offering a fitting symbol for the seemingly antithetical cultural marriage that is American Miso Company, the country's largest producer of organic miso, based right here in WNC. As it happens, Japanese and Appalachian cultures are surprisingly connected, sharing the same latitude, a penchant for fermented foods, and a fiery dedication to traditional culinary craft.
Miso is a richly tangy fermented paste. Its simple ingredients­—beans (usually soy) and grains (normally rice)—are cooked, ground, and combined, flavored with a pinch of salt, and aged to savory perfection. It's a recipe with roots stretching back thousands of years, with the earliest prototype dating to around 300 B.C. With such a lengthy history, miso's methods and ingredients have, naturally, metamorphosed; and today's expansive, international menu of misos includes a range of grains (barley, buckwheat, or millet) and beans like chickpeas. Traditional long-term misos are aged for one to two years, gaining a more robust flavor and deeper color, while the short-term varieties, aged up to a month, are sweeter and lighter in color, thanks to a higher grain-to-bean ratio. Both methods result in a flavor profile called "umami," which Mikell compares to the rich, savory taste of cooked meat. "It just has that deep, mouthwatering quality. And that's what miso has—without the meat."
Like so many ancestral crafts, the traditional art of miso floundered in the modern age, falling victim to contemporary predilections like impatience and a preference for novelty. But the millennia-old art still made its way to the mountains.
"Supposedly, when we brought miso-making here, it's because that traditional way was dying out," explains Mikell, who works as the art director for Great Eastern Sun, American Miso's parent company that also sells other imported Asian-style goods. "They're just small shops run by old folks with their extended families," she says of modern-day Japanese miso production. "There's not much happening, not on a big scale."
A native of Nagoya, Japan, Joe Kato is a modern-day miso master, adapting ancient Asian techniques to perfect an Appalachian-based product.
With the intention of preserving the traditional approach, WNC locals John and Jan Belleme ventured to the mountains north of Tokyo to learn from one of the few remaining traditional miso makers, Takamichi Onozaki. Over the course of a miso-making season, from November 1979 through June 1980, the Bellemes gleaned all they could from Onozaki.
Their intention, along with that of American Miso Company's other two founders, Sandy Pukel and Barry Evans, was to sustain and cultivate traditional miso-making in America. Strong proponents of the then-trendy macrobiotic movement, with the help of Michio Kushi, one of the founders of the movement, the group connected with Onozaki, and through Kushi's distribution company, Erewhon, they began distributing their own miso.
The group chose Rutherfordton, where the water was pure and the air clean, as the site of their facility, largely because the region's latitude and climate closely mirrored that of Onozaki's factory. Just as their first experimental batches of rice miso neared maturation, Kushi's Erewhon went bankrupt, spurring the team to found Great Eastern Sun, which served as the distribution arm up until 2013. The rest, as they say, is history.
Kale Avocado Wraps with Spicy Miso-Dipped Tempeh recipe, courtesy of Great Eastern Sun
Today, the product of that history—branded simply as Miso Master—thrives deep in the pastured valleys of Rutherford County. Though Barry Evans has long been sole owner of the two arms of the enterprise, on the grounds of the factory—a series of low-slung warehouses and gravel drives—it's the miso master himself, Joe Kato, who reigns.
Hair-netted and clad in a lab coat, Kato leads visitors through the various stages of production with quiet confidence—through a room punctuated by the clank of gigantic cookware, then a building bustling with the task of packing, and into a high-ceiling warehouse scented by the unmistakable twang of fermentation. His elucidation of the operation is simple (much like the process of making miso itself).
A native of Nagoya, Japan, Kato left his homeland to study macrobiotics in Boston, where he met an American Miso Company representative. Kato visited the Rutherfordton operation several times, lending his expertise before committing to a position there in 1988. Though his tenure was broken by a stint as a restaurateur (he left the company to found Asheville's popular Heiwa Shokudo), he's served as the company's veritable miso master since 2004. Under his watchful eye, the company's production and recipes have escalated, all while retaining the distinctive, true-to-tradition flavor that a growing contingent of followers has come to love.
Production began with eight towering hand-crafted wooden barrels; today, there are 55 in varying shades of age, packed tightly into an arching warehouse with narrow channels for navigation.
American Miso ages its product in hand-crafted redwood or cedar barrels.
The company now boasts six varieties under the Miso Master label: the original, perennially popular Traditional Red Miso; Country Barley Miso and Brown Rice Miso, both of which are aged for two years, a process that imparts a particularly cultured, hearty flavor; and three short-term misos, Sweet White (delicately nutty), Mellow White (lightly savory), and Chickpea (soy-free and salty-sweet).
Spurred by the hunger for health foods and good-for-your-gut fermented eats, American Miso has experienced significant growth in recent years, with a 20- to 30-percent increase in production every year since 2016. In 2017 alone, the company produced more than one million pounds of product. The breadth of buyers has expanded too, as more and more restaurants and manufacturers call for the 40-pound tubs of the stuff, while home cooks and food bloggers are stocking up on eight-ounce containers of the paste, incorporating it into ever more innovative recipes. Far outside the historic bounds of soup bowls, miso has found new life in foods as varied as barbecue sauce and miso-maple pancakes.
Part of that popularity stems from miso's range of health benefits, especially when prepared as American Miso does. Unlike those of many makers, the company's varieties are all produced traditionally, naturally, and without temperature control.
And they're not just simply, wholesomely healthy; they're also certified gluten-free, organic, and kosher, and verified non-GMO. Made from all-organic grains and beans grown on U.S. soil, the final products are unpasteurized, which protects enzymes that aid in digestion as well as lactobacillus cultures (the same probiotics found in yogurt). Traditional miso is also packed with genistein, which is thought to benefit heart, bone, and brain health, and even prevent or hamper the growth of cancer cells.
With a host of health benefits and expansive versatility, Miso Master products are finding their way into more shopping carts, restaurant plates, and manufactured goods than ever before. Producing enough product to keep up with demand is proving increasingly challenging for the company but provides a catalyst for its upcoming expansion, which is set for this spring or summer. That's great news not just for the company but for the town of Rutherfordton.
American Miso's Japanese pedigree and Appalachian hands may at first seem a study in contrasts, but as the company proves, sometimes it's in the melting pot—or in this case, soup bowl—that you find the recipe for success.
Miso Master Organic Miso is available nationwide in Whole Foods markets, health food stores, co-ops, and some specialty foods stores, as well as online at great-eastern-sun.com.