Taste of Uruguay
Taste of Uruguay:
Expand your palate with a journey to Lenoir's Fresh & Delicious Bakery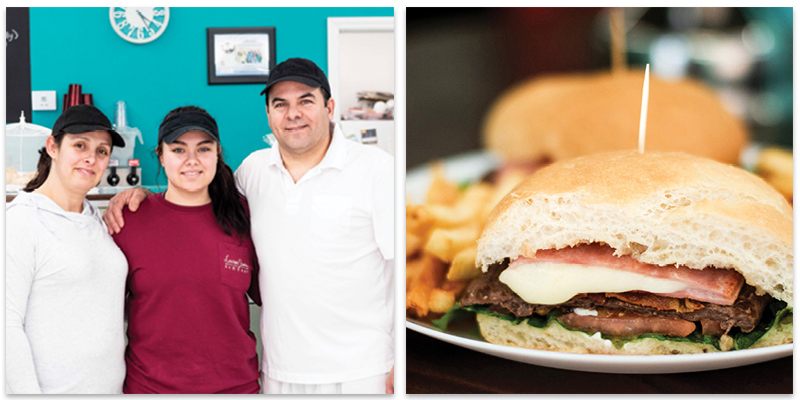 Fortunately, Latin food is prevalent across Western North Carolina, but for Uruguayan cuisine, you'll have to head to Lenoir, where Fresh & Delicious Bakery turns out authentic pastries, cakes, breads, and more to locals who don't mind waiting in lines that frequently spill out the door.
The eatery is owned and operated by third-generation Uruguayan baker Ismael Quintana along with his wife, Daniela Lopez, and a handful of relatives. "It was always my dream to own my own bakery," says Quintana, who immigrated with his family to the United States in 2003 from the coastal city of Punta del Este. He opened the bakery in 2015.
The second smallest country in South America, Uruguay is a melting pot of European cultures. "It has a lot of people of French, Spanish, and Italian descent," Quintana says, "so you can see that influence in our food." Shaped by his home here, Quintana's menu offers lunch and dinner options that include American classics like Philly cheesesteak sandwiches and burgers alongside Uruguayan cuisine including empanadas, chivito al pan (a steak sandwich piled high with toppings), milanesa napolitana (an Italian-derived dish of breaded chicken or steak in marinara), and pollo relleno (chicken breast stuffed with a spicy, cheesy blend of veggies and ham).
However, it's the fragrant pastries, cookies, and baked goods, all based on recipes handed down from Quintana's grandfather, that are the eatery's crème de la crème. Displayed invitingly behind the glass counter, croissants, baguettes, cream horns, and turnovers are among the familiar offerings, but the more exotic treats beckon: buttery shortbread polvorones, delicate coconut-speckled alfajores (cookie sandwiches filled with caramel), and decadent milhojas, made with flaky puff pastry bursting with dulce de leche and coconut and glazed with vanilla and chocolate. It's a sweet reward for the culturally curious.
Fresh & Delicious Bakery
458 Harper Ave., Lenoir
(828) 406-9446
Facebook: Fresh & Delicious Bakery
Photographs: Savanah Seevers