Taste of Summer
Taste of Summer:
Beat the heat with this refreshing watermelon salad from Reid's Cafe & Catering Co.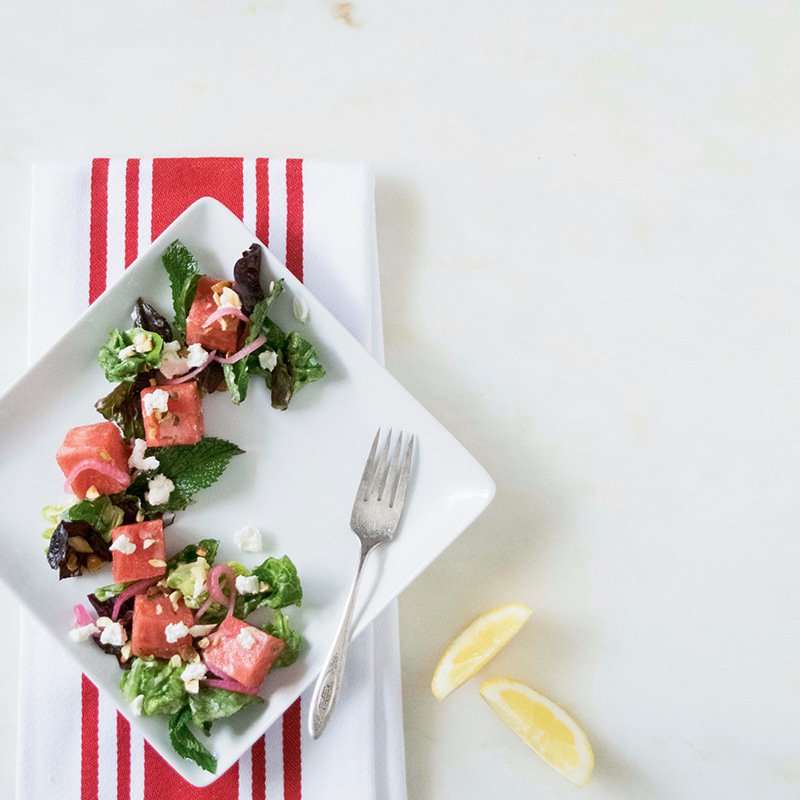 Juicy and sweet, watermelon is a quintessential summertime favorite. "I love watermelon. It's so cleansing and hydrating when the weather is hot," says Tina Houston, owner of Reid's Cafe & Catering Company in Banner Elk. Her team specializes in preparing made-from-scratch, seasonally-inspired dishes that run the gamut from complex to straightforward. Reid's celebrated its grand reopening in May after a renovation that more than doubled its seating. That same month, the company also launched a new food truck, Betty's Biscuits, serving handcrafted coffee drinks as well as a variety of biscuit sandwiches around Boone at places like the Watauga County Farmers Market and Appalachian Mountain Brewery and Cidery.
For its watermelon salad, Reid's enhances the dish with surprising depth: tangy red onions pickled with peppercorns and fresh dill. "The herbs and the vinegar add another layer to the sweet and savory and really punch it up," Houston says. Reid's sources watermelons from Against the Grain Farm in Zionville. In addition to the pickled red onions, she prepares her salad with sweet mint, almonds, and a bright lemon-basil vinaigrette atop salad greens for a bursting-with-flavor dish that will appeal to varied palates.
Watermelon Salad with lemon-basil vinaigrette
(Serves 6)
Dressing
1/4 cup apple cider vinegar
1/4 cup rice wine vinegar
1 Tbsp. honey
2 Basil leaves
1 tsp. Dijon mustard
Juice of one lemon
1/4 -1/2 cup extra virgin olive oil
Salt & pepper, to taste
Salad
1/4 cup raw almonds
1 lb. hydroponic Salanova, Bibb, or red oak leaf lettuce
1/4 lb. seedless watermelon, 1-inch cubed
4-5 mint leaves
8 oz. chèvre, crumbled
1/4 cup pickled red onion
Make the dressing by combining vinegars, honey, basil, mustard, lemon juice, and olive oil in a blender or food processor and blend until smooth. Add salt and pepper to taste.
Crush the almonds with a knife or by briefly pulsing in a blender. Toast in a skillet over medium-high heat for a few minutes, until fragrant. Set aside to cool.
To assemble the salad, wash and pull the salad greens from hydroponic roots and place in a bowl. Scatter watermelon over the greens. Tear and add the mint leaves, chèvre, pickled onion, and almonds. Drizzle vinaigrette over top and mix gently to dress the greens.
-------
Perfect as a complement to any number of dishes, pickled onions offer a flavorful payoff for minimal effort. 
Pickled Onions (Courtesy of Reid's Café & Catering Co.)
(Serves 4-6)  
1/2 cup apple cider vinegar  
1 Tbsp. kosher salt
1 Tbsp. sugar
12 whole peppercorns
1/2 Tbsp. chopped dill 
1/2 small red onion, thinly sliced
1/4 -1/2 cup extra virgin olive oil
In a pot or saucepan, combine vinegar, salt, sugar, peppercorns, and dill. Bring to a boil. Remove from heat and add the onion. Let stand overnight. In the morning, use a strainer to remove the peppercorns. Add one quarter to one half cup of olive oil to the onions to lightly emulsify the mixture. Blend and enjoy. Keep any leftovers in a sealed container in the refrigerator for two to three weeks. 
Reid's Cafe & Catering Co.
4004 NC 105, Ste. 8, Banner Elk
(828) 268-9600
www.reidscafeandcatering.com