Sweet Sensations
Sweet Sensations:
Bakers extraordinaire share recipes for beloved holiday confections, from a vegan pumpkin pie for Thanksgiving to chocolate coffee cake for Christmas morning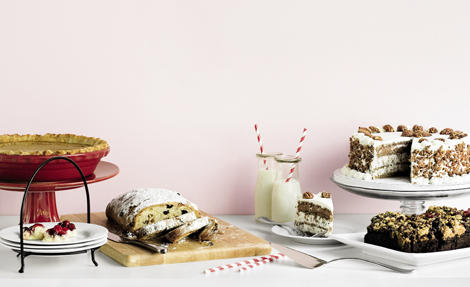 Chocolate Coffee Cake with Cranberry-Pistachio Streusel
Anyone who frequents the North Asheville Tailgate Market is no stranger to Aimee Mostwill's scones, muffins, and cookies. But during this festive season, she relishes the chance to experiment in the kitchen. "I bake nine months out of the year," says Mostwill, "but during the holidays you can make all these fun and interesting things."
One of those creative confections for Christmas morning—or anytime really—is chocolate coffee cake. The not-too-sweet cake makes the perfect bite with a mug of tea or coffee. Brightly hued cranberry-pistachio streusel adds a tartness and earthiness that balances the chocolate. "Cranberries and pistachios are two of the few baking ingredients that keep their beautiful colors when you take the finished item out of the oven," she says.
White Chocolate Cranberry Clusters
Though she bakes intricate cakes and pastries at Well-bred Bakery in Weaverville, Laura Bogard loves the simplicity of this "splashy party sweet."
"I like to make and eat food that looks beautiful," she says. "The clusters are colorful, eye-popping little jewels, bursting with equal parts sweet and tart."
Bogard knows planning and prep work are key to enjoying one's own event. "When I'm hosting, I make sure I get as much done as possible before my guests arrive so that I just have to add the finishing touches," she notes. "These sweets can be made the day before a party and used as a garnish or eaten alone." 
Tree Nut Cake
Growing up in Poland, Magda Sanders liked the winter holidays best for baking and cooking. Today, the Cherokee-based baker creates spectacular cakes with family recipes, which means many of them feature European-style hazelnut creams, nut flours, and fresh fruit.
Her nut torte has feather-light layers that have been flavored with brandy and iced with whipped-cream filling. "After the holiday dinner, when everybody is full from eating all kinds of savory dishes, but still wants something sweet, this butter-less cake is a perfect choice," says Sanders. "It's light, not too sweet, but still has a holiday feel about it with the mixture of tree nuts."
Stollen
Bill and Debbie Tellman, owners of Bracken Mountain Bakery in Brevard, are partial to German Christmas bread, or stollen. They first acquired a taste for European-style loaves and confections while living abroad more than 30 years ago. Today, they share their recipes at the family business, with daughter, Julia, working the counter.
Stollen is a buttery, sweet bread studded with currants, sultanas, and other dried, but not cloying, fruit. "Traditionally, it's baked a month or two ahead of the holiday season because it keeps well, and actually improves over a long period of time," Debbie says. "It smells wonderful when it's baking, and gets you in the mood for the holidays."
Vegan, Gluten-Free Pumpkin Pie
Thanks to her Italian roots, Mary Tantillo O'Shields grew up enjoying holiday baking with exotic figs, almonds, and honey. So when her eldest son developed severe food allergies and had to miss out on holiday treats, she began adapting family recipes to create vegan, gluten-free versions of her childhood favorites. When she experimented with all-American specialties, one of the most popular results was a silky, no-dairy, gluten-free pumpkin pie. It's now a staple of her vegan dessert business, which sells baked goods at Greenlife Grocery and Earth Fare in Asheville.
"My goal is to reach out to people with food allergies and treat them to something they long for," O'Shields says. "I also aim to make desserts that everyone can eat, even the person who doesn't require a special diet. This pie is so creamy and delicious, everyone will love it."