Sweet Home Carolina
Sweet Home Carolina:
From family weekend getaways to the partying antics of rock stars, this Bat Cave inn was built to house good times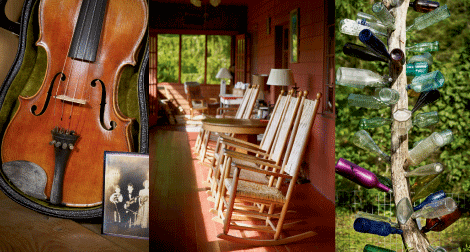 The water of Florida's intercoastal waterway was calm and cool as Bo Trammell stood on the deck of his friend's new sailboat and readied for their next voyage. They had just traveled from North Carolina to Indian Harbor Beach to purchase the vessel, which they christened Lady B and were now sailing to the Caribbean.
Actually, Bo paid for the 42-foot Chinese junk-style boat. It was a down payment on a property in Bat Cave that his friend, a skinny, mellow guy who goes only by the nickname Captain Easy, inherited from his wife who recently passed away.
But that warm afternoon of October 29, 1998, had an oddly positive vibe about it. That same day, Bo and Easy watched the space shuttle Discovery lift off from nearby Kennedy Space Center, with John Glenn aboard. He was making his historic return to space. It seemed as if everyone was embarking on journeys that would deliver them back to where they belonged: Easy was returning to the islands, an American hero was back in orbit, and, if
everything went as planned, Bo was going to take over an old mountain lodge he'd spent half his life growing to admire.
Since his teenage years, he'd hung around Hickory Nut Gap Inn and heard stories about its past. It's your average 10,000-square-foot mountain lodge complete with a bowling alley in the basement and a history that includes some of rock and roll's more notorious names. According to Bo, the secluded home—just a few ridgelines away from Chimney Rock Park—served as a getaway for bands touring the East Coast during the late '70s and early '80s. They would come in from the road and spend some time partying where no one could bother them. In the process, it earned somewhat of a reputation, not just in the recording industry, but across the close-knit burgh of Bat Cave, too.
So many stories of what happened up there have either leaked down the home's long driveway or been fabricated. In fact, Bo, who considers himself something of a butler to the house (though in truth he's also its historian), won't relay any tales that haven't been corroborated by at least two sources who were present.
If these walls could talk, they probably wouldn't tell you a damn thing, but the hallway floor certainly has a story. The unfinished wood planks used to bear the skid mark of a motorcycle burnout performed by a member of the Charlie Daniels Band's entourage during a late-night party. The more time you spend at the inn, the more you start to suspect that may have been one of the tamer acts committed here.
The inn's story starts out as normally as you could imagine. The two-story, timber-frame structure was built in the 1940s by Herman Henry Hardison, a wealthy businessman who owned Trailways Bus Company and invested some of his money in about 5,000 acres around Bat Cave. Hardison was a meticulous type who had a hobby of surveying land. It stands to reason that he knew every inch of his property. So much so that if you stand on the stone front steps of the building or the observation deck on the morning of the vernal equinox, the sun will rise centered within the gorge off in the distance. "I noticed that years ago," says Bo. "I come out to the balcony every morning. And throughout the year, I watch the position of the sunrise slowly move across the landscape." And sure enough, on the equinox it splits the gorge perfectly. Looking at maps of the area, he also realized that the home's position triangulates three different mountaintops.
By Bo's estimation, Hardison may have been a bit superstitious, too. At some point, he hired renowned Cherokee woodcarver Goingback Chiltosky to craft numerous figurines and statues, with the likely intention of warding off negative spirits. Today, a complete Cherokee syllabary, carved in wood, still lines the basement walls.
Hardison and his family were respected members of the community, and enjoyed the lodge as a weekend retreat. After his death, the home was passed along to one of his daughters who used it as a summer getaway for many years with her own family. But in 1978, much of Hardison's land found its way to the auction block.
The 75-acre plot with the lodge caught the attention of Jack, a young man from California. He'd made a name for himself in San Francisco, to put it mildly, hosting parties for top-tier entertainers at his apartment. And, at the request of his friends in the music industry, he was looking for a secluded spot on the East Coast to do more of the same. With enough rooms to house a band and their friends, plus plenty of forested privacy to muffle whatever havoc he wanted to create, Jack was in business.
At least at the time, he thought he would have privacy. Soon after he moved in, a nearby landowner, Reverend Bailey, made an attempt to greet his new neighbor. Bearing gifts of home-baked goods, the Presbyterian preacher's family made their way up a wooded footpath to the Hickory Nut Gap Inn, calling hellos in anticipation of meeting a friendly face on a Sunday afternoon.
When they entered the clearing by the driveway, Jack made his introduction to the polite society of Bat Cave. Naked, hungover, and just out of bed, he blasted through the front door screaming obscenities, telling the stunned family that he didn't buy all this land just to have neighbors.
"I'd heard that story before, but it was the reverend's son and daughter who confirmed it," says Bo. Understandably, the Baileys fled the scene, and no one ever showed up unannounced again. In fact, locals steered a wide course around the inn from then on. "It was right after that incident, Jack flew to Rottweiler Germany to buy himself a $2,000 guard dog named Samson and two females to breed."
With the property's solitude firmly intact, Jack's parties raged on for many years. The photos in the inn's hallway show him hanging out at concerts with the likes of Peter Frampton and Lynyrd Skynyrd—in fact, there's even a platinum record issued to Skynyrd's drummer. And while Bo is shy about naming the bands he knows to have been through his home, the wild times had there were no secret in the surrounding community. "Not long ago, I was chatting with some people at the voting station when a gentleman realized I live up here," says Bo. "He told me that he could sit on his porch a mile away and listen to the parties Jack was throwing."
As wild as he was, Jack had a girlfriend, a North Carolina woman named Bettina Spaulding who he'd met during his days in San Francisco. She moved to Bat Cave with him, and represented a grounding force in his life. "There were a lot of girls and groupies that passed through here," says Bo. "But Bettina was the woman of the bunch." While hardly a stranger to the scene that would regularly unfold there, she often chose to stay in a small guest cottage about 100 yards from the main lodge.
In the early 1980s, Jack was diagnosed with cancer. Bettina supported him as he traveled the world in vain looking for a cure. Eventually, she took an office job at Chimney Rock Park, working for Mary Jaeger Gale who now manages the park. With the hardship of Jack's illness, working helped stabilize her emotionally.
It was about that time that Bo, who was only 14 years old, met Bettina. He would hike and explore the grounds around Chimney Rock while his dad, Asheville's tourism director, attended business meetings.
In his last months, Jack's good friend David Crosby lent him the use of his sailboat, and the services of its crew, to sail the Caribbean. He spent time at a friend's estate in the Bahamas where he stayed until he knew the end was near. When he died in 1985, Jack willed the inn—now weathered from years of professional-grade parties—to Bettina.
She had set about the task of fixing up the main building when she was invited by Jack's friend in the Bahamas to visit. Not one to turn down an invitation to spend part of the winter somewhere warm, she and a friend made the trip. While she was there, she met and fell in love with the estate's boat captain, Easy.
The couple, who later married, opted to spend their summers in Bat Cave, where Bettina turned the building into a guest house, at least loosely. "Since she had no mortgage on the place, she didn't need to have too many clients," says Bo. "They just made enough money to get by and travel down to Jamaica in the wintertime."
Bo knew Bettina well during those years. Enamored with her friendship (he refers to her as his mentor), he would stop by and help with odd jobs whenever he was in the area. During college, he often dropped in on his way going to and from Asheville. And as a self-taught Porsche mechanic working in Raleigh (saving his money to buy a place of his own in Bat Cave), he visited Bettina and Easy on the weekends to get away from the city.
But in the late 1990s, Bettina realized she had breast cancer. Not wanting to embark on a losing fight like Jack did, she accepted her fate and kept the disease a secret from her husband for many months.
"During that time, she came up with a plan," says Bo. "She knew that after she was gone, Easy would want to go back to the islands, and he would need a boat much more than he needed a mountain home." After she broke the news of her illness, Bettina sat Bo down and worked out a deal whereby she would leave the home to Easy. Bo would buy Easy a boat and pay him the rest once he got a loan to purchase the lodge and operate it as an inn.
Bo was scared about the prospect of starting a new career at less than 30 years old, but he trusted his friend. "At that time, she probably knew me better than anyone. She knew exactly what I'd saved up, and how I could make it work."
Bettina died in the late summer of 1998, and her ashes were spread during a gathering at the lodge the following spring.
Today, Bo relishes telling the story of sailing the Lady B to the islands. According to him, if you ever want to freak out an attorney, just say that you bought an expensive boat for someone named Captain Easy as a part of a land deal, and helped him sail it to another country. "But it's all OK, because he's your friend and he'll be back in a few months to take care of the paperwork," he laughs, knowing that many people probably thought he was crazy. But he knew exactly where that boat was taking his life.
Today, Bo and his wife, Courtney, manage the Hickory Nut Gap Inn, and spend their winters living in the cottage where Bettina stayed. They only rent to groups who can fill the lodge for at least a weekend, and they only schedule enough groups to make ends meet comfortably. That translates to between 30 and 40 weekends per year. Their clients range from parties of New York filmmakers, to retirees, to reunions for college friends, and recently a Kentucky state judge's family—far from the rowdy music groups of 30 years ago.
But like everything in life, some things related to the inn have changed and others remain the same. The Lady B sank in a hurricane about five years ago, and Easy now owns a wine and gourmet food shop in Hatteras. Samson the guard dog passed away under a tree on the property, just a day after having one last rock-star-quality fling with a pooch down the road, trashing a house in the process. And every vernal equinox, Bo and Courtney invite a different group over to have a good time and hopefully stay up late enough to catch the sunrise over the gorge.
The spirits of everyone who lived—and partied—in the house still linger in an extrasensory sort of way. Apparently Hardison's woodcarver wasn't able to scare them all off.