Strada Italiano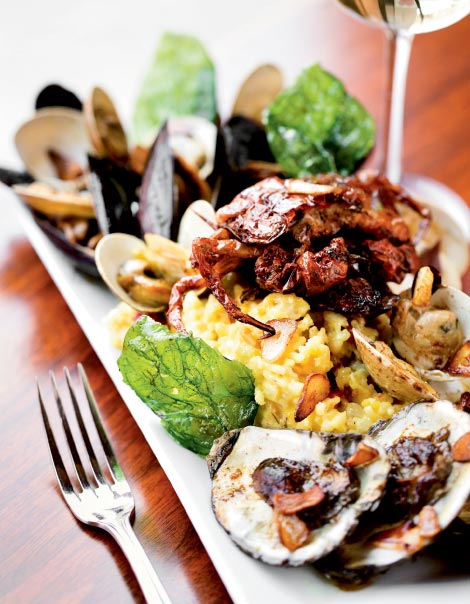 Try as I might, I'd never grown to enjoy Campari, the candy-apple red aperitif born in Italy. That unctuously sweet and bitter liqueur had heretofore foiled my every attempt to incorporate it in a decent cocktail. But at Chef Anthony Cerrato's cozy eatery, Strada, the mixologists finally remedied my aversion with a refreshing, perky blend of prosecco, citrus juice, and the bitters.
As the bartender agitated the shaker, causing bits of ice to form in the cocktail, I learned that citrus and the chill are key to cutting the sticky sweetness and balancing the bite. The drink was the first of several pleasant surprises throughout the evening.
Not one to confine himself to the kitchen, Cerrato was a jovial presence in the dining room. Weaving past tables to greet diners and stepping behind the bar to chat with regulars, he fostered the ambience of a relaxed and storied neighborhood trattoria. "Being part of the community is important to me," Cerrato said. "I show that with my food."
Customers can drop in for fresh baked loaves and desserts to go, including braided sweet raisin bread and Italian walnut cream cake, sit down for a pizza pie, or linger over a multicourse feast.
My eyes roamed the menu, seeking out a contrast of traditional and contemporary creations. Classic appetizers like arancini, dense batter-dipped fried risotto balls in a cream sauce, and traditional antipasti tossed with balsamic and rich olive oil showcase Cerrato's familiarity with old-world Italian fare. The Gabriel, a kale salad studded with caramelized pancetta, candied orange rind, fennel, artichoke, marinated Portobello mushrooms, and sun-dried tomatoes drizzled with balsamic, satisfied my desire to stray from the traditional. This  perfect melding of colors and textures, and equal parts savory, sour, sweet, and bitter was accompanied by grilled bread rubbed with olive oil and garlic.
I couldn't resist the tomato-based soup of the day, replete with roasted fennel sausage and tender broccolini. This second course proved the perfect foil to a rich seafood risotto, redolent with garlic, cream, butter, and cheese. The combination of scallops, sautéed just so, tender mussels coursing with oceanic tang, succulent salmon, and a razor-neck clam or two was all that comfort food should be.
That exotic warmth is a theme Cerrato is carrying through to his newest endeavor, Social Lounge & Tapas (formerly Sazerac) next door. The venue, which expands on comfort foods from around the globe, also features a rooftop patio, just the place to kick back and sip a cooling Campari cocktail done right.  
Strada Italiano
Asheville
27 Broadway St.
(828) 348-8448
www.stradaasheville.com
L, D, SBR (Closed Monday); $$$