Steve Martin & The Steep Canyon Rangers
Steve Martin & The Steep Canyon Rangers:
Local bluegrass kingpins return with a new album and old sounds made modern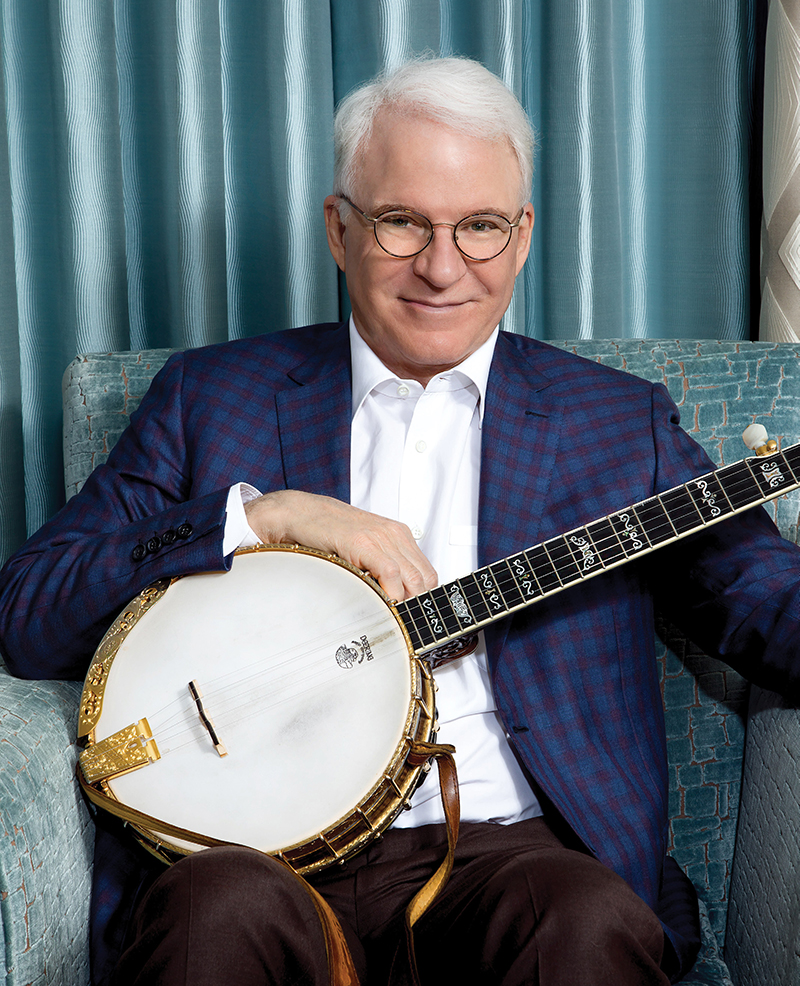 Looper, a celebrity news site rife with clickbait, recently posted an article headlined "The Real Reason We Don't Hear from Steve Martin Anymore." It was based on a questionable premise, given that fans of Martin's recent novels, musicals, sold-out live shows, award-winning studio albums, and online comedy classes are hearing him loud and clear.
Granted, nowadays Martin is gracing the silver screen less than he used to, by choice. But he's still working at a pace comparable to that of his 1970s rise to stardom via stand-up comedy and Saturday Night Live, and flexing both his mind and his fingers on the keyboard and the banjo. If there's anything the tone deaf Looper post got right, it was the first of its purported reasons Martin is supposedly out of sight: "He's busy playing bluegrass music."
"It's so funny, that music's actually a bigger part of my life than even I think it is," Martin says. He talked to WNC magazine on the cusp of the release of his latest bluegrass record, The Long-Awaited Album, recorded with his long-standing backing band, the beloved WNC-based outfit Steep Canyon Rangers.
"When I step back and go, 'Oh yeah, I have another record coming out, we have a musical opening, and I'm still writing songs and performing music live'—I realize that right now, music is like 50 percent of my life, at least," Martin says. At 72, and after decades in various spotlights, he could do pretty much whatever he pleases with his time, but Martin says that music is what comes most naturally to him. No matter how busy his musical roster, "it's not drudgery for me, at all," he says. "It completely comes out of, 'This is fun.'"
(Click the video viewer for a specially curated selection of tunes by Steve Martin and the Steep Canyon Rangers.)
"Where I like to play most"
Martin's been having fun with the Steep Canyon Rangers since he first encountered them in 2009. The collaboration started almost by chance, says mandolin player Mike Guggino, a cofounder of the band.
As Guggino tells it, Martin's then-girlfriend (and now wife), Anne Stringfield, had long visited the Brevard area for vacations and camping, befriending Woody Platt, the Rangers' lead singer and guitarist (and bona fide fly-fishing guide), along the way. On one fateful visit, she invited Platt and Guggino over for dinner, and the musicians quickly found themselves picking on the porch with Martin.
"It all started with that very informal spaghetti supper, up on the mountain," Guggino recalls. "It just happened to be right after Steve had recorded The Crow (Martin's breakout solo bluegrass album). His agents told him he had to either recruit an all-star band to tour or hire one band. And he said, 'I only know one band, the Rangers.'"
Touring to support The Crow, which would ultimately win the 2010 Grammy for Best Bluegrass Album, Martin and the band sparked what would prove to be a long and mutually beneficial hot streak. Together, they recorded a 2012 album, Rare Bird Alert, that garnered a Grammy nomination in the same category. The following year, the Rangers' album Nobody Knows You snagged the award. And in 2014, Martin and Edie Brickell won the Grammy for Best American Roots Song (for "Love Has Come for You"), just as Martin, the Rangers, and Brickell released a joint live album. Most recently, the band has joined the nationally touring variety show hosted by Martin and his old comedic chum, Martin Short.
"It's cool," Guggino says, "that Steve's musical trajectory has kind of mirrored our musical trajectory."
For Martin, who's spent the bulk of his career as a consummate solo artist, the partnership with Steep Canyon Rangers is a uniquely enduring one. "When I first started to play with the Rangers, I thought, 'This is really good, to not work alone. It's much more relaxing,'" Martin recalls. "I really am no longer a solo artist, either musically or comedically. I'm a solo writer, but I write all the songs alone only because of the geographical distance (from the band). Otherwise, I'd sit down with the Rangers and write things."
Martin splits most of his time between California and New York, but he periodically visits Brevard, where he owns a house. While in the mountains, he plays music every chance he gets. "The Rangers are there, and that's when you have the time, when you're not at your computer or driving around and doing things, and that's where I like to play most," he says.
Western North Carolina got a special nod from Martin in 2013, when he and Brickell recorded a lovely, understated ballad called "When You Get to Asheville." It became a centerpiece of a musical they cowrote, Bright Star, which is set in mid-1900s Asheville (and scheduled to tour nationally in 2018). But for the flip of a lyrical coin, the song could have been named for another city, Martin reveals. "I hate to say it, but Edie called me when she was working on the lyrics and said, 'What do you think—when you get to Asheville, or when you get to Nashville?' Well, Nashville has a kind of professional music gloss on it, and Asheville has more of an Americana music feel. So we ultimately decided on Asheville."
Martin says he is particularly fond of Asheville's Echo Mountain Recording, where he and the band have recorded numerous times. "We love it," he says. "When you get friendly with a studio, you like to go back to it, because there's no orientation period. You just sit down and start playing."
While Martin writes all of the songs, he's quick to stress that he counts on the Rangers to add their creative and technical chops to the mix. "I bring the songs in with the music and the lyrics, and then we sit around and develop them," he says. "And what they do often is suggest different chords, different approaches—and of course, their sheer musicianship and skills at arranging are a huge portion of how the songs come together."
Band on a Run: Working together since 2009, Martin and the Rangers have built on each other's musical successes.
"What was I thinking?"
When Martin and the Steep Canyon Rangers come together, there's a certain hard-to-define outcome, musically speaking. As with their prior recordings, The Long-Awaited Album defies quick categorization. Sure, there is plenty of near-traditional bluegrass, but there are also notes of modernity and whimsy of the sort you'll rarely hear from bluegrass artists.
The album's first single, the lovelorn but exuberant "Caroline," laments a breakup in decidedly contemporary terms. In one verse, Martin sings: "If you ever find another, please don't put a post on Facebook / I would rather think I was a deep regret you can't resolve / If I have a drink with someone, I will tell her all about you / That will be the big mistake that I will make on my first date."
Funny stuff, to be sure, but when set against the Rangers' impeccable playing and harmonizing, it delivers a weightier listen than the lyrics might suggest. Martin says he's gotten used to navigating the divide between the traditional approach to bluegrass and his more eclectic, humor-infused one.
"I'll tell you something: In all the songs you'd probably consider humorous, I didn't start out to write them humorous," Martin says. "I just started out to write, 'Here's the story I'm going to tell. Here's the story of the guy with the crazy girlfriend.' I wanted to tell the story of two people who fall in love, and it could have come out completely serious, but instead it came out the way it did. When you start to step back from it, whether it's a crazy girlfriend of a crazy boyfriend, you look back on the experience and go, 'Was I crazy?' It's humorous, you know? When you're in it, it's one of life's great tragedies, and when you're out of it, you go, 'What was I thinking?'"
Has Martin got any pushback from bluegrass purists who think he disrespects tradition? "No, but it could be because they don't know how to reach me," he deadpans. "What I always say is, we always have the traditional, it's there in the canon. We can always go back to it, but you shouldn't have to require new players to stick to that formula. After all, when I started playing the banjo, bluegrass music itself was only 15 years old. I'm an originator. Five hundred years from now, they'll say, 'He was first generation.'"
A 2017 session at Asheville's Echo Mountain Recording, where the Rangers and Martin have recorded several times.
"The greatest gift ever"
For their part, the Rangers have, at times, pondered whether working with Martin was the best thing for their band's brand. "Honestly, we've talked about this a bunch with our management and with ourselves," Guggino says.
"Sometimes, it feels like the greatest gift ever, the greatest thing that could ever happen to us. The potential downside is that we're not always out there playing Ranger songs 100 percent of the time. I tend to be on the side that says it's kind of perfect, playing with Steve, because it allows us to disappear, so to speak, from the scene, but we're actually not disappearing, we're just appearing in a different form. When we get back to playing our shows, we're just excited to be playing our songs again. It doesn't allow us to get bored."
What's more, Guggino says, "Steve Martin wants nothing but the best for the Rangers, always. He has been our number one fan and number one at promoting us and making us succeed on our own. We're not just Steve Martin's band."
As if to drive that point home, some of Martin's upcoming dates with the Rangers—at the International Bluegrass Music Association conference in Raleigh in September, for example, and at Merlefest in Wilkesboro next April—will find him switching roles and backing up the band, which will release its next album in January.
"The shows are going to be billed not as Steve Martin and the Steep Canyon Rangers—it's the Steep Canyon Rangers, featuring Steve Martin," Martin says. "I'm not going to play the whole 18 songs, it'll be more like six or seven off the new album. I can't wait."
Third Time's the Charm: Steve Martin and the Steep Canyon Rangers Discography
---
Rare Bird Alert (2011)
Two years into their collaboration, Martin and the Rangers invited some special guests into the studio for their first album together. How special? Think Paul McCartney and The Dixie Chicks, in a Grammy-nominated record that's capped off with a bluegrass rendition of Martin's 1978 novelty hit "King Tut."
Steve Martin and the Steep Canyon Rangers featuring Edie Brickell Live (2014)
Recorded in conjunction with a concert video for PBS Great Performances, this two-disc set showcases 40 live numbers, including gems plucked from the various performers' catalogs. Martin and Brickell's unique chemistry proves a fitting match for the Rangers' bluegrass bedrock.
The Long-Awaited Album (2017)
A delightfully all-over-the-place endeavor, spanning bluegrass, pop, Americana, and more, the new record finds Martin and the Rangers in perfect, practiced harmony. At turns confident or gentle, modern or traditional, it shimmers throughout, thanks in part to Grammy-winning producer Peter Asher.