Spring Whites
Spring Whites:
Lighten up with a fresh selection of wines for the season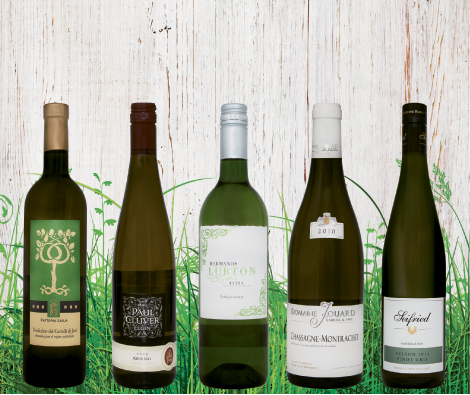 As warmer, brighter days renew our spirits, so do the grapes inherent in these five selections. From the vineyards of Italy, Spain, and France with forays as far away as South Africa and New Zealand, what these wines have in common is a delicious freshness, which can serve as a spring tonic to accompany the delights of a new growing season.
Verdicchio dei Castelli di Jesi 2010 » $12
A light, easy introductory wine with subtle minerality and a hint of acidity, this Italian selection would go well with oysters or radishes. The subtle effervescent qualities of the verdicchio grape will counter the vegetable's peppery bite.
Paul Cluver Elgin Riesling 2009  » $12
This South African riesling is a wild card, slightly oily in texture and without the grape's signature fruitiness. The aroma bears a faint scent of farm machinery, followed by the clean freshness of fields. Try it with pears or an Irish beef stew chock-full of spring vegetables.
Hermanos Lurton Rueda Verdejo 2009  » $17
This Spanish verdejo calls out for olives and Mediterranean vegetables. Whip up a sauce from plum tomatoes, chopped Kalamata olives, and slivers of fennel and onion. Season with fresh oregano and serve over steak or pasta, accompanied by a generous pour of verdejo.
Domaine Jouard Chassagne-Montrachet 2010  » $30
This hand-harvested chardonnay blend hails from a seventh-generation Burgundian vintner. A bit of oak gives it a layered richness and lingering perfume that will pair well with an aged cheese or Alsatian dish of sauerkraut and cured meats.
Seifried Nelson Pinot Gris 2011  » $21
Gently effervescent with medium acidity and a tinge of sweetness, this New Zealand pinot gris is the perfect partner for smoked salmon or fresh strawberries, soon to be in season.