The Spice is Right
The Spice is Right:
Beat the heat with a hot (but not) summer snack: shishito peppers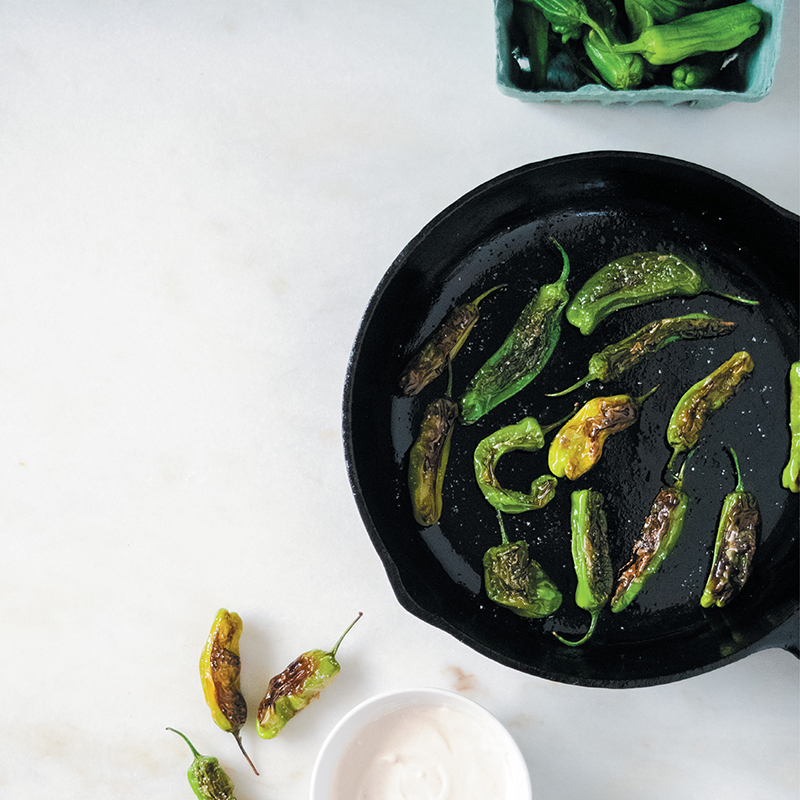 Come July, bright green shishitos turn up at area farmers markets, and if you've never tried these slightly sweet-smoky peppers, you're in for a treat—they're a quick summer snack that are as easy to eat as popcorn. Hailing from Japan, shishitos may look deceivingly hot, but only one in 10 delivers any heat and it isn't even on par with a jalapeño. Christina Carter with Ten Mile Farm in Old Fort grows shishitos and has seen demand for them increase over the past couple of years. "A lot of people have tried them in restaurants and now they're turning up at Trader Joe's and Ingles," she says, "but they aren't near as good as the ones you can get fresh from the farm." Shishitos are best enjoyed blistered and served with a dip. One to try includes cooling Greek yogurt with Dijon mustard and sriracha for a touch of heat. 
Blistered Shishitos & Dip
In a bowl, toss shishitos with olive oil, salt, and pepper. Heat a sauté pan (ideally a cast-iron skillet) until it's good and hot and add the peppers. Cook over medium, tossing and turning frequently until they blister. Remove from heat.
To make the dip, mix a quarter-cup of Greek yogurt with a quarter teaspoon of Dijon mustard and a quarter teaspoon of sriracha. Adjust to taste. Serve peppers hot from the pan.
Eat 'em Up
Ten Mile Farms sells at the RAD Farmer's Market and at Asheville City Market.
(828) 236-1822
tenmilefarm-nc.com