Southern Staple
Southern Staple:
An annual cook-off uncovers the region's best corn breads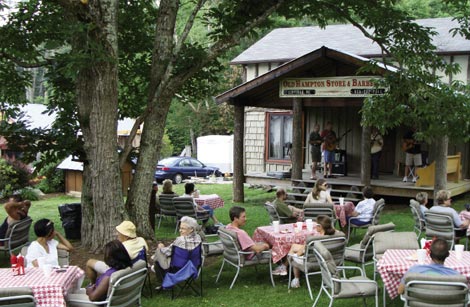 When it comes to prize-winning corn bread, Annie Harmon's track record is hard to beat. For three decades, she's been a reigning champ more years than not in the annual Cornbread Cook-Off at Old Hampton Store and Grist Mill in Linville. "I believe she is the secret ingredient," says Abigail Sheets, who owns the store with her husband, Steve. Indeed, winning recipes are published in the local newspaper each year, and while other contestants have entered using Harmon's recipe, she still manages to come out on top in the blind tasting.
Harmon may have the magic touch, but Sheets' tip for success is to keep it simple. "Usually it's a very plain corn bread that wins in the traditional category," she says. Sticking with the basics—cornmeal, eggs, milk, and a bit of oil—is crucial. "But," she concedes, "some of the entries that are doctored up a little bit are still absolutely fabulous."
In the event's nontraditional category, however, there are no limits to the number or type of ingredients. Sheets has seen many imaginative versions, from spicy Mexican to dessert corn breads. She fondly remembers the coffee-chocolate creation that won several years ago. "It was truly delicious," she says. "It tasted like a muffin."    
Four judges taste the entries and pick the winners, who receive ribbons and gift certificates from Old Hampton Store. This year, entrants have until June 23 to hone their recipes. And those who would rather just taste other's handiwork need only show up for the afternoon of live music, arts and crafts demonstrations, and skillet after skillet of this fine Southern staple.        

Cornbread Cook-Off
Saturday, June 23,
10 a.m.–5 p.m.
Old Hampton Store
& Grist Mill
77 Ruffin St., Linville
(828) 733-5213
www.oldhamptonstorenc.com
To enter: register with Old Hampton Store and use the shop's brand of cornmeal. Entries should be delivered to the store by noon. Judging takes place at 2 p.m.