Southern Revival
Southern Revival:
The capital of the Southeast is bigger, bolder, and better than ever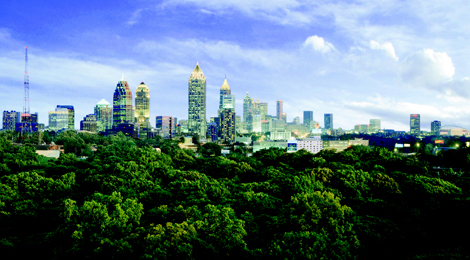 I'd grown up going on family vacations to Six Flags and the World of Coca-Cola. The Atlanta of my youth was satisfying, but now I was ready to discover what it had for my matured tastes. Leaving behind memories of roller coasters, sprawling malls, Braves games, and Southern buffets, I was pleased to be introduced to the city's bohemia-meets-urban chic side.
Like me, Atlanta has grown more sophisticated with age. Today's residents have nursed neighborhoods to a new vitality: Industrial wastelands have given way to revitalized textile mills and dollhouse homes, bundled like colorful flowers in the artsy-eclectic Cabbagetown neighborhood. Refurbished Victorian architecture is tucked among 100-year-old oaks of the city's oldest suburb, Inman Park; and boutiques of the Virginia-Highland area abut standout arts and entertainment venues, top-rated restaurants, and unique pubs and bars.
For this trip, I'd booked reservations at W Atlanta Downtown, an upscale hotel just a few blocks from Centennial Olympic Park (there are three additional W locations—Midtown, Perimeter Road north of the city, and Buckhead, Atlanta's high-end suburb). Locals explained that while there's a bevy of refurbished or recently opened hotels, W would set a hip tone for my trip.
The hotel, a mix of condominiums and guest rooms, emanates sophistication and new-millennium style with clean lines, muted colors, and modern furniture, not to mention a smart bistro, BLT Steak, by New York City-based Chef Laurent Tourondel. One look at my handsome room, with its plush king-size bed and baby-blue styling, and I realized Atlanta had grown up right along with me.
Dinner calling, I left my cushy room for a drive to Buford Highway in Atlanta's northeastern outskirts to seek out its staggering row of ethnic restaurants. Passing a colorful array of Indian, Peruvian, Ethiopian, and Indonesian eateries, I settled on Korean barbecue at Hae Woon Dae, an inconspicuous spot in a small plaza. Once inside, I slipped out of my shoes (a Korean tradition) and into sweet and savory short-rib heaven—a perfect prelude to dreamland.
On Saturday, I felt like walking (what better way to explore) and headed to the High Museum of Art. I took in its exhibit "The Louvre and the Masterpiece," featuring 91 works from Musée du Louvre in Paris. Look for "Titian and the Golden Age of Venetian Painting," which opens October 17, and showcases 25 masterpieces from the National Galleries of Scotland, including Titian's Diana and Actaeon and Diana and Callisto.
The High Museum is one of a cluster of white, modern buildings that comprises Woodruff Arts Center, one of the country's leading visual and performing arts complexes. Though the High's special exhibits and 11,000-piece permanent collection are formidable, Atlanta itself offers a collection of urban canvases—prints adorn towering buildings; mosaics and graffiti punctuate city blocks.
One could even consider downtown's Georgia Aquarium an interactive work of art. Inside the world's largest aquarium, with eight million gallons of water and an unparalleled collection of marine life, cool-blue tunnels transport visitors through a maritime wonderland of hot-pink jellyfish, sea turtles, tropical fish, and whale sharks (the only other aquarium outside Asia to showcase them). I considered swimming with the whale sharks through the Journey with Gentle Giants program, but opted to save the experience for another visit.
My appetite grew as I toured the museum and aquarium, so I moved along to a recommended Midtown spot, R. Thomas' Deluxe Grill. The name, which is more fitting for a greasy spoon, belies the restaurant's focus on whole foods: free-range meats and organic vegetables, myriad vegetarian and vegan dishes, as well as juices, smoothies, and teas.
The space is an eclectic oasis on bustling Peachtree Road, replete with fresh herbs in flower pots and birds of all feathers (including owner Richard Thomas' punchy parrot, Sparkle), and a tent-covered patch of asphalt that serves as the restaurant's only dining area. Sitting under a canopy with paper lanterns and colored lights, I munched on raw walnut sunflower pâté and guacamole with fresh vegetables and flax chips, followed by a hearty portobello melt with white cheddar, sweet red onions, and zucchini.
I skipped dessert at R. Thomas' to satisfy my craving at Sweet Auburn Bread Company. The bakeshop is named for its location in the culturally rich Sweet Auburn district—a historically African-American neighborhood where Martin Luther King Jr. was born, preached, and is now buried. Digging into owner Sonya Jones' ethereal sweet potato cheesecake (a favorite of President Clinton), I was immediately thankful for my broadened palate and Atlanta's vast culinary landscape.
Back at the hotel, I rang in the evening at Drinkshop, which has an über-hip rooftop bar (a must for those who want a four-star cocktail).
The next day, I spent a lazy morning tucked into my sumptuous bed, scanning the Atlanta Journal-Constitution. But soul food beacon, Mary Mac's Tea Room, beckoned for lunch, so I headed to Ponce de Leon Avenue to get my fill of the renowned restaurant's fixin's. Though Mary Mac's is about a 15-minute walk from my hotel, I chose to drive, as I planned to explore the trendy Virginia-Highland neighborhood just northeast of Midtown later that afternoon. Named for intersecting avenues, the area has seven shopping villages and varied eateries including Paolo's, which serves out-of-this-world gelato. Plus, I looked forward to perusing its magnolia-swathed lanes for the historic bungalow of my dreams.
My lunch at Mary Mac's didn't disappoint. The original owner Mary McKinsey called it a tea room because women in post-World War II were not socially acceptable proprietors of food establishments. The restaurant is a bright, bustling space with oilcloth-covered tables and butter-yellow walls. After jotting my selections on a tablet, a smart ordering arrangement, my server delivered it to the kitchen, which soon dispatched lighter-than-air salmon croquettes and heaping portions of hot, cheesy macaroni, fresh collard greens, and a homemade cinnamon roll. I dined solo, but wished I'd had companions to share the menu's many mouth-watering options. Be sure to ask for a sample of their famous pot likker, a bowl of the flavorful turnip-greens broth.
To cap my meal, I managed to bypass the peanut butter pie and peach cobbler for a simple glass of sweet milk and corn bread: truly Southern and divine—like this city that keeps rising.
Eat
Mary Mac's Tea Room
224 Ponce de Leon Ave. N.E.;
(404) 876-1800; www.marymacs.com
R. Thomas' Deluxe Grill
1812 Peachtree St. N.W.; (404) 381-1154
Sweet Auburn Bread Company
234 Auburn Ave. N.E.; (404) 221-1157;
www.sweetauburnbread.com
Watershed for Chef Scott Peacock's
Award-winning Southern food
406 W. Ponce De Leon Ave., Decatur;
(404) 378-4900; www.watershedrestaurant.com
Stay
Hotel Indigo
683 Peachtree St. N.E.;
(404) 874-9200; www.hotelindigo.com
W Atlanta Downtown
45 Ivan Allen Jr. Blvd.; (404) 582-5800;
www.starwoodhotels.com
Explore
Georgia Aquarium
Journey with Gentle Giants, $225
225 Baker St. N.W.; (404) 581-4000;
www.georgiaaquarium.org
High Museum of Art
1280 Peachtree St. N.E.;
(404) 733-4400; www.high.org
Margaret Mitchell House
Where the author penned
Gone with the Wind
990 Peachtree St. N.E.; (404) 249-7015;
www.margaretmitchellhouse.com
Martin Luther King Jr. National Historic Site Tour King's birth home, church, and visit his grave. 450 Auburn Ave., N.E.;
(404) 331-5190; www.nps.gov/malu
RESOURCES:
Photographs: Atlanta Skyline by Kevin C. Rose/ atlantaphotos.com; R. Thomas' by Paul Mehaffey