Scene & Heard
Scene & Heard:
Along About Sundown, a play about the life of Bascom Lamar Lunsford, hits close to home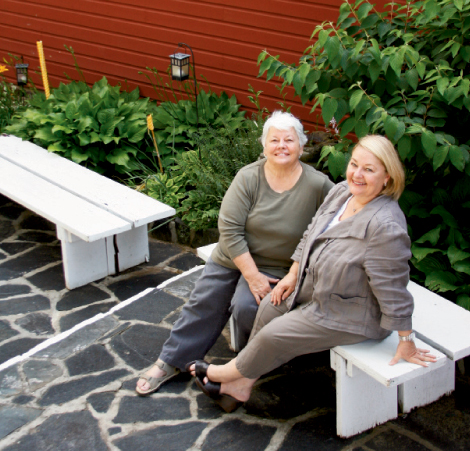 Even with his legacy resonating in each note sung and strummed during the venerable Mountain Dance & Folk Festival, Bascom Lamar Lunsford, who founded the annual event in 1928, can seem a distant character in our history. Lunsford recorded nearly 350 songs, stories, and square dance calls, and influenced the likes of Bob Dylan and Robert Plant, who covered his song Get Along Home Cindy on his latest album.
Luckily, his great-nieces, Brenda Lunsford Lilly and Sandra Lunsford Mason were among the crowds who came to the festival back in the day. Lilly, who lives in Burnsville, recalls those days sitting on the stage, clogging, and generally "pretending to be musical," she says with a laugh. "We grew up with that music. We, unfortunately, got no musical skills, but we got the storytelling gene."
The sisters have put their knack for storytelling to use by ensuring pivotal players and moments of local history aren't forgotten. Lilly, a screenwriter who returned to Burnsville after working in Los Angeles, co-wrote the book Tom Dooley, about the Wilkes County man convicted of murdering his wife. Sandra wrote Return of an Angel, an original play about Thomas Wolfe. Now the sisters have collaborated to pen a Parkway Playhouse original production, Along About Sundown, about their great-uncle Bascom, known as the Minstrel of Appalachia. "I felt an obligation to make sure his story keeps getting told," says Lilly.
The play, which opens in August, is told as one eventful evening in Lunsford's life (he was also a lawyer and politician, among other callings), with music performed by another family member, Tomi Lynn Lunsford. "People would come to his house, roll up the carpet, and start playing," says Lilly.  "This is the authentic way to tell his story."
Coming on the heels of the festival, August 4-6 in Asheville, the timing couldn't be more appropriate and ensures the minstrel's legacy plays on.
Mountain Dance & Folk Festival
August 4-6; Diana Wortham Theatre, Asheville;
Thursday-Saturday, 7-10 p.m.; $20, $10 children 12 & younger;
$54 three nights, $24 for children;
(828) 257-4530; www.dwtheatre.com
Along About Sundown
August 26-September 3
Parkway Playhouse, Burnsville; Thursday, Friday &
Saturday, 7:30 p.m., Sunday, 5 p.m.; $12-$22;
(828) 682-4285; www.parkwayplayhouse.com
LOCAL ORIGINAL
Southern Appalachian Repertory Theatre in Mars Hill presents its 59th world premiere August 18-28. VANCE, Civil War Governor, an original play by David Hopes, tells the story of Weaverville-born Zebulon Vance, who served as a Confederate military officer, Governor of North Carolina, and U.S. Senator.
44 College St., Mars Hill, opening Thursday night, 7:30 p.m., Friday & Saturday, 7:30 p.m., Thursday, Saturday & Sunday 2:30 p.m.; $25; $22 seniors, $18 students; (828) 689-1239; www.sartplays.org