Savor the Flavors
Savor the Flavors:
A WNC festival celebrates all things garlic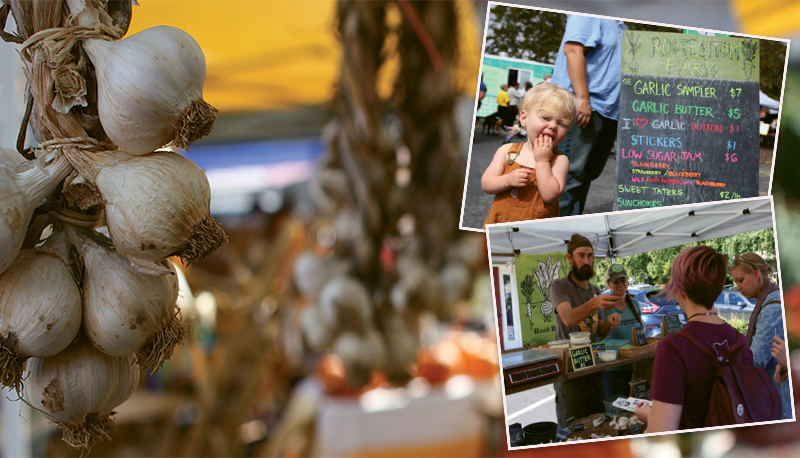 Asheville's local seedery, Sow True Seed, hosts small workshops to help turn thumbs green—but sometimes, they blossom in a big way. That's been the case with the WNC Garlic Fest.
"Five years ago, we decided to have a series of different garlic-growing workshops all on the same day, but as staff met to discuss the details, everyone got a little overexcited," explains Communications and Marketing Manager Chris Smith. "It kind of snowballed from there."
The piquant party stays true to its original educational intention with four workshops in 2018: two Growing Garlic 101s, a class on making garlic dips from cookbook author Cathy Cleary, and Fermenting with Garlic led by Fermenti owner Meg Chamberlain. Local farmers will be on hand to hock their unique garlic varieties, kids can enjoy the new family area, and weary gastronomes will find respite in the award-winning food trucks No Bun Intended and Gypsy Queen.
The core of the fest is the WNC Garlic Trail, wherein participating vendors share pungent offerings like garlic ice cream with new, eager palates. Using a postcard-size trail map, folks can then visit each one, making it "a find-the-business kind of treasure hunt" Smith says. Attendees who collect all the garlic experiences on the map are entered into the Garlic Guru Raffle for the chance to win garlic-themed prizes. With all the aromatic opportunities to taste and learn, a celebration of garlic has never smelled so sweet.
WNC Garlic Fest
October 6, noon–6 p.m.
243 Haywood St., Asheville
(828) 254-0708
wncgarlicfest.com
RESOURCES:
Photographs courtesy of Chris Smith