Savannah
Savannah:
Finding high design and old-fashioned charm in Savannah, our sister city to the south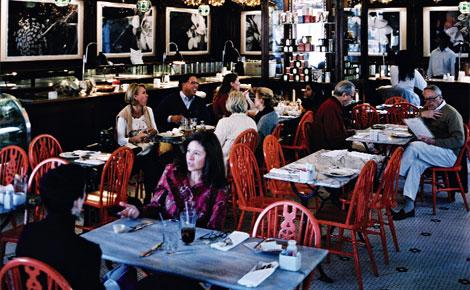 Seated for tea at the Gryphon Tea Room, two women spoke softly and sipped slowly, but they were immensely noticeable. Likely in her 70s, one of them was dressed head to foot in fire engine red—lipstick, sweater, pants, and shoes—and carried the bright color with elegant confidence. When she stood to go, her full-length fur coat nearly slipped from the back of her chair. One of the waitstaff—mostly students from Savannah College of Art & Design (SCAD)—swooped in to help. "Thank you," the elder woman said. "Would you believe I've had this mink for more than 35 years?" And her friend added, "We're both artists. We meet here and then go to the museums." With that, they pulled on their coats and made their way to the door.
I wish I could tell you who the two women were, but I can't. My own pot of tea had just been brought to the table and was ready to be poured. It just wasn't the time to break into their scene. But seeing the pair was a memorable part of that recent weekend trip. Here, in the 100-year-old apothecary, with its arching ceiling and stained glass inlays, there was food, drink, art, and a Southern lilt and grace—a Savannah composite, to be sure.
Every time I arrive in this city after the 100-mile-drive down U.S. 17 and I-95, it always feels like a sister to Charleston. There's the tall-bridge view of the port city on the approach, and once in the historic downtown, there are plenty of steeples, Spanish moss, and iron gates. But then the differences from Charleston begin, including the novelty of Savannah's basements (some with retail businesses or restaurants) and the garden-like squares—with statues, fountains, and corner cafés—all mixed into the residential blocks.
Everything is mixed here, with mansions next to cottages, businesses bordering neighbors' porches or on the first floors of townhouses. And perhaps I'm channeling a bit of John Berendt's Midnight in the Garden of Good and Evil with this, but I often get the feeling that Savannah isn't as scrubbed and renovated as our lovely city—that the patina of time has lingered longer in places, that life (and cocktail parties) continue on without as much fuss about fresh paint and remodeling.
During one night of our visit, we attended a batch of openings at the Savannah College of Art and Design's (SCAD) galleries. (The 30-plus years of SCAD—which owns buildings and businesses throughout the city—means there are students, teachers, and graduates painting, sculpting, designing, and photographing just about everywhere.) Called a "gallery hop," the event included free shuttle service between six galleries, but we decided to stick with two, the shopSCAD store on Bull Street (chock-full of paintings, handmade jewelry, ornaments, and other pieces made or designed by students, faculty, and alumni of SCAD) and the Working Class Studio on East Lathrop Avenue, where the interesting, hangar-shaped building is built into the underpass of a highway bridge.
There, a graduate student in graphic design, Matthew Cole, was working in an ink-splattered apron, hand-printing an aqua woodgrain design onto paper. (He explained that the paper would end up being the cover of a "very limited run, local art zine.") At the other end of a long line of worktables, students Lacey Campbell and Emily Perrone were putting their chicken, seahorse, and rabbit designs onto T-shirts, pushing rollers across the ink and onto the fabric. Besides the student demonstrations, guests mingled around the student-designed work for sale.
It was a good night for being out and about, and later we took the outside, near-hidden stairwell to the Planter's Tavern, below The Olde Pink House (built in 1771) on Reynolds Square. There you can order appetizers, a whole dinner (Southern recipes of seafood, pork, and steaks), or a few cocktails at the long bar. Low-ceilinged and cozy, the tavern was lively and full when we visited, with the fireplace going and the piano man playing. (Note: he's known to call out greetings to anyone passing near his upright, which is just next to the stairwell door.)
The next day we spent walking and exploring. (Savannah would be a perfect place for bicycle touring, too.) The 21 public squares are like Southern arboretums, filled with azaleas, oaks, myrtles, palmettos, camellias, and magnolias. Similar to our Upper King Street, there's a declared design district in Savannah—with interior design, home, and garden shops—centered on Whitaker Street, toward Forsyth Park. On West Broughton, there are blocks of dress shops and fashion boutiques. And there's a French influence to many retail stores in Savannah—chocolatiers, linen shops, and, of course, the chic Paris Market & Brocante (also on West Broughton), with its vintage and new jewelry, furniture, and housewares, including fleur-de-lis glassware in at least five colors.
One of my favorite wandering places in Savannah is Alex Raskin Antiques, located in a four-story mansion (built by Noble Hardee, circa 1860) on Monterey Square. On this trip, we walked all the way to the top floor, up staircases hung with chandeliers and through old ballrooms of peeling wallpaper and stacks of furniture. Known as the city's best examples of Italianate architecture, the rooms are full of antique bureaus and mirrors, lamps, and portrait paintings—all likely part of other homes and lives in the old port city, and now for sale.
In the morning, we drove the 20 or so blocks along Bull Street to Back in the Day Bakery, a food landmark with its taffy paint colors and mid-century furnishings and feel. I ordered a huge slab of the bourbon bread pudding with my coffee, and we easily spent an hour in the bright, warm bakery with cinnamon scents in the air.
Another great meal experience was a late dinner at the restaurant Local 11 Ten, on a quiet block on the south end of Forsyth Park. We'd arrived in the rain during a tornado warning, but in the restaurant's mix of organic and sleek décor—with lots of dark wood and cream-painted brick walls—I kept thinking we'd found exactly the right place to watch a storm. Raindrops streamed down the wall of Local's tall windows, and moss swayed with the wind in the tree branches outside. Meanwhile, there I was in a white leather banquette, with a glass of red wine and a plate of seared quail on spoonbread in front of me.
At that moment, all seemed comforting, delicious, and right with the world. And I talked a bit with the manager about the upcoming Savannah Music Festival (March 18 to April 5), when the city will be filled with music—dozens of performances by the likes of bluesman Corey Harris and Grammy-winning Bonnie Raitt, with rooftop parties and plenty of live soul and jazz. I think we're lucky to have this Southern sister so near.
Savannah, Georgia
Sleep:
•AVIA Savannah: new boutique hotel. 14 Barnard St. (912) 233-2116,
www.aviahotels.com
•Mansion on Forsyth Park: 700 Drayton St. (912) 238-5158, www.mansiononforsythpark.com
• Planters Inn on Reynolds Square: 29 Abercorn St. (912) 232-5678,
www.savannahplantersinn.com
•Thunderbird Inn: revamped 1960s motel. 611 West Oglethorpe Ave. (912) 232-2661, www.thethunderbirdinn.com
Eat:
• Back in the Day Bakery: cupcakes, bread puddings, and coffee.
2403 Bull St. (912) 495-9292,
www.backinthedaybakery.com
•Gryphon Tea Room: tea, soup, and sandwiches in a century-old apothecary.
337 Bull St. (912) 525-5880
•Local 11 Ten: gourmet seasonal menu in a modern revamp of a mid-20th-century bank building. 1110 Bull St. (912) 790-9000, www.local11ten.com
• Planters Tavern: cozy bar with live piano music in the basement of
The Olde Pink House. 23 Abercorn St. (912) 232-4286
• Zunzi's: international take-out menu (Swiss, Italian, South African, and Dutch) to picnic nearby. 108 E. York St. (912) 443-9555, www.zunzis.com
Shop:
•Alex Raskin Antiques: a rambling
antiques showroom in a mansion in the historic district. 441 Bull St. (912) 232-8205
•The Paris Market & Brocante:
antiques, new home furnishings, and found art. 36 W. Broughton St. (912) 232-1500, www.theparismarket.com
• shopSCAD (Savannah College of Art and Design): art, clothing, and home items created by students and faculty. 340 Bull St. (912) 525-5180, www.shopscadonline.com
• Working Class Studio: 22 E. Lathrop Ave. (912) 525-6997, www.workingclassstudio.com
Do:
• Visit during the annual Savannah Music Festival (March 18 to April 5), with nearly 100 live performances of jazz, classical, blues, bluegrass, gospel, and more in venues throughout the historic district. (912) 234-3378, www.savannahmusicfestival.org
• Walk or bike to explore the squares, parks, and Savannah River waterfront.
• Jepson Center for the Arts: exhibits of contemporary and classic art in the newest wing of the Telfair Museum. 207 West York St. (912) 790-8800