Root & Vine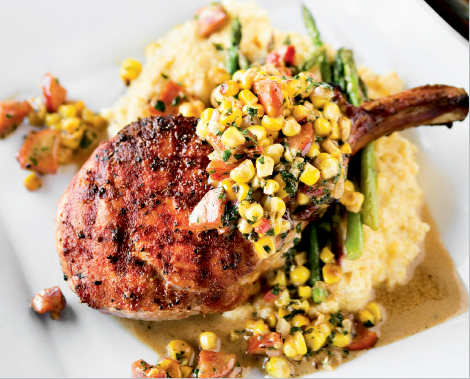 Ensconced in an historic 1901 building on a busy corner of West Union Street, Root & Vine brings a cosmopolitan flair to Morganton's manicured downtown. This culinary invention of first-time restaurateurs Brian Miller and Aimee Perez was launched with a goal to present locally sourced ingredients in creative ways.
Just a few years ago, Miller changed his life's course, leaving the fiber optics field to dive into Asheville-Buncombe Technical Community College's culinary program. Just shy of graduation, he began working in area restaurants, all the while planning to open his own eatery. He wanted a place where he could apply classical French cooking techniques to the Southern fare he knows so well. "I've based the menu on what I grew up with and what I enjoy," he says.
Root & Vine's menus are certainly a reflection of Miller's roots. He was born in Tennessee and raised in Hickory. "I'd never seen green beans cook in less than two hours," he says with a laugh, referring to his grandmother's old-time recipe. Learning to blanch haricot vert, "was one of those simple things that changed my way of looking at things."
Lunch features towering burgers for traditionalists and sandwiches such as the grilled Moroccan-spiced chicken with white-bean hummus, chili-garlic flank steak, and shaved mesquite turkey breast. A delicate salad, zesty pureed gazpacho, and a slice of key lime pie with a butter brickle-graham cracker crust made for a particularly fresh lunch during my visit.
For dinner, look to lightly seasoned and succulent grilled mahimahi, North Carolina mountain trout with basil and lemon butter, bone-in pork chop, and duck breast with soy-maple glaze and smashed sweet potatoes, all of which can be served with a choice of more than 100 wines and 40 beers.  
Beyond the mahimahi, I enjoyed the lovely Gem Lettuces salad, a panoply of yellow-green tender butter and red Bibb lettuces, studded with bright mandarin segments, pistachios, dried cranberries, and goat cheese, drizzled with citrus vinaigrette.
The chef relies on nearby Bluebird Muddy Creek, Hoffman Heritage, and Heirloom farms for inspiring ingredients. The pan-seared Tanglewood Farms chicken breast resting on a bed of sweet corn puree with fried leeks and sweet potatoes conjures memories of Sunday suppers of yore, but Miller's sophisticated presentation ups the ante.
The owners' homegrown efforts are paying off. The lunch hour attracts a crowd of locals to dine on the shaded outdoor patio. At dinnertime, folks are driving in from surrounding communities, happy to have Miller's talent close at hand, whether they're seeking a simple grilled steak or the more exotic Salvadoran-style, black bean pupusas and pork spring rolls.
As this young eatery continues to grow, it will be a pleasure to watch as it spreads its wings.