Rock Solid
Rock Solid:
Carl Peverall's stone sculptures evoke both permanence and reinvention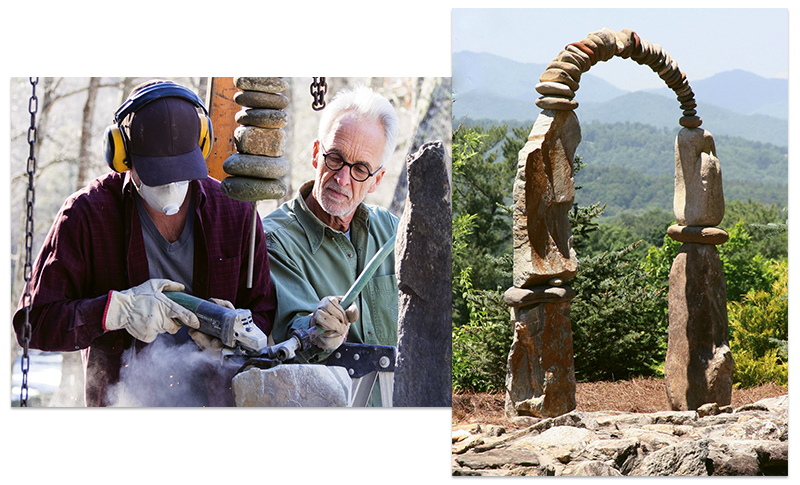 The artist now works with his son, Ethan, on major stoneworks. Peverall installed the above piece, Partnership, outside the Grove Park Inn in 2013, and it was later purchased for a homesite.
With a slender build, snowy white hair, and steadfast serenity, Carl Peverall is not necessarily the type of person you imagine arranging heavy stones. Yet, the Virginia native, who was raised in North Carolina, creates astonishingly large and stunning sculptures. Peverall's technique is simple: He finds stones that stabilize one another and, with a drill and steel, adjoins them. There's minimal alteration, and the anchoring is invisible. In both his archways and statues, the scale, complexity, and balance of the pieces astound.
"What I hope to do is connect the material with some sort of visual poetry," says Peverall, who's also a painter, potter, and instrument-maker. His works are indeed kinds of poetic narratives—odes to visions, emotions, and friends like Chris Booth, a New Zealand sculptor who originally inspired Peverall to work with stone.
In the early 1970s, Peverall was an earnest college art student with a penchant for Eastern mysticism. In time, though, he withdrew from the world around him and fell into deep depression. In the midst of one especially dark moment, he suddenly envisioned himself in the studio. "I had been unwilling to show up and live in the moment," Peverall recalls. "I knew I had to stay in the world. Making art was the most spiritual thing I could do."
Peverall returned to artwork and landed an internship with the National Park Service replicating indigenous pottery on Cape Hatteras National Seashore. Shortly thereafter, he secured a grant to be a working artist on a farm in Union County, NC. In the early '80s, he opened a studio in Charlotte before making his way to New York, where the Hudson River Valley inspired him to begin painting landscapes.
Then, with children in tow, Peverall felt called home to the South, so he relocated to a wooded property along the crystalline waters of the South Toe River in Celo.
These days, his yard serves a de facto studio, with chunks of stone strewn about. And Peverall has a trusty partner for his work: his 26-year-old son, Ethan, who's taken a shine to sculpting as well.
For both artists, stone is a profoundly alluring medium, and their search for the right rocks is tireless. "The Appalachians are the sixth oldest mountains in the world," says Ethan. "Something about the ancient presence of these particular stones is captivating."
Together, the duo has built sculptures that weigh over 6,000 pounds. Portable, tepee-shaped gantries help them move heavy boulders surprisingly easily, and meanwhile, the spiritual gravity of the rock keeps Peverall grounded. "For us human beings," he says, "there's nothing better than being in the moment." 
See for Yourself
Find an overview of Peverall's works, in stone and other media, online at www.carlpeverall.com.
RESOURCES:
Photograph (Carl & Ethan) by Andy Ormond; others courtesy of Carl Peverall