Rio Tapas Café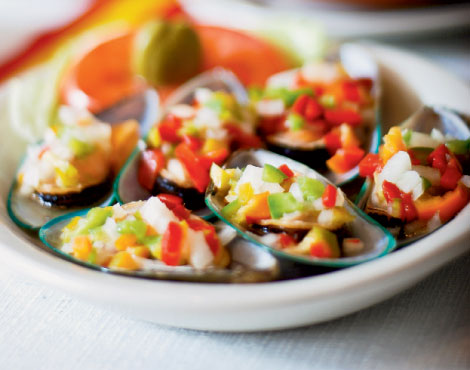 Octopus. Flan. Paella. They're not dishes you usually find on menus in Sparta, but this is Rio Tapas Café, a culinary oasis. Here, chef and restaurateur Santiago Lopez is introducing the small town to the distinct flavors of Spanish cuisine—saffron, ham, smoked meats, seafood, and generous amounts of garlic.
Rich with signature ingredients, a Galician stew with sausage, pork belly, garlic, and greens, pops with deep, earthy notes. The paella is studded with shrimp, chicken, octopus, and mussels, and blended with saffron-scented rice.
Sandwiches, like the Catalonian—Spanish ham, tomato, garlic, and olive oil on French bread—highlight the country's flavors, but entrées of lamb shank roasted in red wine and the chorizo platter with potatoes showcase the chef's varied repertoire.
Lopez left Spain at 17, working his way up in the restaurant business in Switzerland, where he received his training before coming to the States. He opened Rio Tapas Café a year and a half ago after moving from Miami, where he worked as a chef for 18 years. Here, he has recreated a cozy European taverna with exposed wooden beams, bright white walls, and small tables with checkered cloths.
And it wouldn't be a true taverna without tapas. Diners often share plates of Manchego cheese, garlic prawns, quiche-like Spanish omelets, or the marinated seafood salad. Spanish wines and beers, as well as sangria, complement the flavors of land and sea.
After dinner, a proper cortadito, a short black coffee with foamed milk, goes perfectly with the vanilla-laced tres leches torta, a heavy, moist sponge cake made with three types of milk—condensed, evaporated, and cream. When you depart and find you are indeed still in Sparta, you can rest assured this meal was no mirage.