Richmond's Time Has Come…Again
Richmond's Time Has Come…Again:
The reimagined and revitalized Southern metropolis of our northern neighbor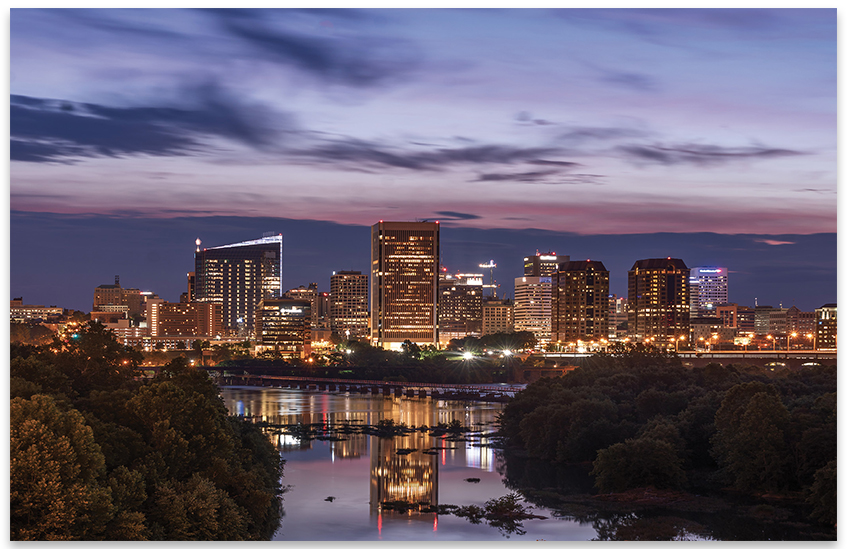 A dynamic metropolis is evolving in the former capital of the Confederacy. While there are many historic cities throughout the South, Richmond in particular seems far more interested in the progressive future it's rushing to embrace.
That was not the Richmond I knew as a high school and college student, stifling in the city's contentious racial climate and insufferable heat. I couldn't wait to leave.
But after decades cooling off on the north slope of Grandfather Mountain, return trips to see family yield a new view of Richmond. I've begun to enjoy my urban escapes here as much as trips to Charleston or Boston—with a distinctive best-kept secret cachet.
Derelict parts of downtown have morphed into vibrant neighborhoods with great shops, galleries, and breweries. Restaurants have cropped up everywhere, many featuring local farm fare, fresh oysters, and delectable Rockfish from nearby Chesapeake Bay estuaries. Richmond has risen from the confines of old-school regionalism to a diverse and dynamic present.
Like other historic travel hotspots, Richmond's culture is the main draw, with far less focus on the "Lost Cause" of the Confederacy. That starts on cobblestoned Monument Avenue, once so punctuated by "heroic" equestrian statues of slavery-supporting generals that in 1924 British historian John Buchanan called it, "the most impressive thing I saw on the American continent." Today those controversial gray ghosts are gone, swept away after the murder of George Floyd.
Nevertheless, in Richmond, you'd expect to discover that virtually all of Stephen Spielberg's 2012 biopic Lincoln was filmed there (it was), and that the lavish staircase dominating the lobby of the city's landmark Jefferson Hotel was the inspiration for the staircase on which Clark Gable carried Vivien Leigh in the movie "Gone With the Wind." Actually, it wasn't—but the story remains a staple of local lore.
Culture Connection
Last summer's grand reopening of the Virginia Museum of History and Culture (VMHC) is big news. The $30 million, two-year transformation reinvented what was once the Battle Abbey headquarters of the Virginia Historical Society. In its nearly 200 years, the country's oldest historical institution has evolved from a former Confederate soldiers home to one of the nation's best history museums.
New state-of-the-art exhibits showcase one of the nation's most historic states, eclipsing its former role as a monument to the "Lost Cause." You'll still see the century-old, recently restored memorial murals The Four Seasons of the Confederacy, but now they're insightfully interpreted.
Feet away, a massive mansion beside the VMHC serves as Richmond's newest city museum. And just beyond, the Virginia Museum of Fine Arts (VMFA) is one of the nation's largest comprehensive displays. It was the first state-owned art museum in the country when it debuted in 1936, the year Washington's National Gallery of Art opened. The VFMA's global art collection encompasses the largest public trove of Fabergé eggs and objects outside of Russia, the finest collection of Art Nouveau outside of Paris, and one of the strongest assemblies of American art in the nation. A four-acre Sculpture Garden lies just below the museum's dining and drink venue, Amuse.
Visitors may want to see this winter's exhibit, "Storied Strings: The Guitar in American Art," through March 19, 2023, curated by Dr. Leo Mazow.
Blocks away, Carytown is a district of shops, restaurants (including local favorite, Can Can Brasserie), and the Byrd Theater, a nearly century-old landmark for movies and concerts on a massive Wurlitzer organ.
Head Downtown
Named for the fan-shaped splay of its shady, townhouse-lined streets, the Fan District ushers Monument Avenue into downtown past two of the city's top lodging choices.
The 1895 Jefferson Hotel holds a towering lobby statue of Thomas Jefferson and those famous "Gone with the Wind" stairs. I can't believe I presented my first graduate school research at a symposium in the hotel just before it closed, many thought forever. Today's 5-star Historic Hotel of America defied the wrecking ball and is still home to LeMaire, a cherished local restaurant (named after Étienne Lemaire, Jefferson's chef and butler).
Just past nearby magnolia sheltered mansions, the Linden Row Inn is a block of imposing nineteenth century Greek Revival row houses built between 1847 and 1853. Rooms and period parlor suites flank courtyard accommodations. A raven logo adorns the Inn's cozy eatery Parterre, a nod at longtime Richmond habitué Edgar Allan Poe who lived nearby as a child and played among linden trees and roses in a garden on the property that, legend has it, he immortalized as "the enchanted garden" in his poem, "To Helen."
Just outside, one of RVA's many electric bike rental stations feed the city's bike lanes. If you pedal east, the street leads you just a few blocks to Virginia's State Capitol. Lincoln visited in April 1865 while the city still smoldered from Union attacks. Start your visit to Jefferson's imposing edifice, which doubled for the US Capitol in Spielberg's movie, in the underground visitor's center. Houdin's rotunda statue of Washington is the only one he posed for.
The once-lonely downtown strip of adjacent Broad Street no longer houses empty storefronts. Today this busy arts district is popular for its galleries, the hip Quirk Hotel, and streetside eateries such as Rappahannock. This gourmet regional oyster company has fresh seafood venues here, on the Chesapeake, in northern Virginia, Charleston, South Carolina, and Los Angeles, California.
Slip Sliding Away
Downtown dips to Richmond's oldest cobblestone quarters with the descent from Shockoe Slip to riverside Shockoe Bottom. For hundreds of years, Richmonders have stood on surrounding heights and watched floods repeatedly inundate the district. Today, the river is a giver, tamed by massive flood walls on both sides of the still wild, roller coaster of rapids formed by the fall line of the rock studded James.
Outfitters offer kayak and raft trips, but it's the locals and visitors that make this the heart of a city immersed in water sports. Miles of hiking and mountain biking trails flank or cross the rapids on pedestrian bridges, one even caps a flood wall, where Legend Brewing has literally surveyed the inspiring scene since launching Virginia's microbrew industry. Raise Legend's Raging James pilsner to salute the 2022 50th anniversary of the city's James River Park System and support one of the country's great urban recreation preserves.
The now-permanently dry dining and nightlife districts Shockoe Slip and Bottom are anchored by one of the country's oldest continuous farmers markets, and the city's gingerbread Main Street train station, with expanding service to Washington, D.C.
Two Historic Wars…Nevermore
Looking for a place to hike and bike? One parking area near Shockoe Bottom's warehouse loft residences, beside Bookbinder's Seafood and Steakhouse (one of RVA's top restaurants) is the trailhead for the Virginia Capital Greenway, a 50-mile jaunt to Colonial Williamsburg. On the way it passes historic riverside plantations, wineries, B&Bs, and the Boathouse at Rockett's Landing, a popular seafood restaurant with skyline river views on the very spot where Lincoln stepped ashore to tour the defeated city and visit Jefferson Davis's "White House of the Confederacy."
Davis's imposing mansion is a favorite historic stop. It's now allied with the nearby American Civil War Center at Historic Tredegar. Built in the heart of Richmond's River District, on the site of a major Confederate munitions factory, the Center is the nation's premier Civil War museum. Tredegar's exhibits fuse enslaved, Confederate, and Union perspectives. Also here, the National Park Service's main visitor center interprets the countless battlefields that ring Richmond. A pedestrian bridge leads to bike and hike trails on Belle Isle, site of a Union prison camp during the war.
Shockoe Bottom's wonderful Poe Museum anchors RVA's claim to being Edgar Allan Poe's hometown. Housed in the city's 1736 oldest structure, and a century old in 2022, the museum preserves the nation's biggest collection of Poe memorabilia and chronicles the writer's early life and fame—all experienced as a Richmonder. Though born in Boston in 1809, he was orphaned here in 1811, grew up, worked at the Southern Literary Messenger, married, and gained national renown in the city. Exhibits include an 1841 copy of "The Murders in the Rue Morgue," the first detective story, and the famous poem that begins "Once upon a midnight dreary."
Just above Shockoe Bottom, in the Church Hill neighborhood, Patrick Henry delivered his "liberty or death" speech at Saint John's Episcopal Church. Lincoln star Daniel Day-Lewis was fond of the informal Hill Cafe, and nearby Alewife is among RVA's best seafood spots. Richmond is a foodie's dream, and the local popularity of Happy Hour drink and dining specials can make even pricey restaurants affordable. The Poe Museum offers the discounts too, but there, of course, they're known as "Unhappy Hours."
I wasn't born in Richmond, but like Poe, the new RVA has become a kind of hometown for me. It's still hot in the summer, but I admit, I'm proud of how cool my "hometown" has become. Back on Monument Avenue, nothing has yet taken the places of the iconic horsemen who brought us "the late unpleasantness." After years of increasingly inclusive interpretation of Richmond's divisive past, and a skyline now free of the Confederate "heroes" I grew up with, my city has a new, fresh feel that I like. Richmond also has a once in a century opportunity to reimagine what once was, and will again surely be, the grandest boulevard in the South. I'm betting it will be great. 
RESOURCES:
Photographs (skyline, river) courtesy of Richmond Region Tourism; (hotel) courtesy of Jefferson Hotel; photographs (vmhc, gallery) courtesy of Virginia Museum of History & Culture; (mural) by Randy Johnson; (restaurant, egg) courtesy of Richmond Region Tourism; photographs courtesy of the Poe Museum; photographs courtesy of Richmond Region Tourism; photographs (capitol) by Sean Pavone; (park) courtesy of Richmond Region Tourism; (monument) by Noel v. Baebler; Photographs courtesy of Richmond Region Tourism