Reviving History
Reviving History:
New owners give Henry River Mill Village a fresh lease on life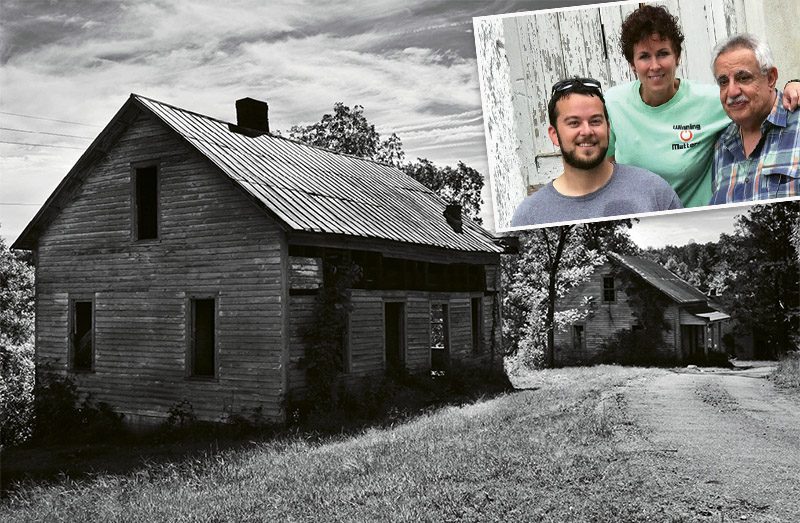 Calvin Reyes (left), with Elaine and Michael Namour are behind the revitalization of the 1905 mill town in Burke County.
Visiting Henry River Mill Village in Burke County is like entering a ghost town where paint peels off dilapidated houses and vines weave through old brick structures. But when it was built in 1905, the village bustled with factory workers who produced cotton yarn for the Henry River Manufacturing Company.
Now, a local family is working with former residents and their descendants to transform the village into a community and tourism hub. They aim to renovate the historic buildings into a restaurant, housing for overnight guests, an event space, and a walking museum.
The company town was comprised of a three-story brick mill surrounded by 35 worker homes, a boarding house, and a company store. The mill burned to the ground and closed for good in 1977, and after the last resident moved out in the late 1990s, the village has slowly decayed. In 2012, however, the neglected mill town got a taste of fame when scenes from the blockbuster The Hunger Games were filmed there.
Calvin Reyes and Elaine and Michael Namour purchased the property in 2017, when they were looking for a homestead for their family. "We went into the company store and just fell in love," Reyes remembers. They were determined to preserve the buildings and their history. Former residents are eager to help revive the village, whether they're clearing brush or sharing memories. "Their stories are endless, and it just moves you," says Reyes. "I realized that this place is bigger than all of us."
The public is invited to volunteer on Saturdays, by appointment, and tours are available on request. For more information and special event details, visit www.henryrivermillvillage.com.
RESOURCES:
Photographs courtesy of Henry River Preservation Fund