Recipe for Summer Success with Strawberry and Rhubarb
Recipe for Summer Success with Strawberry and Rhubarb:
Dig into Ruth & Ranshaw's seasonal pie that marries sweet and tart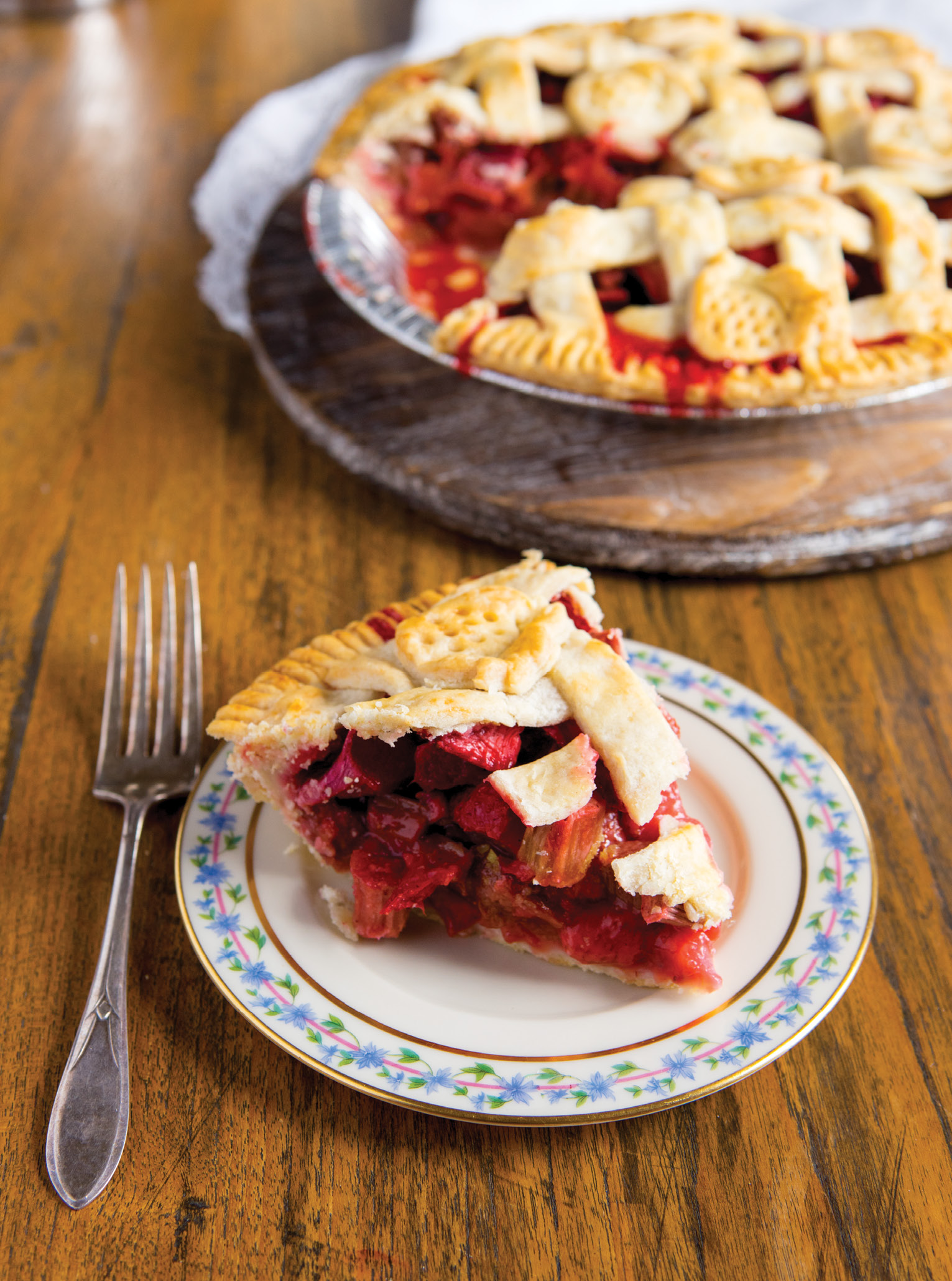 Strawberries and rhubarb are a classic combination that tickles the palate. "It's such a bright, happy flavor that makes me cherish warm days," says baker Becca Rankin of Ruth & Ranshaw in Fairview. The bakery, which specializes in wedding cakes and desserts, uses strawberries from Blue Meadow Farms in Hendersonville. Co-owner Clair Baxter seeks out these berries because they "just taste so much better when they're fresh and local." She suggests stopping by the farmers market before making this quintessential summer dessert.
Strawberry Rhubarb Pie (courtesy of Ruth & Ranshaw)
(yields one pie)
Pie Crust
24 oz. flour
1 tsp. salt
1 Tbsp. sugar
1 lb. butter, cubed & cold
5-6 oz. water
For crust: In a mixer fitted with a paddle attachment, mix flour, salt, and sugar on a low speed to combine. Toss in cold butter cubes and mix for one minute to break up the butter into pea-size bits. With the mixer on a low speed, gradually add water. The dough should just come together; don't overmix or you won't get flaky dough. Wrap in plastic wrap and refrigerate for one hour.
For filling and egg wash: Mix together berries and rhubarb in a large bowl. In a separate bowl, mix together sugars, tapioca starch, salt, and cinnamon. Add sugar mixture to berries and rhubarb. Toss to combine. Add lemon juice. Let sit for 15 to 30 minutes. Make the egg wash in a small bowl by mixing together egg and water.
To assemble: Flour work surface and roll out dough until about an eighth-inch thick. Place dough in nine-inch pie tin, letting some hang over. Using extra dough, roll out for double crust or lattice work, depending on preference. Using a slotted spoon, transfer filling to pie dough, leaving the juice behind. This helps prevent a soggy crust. Cover filling with top crust or lattice strips, making sure to seal well with bottom crust. Trim off overhang and pinch edges of dough or press edges with a fork. Brush with egg wash and bake at 400°F for 25 minutes and 350°F for another 30 minutes. Cover pie with foil if it gets too brown. Let cool for one hour before slicing.
Egg Wash
1 egg
1 Tbsp. water
Filling
2.5 cups strawberries, chopped
3 cups rhubarb, sliced in 1/2-inch pieces
1/3 cup light brown sugar
1/3 cup granulated sugar
1/4 cup tapioca starch
1/4 tsp. salt
1/8 tsp. cinnamon
1 Tbsp. lemon juice
---
Ruth & Ranshaw
1207 Charlotte Hwy.
Fairview
(828) 338-9854
www.ruthandranshaw.com