Recipe for Success
Recipe for Success:
Chef Bill Morris passes on his passion for cooking to students in the kitchen at the Broyhill Inn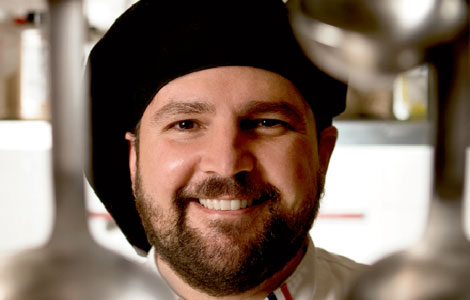 Do you know what the secret is to making a great omelet?" quizzes chef Bill Morris as he sprinkles diced tomatoes, ham, and green peppers into a pan, sautéing the ingredients before pouring in an egg mixture. "The secret is you have to love making the omelet."
It's clear he has a romance with cooking, whether he's creating his own dishes at home or mentoring the student employees and interns who work with him at The Broyhill Inn & Appalachian Conference Center in Boone. And it shows even when his culinary creativity is put to the test. When Morris applied for the position of executive chef at the inn almost three years ago, General Manager Doug Uzelac handed him a box of mystery ingredients and began a two-hour countdown. His task: use the contents of the box to create an impressive meal.
Inside, Morris found crabmeat, artichokes, whole chickens, pepper jack cheese, a cup of wild rice, a cup of white rice, cream, mixed greens, and tomatoes. While he shrugs off the quick-fire tryout as a norm in the industry, what he created was impressive enough to land him the job. The judges dined on crab-stuffed artichokes, Asian glazed chicken wings, followed by a salad with apple-cider vinaigrette, baked chicken breast stuffed with pepper jack cheese, wild rice, steamed artichoke leaves, and vanilla crème rice pudding for dessert.
Second Course
Watching Morris joyfully prepare orders during the Sunday brunch rush, diners would never guess that this is his second career. He says he always wanted to be in the kitchen, but shifted his intended major when high school guidance counselors convinced him there was no future in cooking. Resigned, he pursued a degree in special education and human behavior. He served as a case manager for people with disabilities before stepping into a position as the executive director of an independent living center in southeast Kansas. But he wasn't happy.
"It was quite unfulfilling. In fact, it stressed me out," Morris says, explaining why he left his first career to enter culinary school at Ozarks Technical College near Branson, Missouri.
During the transition, he had a role model in his family who inspired him. After retiring as a chemist for Goodyear, his grandfather went into culinary arts, apprenticing for an Italian chef aboard a cruise ship, and then working as a chef in Vero Beach, Florida. He retired for the second time four years ago at the age of 95.
Of course, Morris had to make sacrifices to go back to school. The first was leaving behind a professional environment to work as a dishwasher while undertaking his studies. Still, he considered it the first step on the path to his dream job. "You have to start at the beginning," he says. "You can't become a chef without being a dishwasher first."
At school, he discovered his love of food wasn't the only thing working in his favor. He is also a skilled carver, an art he picked up in an unlikely place: an amusement park. After watching a wood-working demonstration, Morris went home to try his hand with a knife. He says he didn't think he had any talent, but it came easily. In class, he changed his medium from wood to fruit and ice, creating gorgeous sculptures.
After graduating from culinary school, he spent eight years preparing food for a steady stream of entertainers staying at The Kimberling Inn Resort and Conference Center in Branson. Following stints in Alabama and Tennessee, he then had the chance to move his family to Western North Carolina when he accepted a job as the head chef and general manager for Pssghetti's in Blowing Rock.
Today, it's hard to imagine this man was ever stressed out. He personifies calm with his smooth, melodic voice and easy smile. His black chef's cap is flattened in the back, and he wears a white chef's jacket embroidered with the logos of some of his cooking affiliations, such as The World Association of Chef's Societies and the American Culinary Federation, which certified Morris as a Chef de Cuisine. "As a social worker, I was with people at the most difficult times of their lives," says Morris. "What I really like about cooking is being a part of the happiest times in people's lives."
Kitchen Classroom
Another facet of his culinary passion includes passing on the joy of cooking to students. Each semester, the center, owned by Appalachian State University, employs about 75 students in all aspects of operating the facility, from the front desk to the housekeeping. Since the university does not have a culinary program, students enrolled in the hotel management program within the School of Business gain experience as employees and interns at Broyhill. Culinary students at nearby Caldwell Community College, where Morris teaches a class in food purchasing, also use the inn as a training ground.
In class, Morris is always on the lookout for promising students he will invite to serve as interns or employees in Broyhill's kitchen. "Going to culinary school teaches a student how to cook, but I try to impart things you need to know to be a good chef. You need to develop management and financial skills on your own if you want to elevate your career," he explains. Morris also keeps up with emerging talent among local high school students while serving on the advisory committee for family and consumer science at Watauga High School, and the board of the High Country Chef's Association.
Kitchen work isn't easy though; it's a fast-paced environment, with à la carte meals served during the week, in addition to lunch buffets and the grand buffet on Sundays. The dining room is open to the public, and there is a steady stream of student diners as well.
The inn also hosts a large number of banquets and weddings—catering everything from rehearsal dinners to receptions, from sit-down meals to hors d'oeuvre affairs. The variety and scale of events creates a juggling act in the kitchen, but Uzelac says Morris keeps his cool.
"He has a very soft-spoken managerial style," says Uzelac. "He gets his point across in very diplomatic ways. I have complete faith in his approach and methodology with the students, and complete respect that he is always looking out for 100 percent quality."