Raising the Barr
Raising the Barr:
A hungry chef elevates energy treats beyond the sweet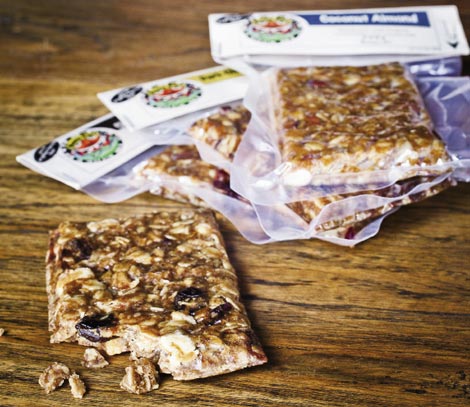 Take one Cordon Bleu-trained chef with a degree in sustainable development from Appalachian State University, add a love for the outdoors and a frenetic schedule that leads to missed meals, and voila, you have the Boone Barr. It's a recipe that led Jay Parr to create his natural energy bar company, Parr Foods, in Boone.
"I'd often forget to eat, but when I grabbed whatever was available I could feel myself crash and knew I needed something better," he remembers, "so I started making my own bars." Parr rejected the sweet and salty "feel-good versions of candy bars," he says, opting instead for slow-burning whole foods and natural sweeteners to make creations such as dark chocolate-banana. "I wanted a food that tasted like its ingredients."
Parr's bars went from personal snack to business venture after a 400-mile trek along the Appalachian Trail, where he shared them with others. With encouragement from hikers, friends, and family, he launched the company in 2008 and sold 12 bars the first week. Growing from a home kitchen into a production facility, Parr Foods now ships up to 1,800 each week to retailers across the Southeast. There are currently nine flavors of endurance treats, trail mixes, protein bars, as well as candied nuts.  
 
Parr Foods
(828) 963-4779
www.parrfoods.com