Raise a Stein
Raise a Stein:
Prost! Here's to local Oktoberfest celebrations and the German tradition from which they stem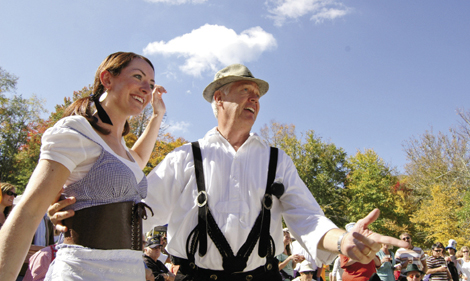 Each October, when towns in Western North Carolina and around the world celebrate that unabashed German tradition that involves oompah bands, brats, beer, lederhosen, and dirndls, a wedding celebration probably isn't what comes to mind.
Yet, it was the marriage of Prince Ludwig of Germany and Princess Therese of Saxony-Hildburghausen on October 12, 1810, that spurred the raucous tradition. The original wedding celebration, complete with a horse race, was so popular it became a yearly event, eventually earning the name Oktoberfest.
Two centuries later, carnival rides and live music have replaced the horse race as entertainment, and beer tents have given way to massive beer halls. In Munich, all beer sold at the festival (an estimated six million liters each year) must be brewed within city limits, and only six breweries are allowed to supply libations.
On the local front, October brings plenty of opportunities to celebrate this custom, with each event presenting a different take on tradition.                        
                                          
Oktoberfest | Old Fort
September 30-October 2
Although it may seem unusual to host an Oktoberfest with no alcohol, Old Fort pulls it off by focusing on food, crafts, and entertainment. This free street fair features craftspeople from across the South, plus children's activities, including the rubber duck race down Mill Creek on Sunday. www.oldfortchamber.com/oktoberfest.htm
Oktoberfest | Highlands
October 6 & 7
Old Edwards Inn's Oktoberfest is an upscale affair. The Farm provides an elegant venue where German Chef Johannes Klapdohr will prepare a traditional feast paired with wines and beers from his homeland. The Gootman Sauerkraut Band will perform. www.oldedwardsinn.com
Oktoberfest | Hickory
October 7-9
"Oktoberfest wouldn't be without beer," says Tracy Nestor, event director for the region's oldest and largest Oktoberfest. Now in its 26th year, the festival features two beer gardens, one of which stays true to tradition with long tables for communal drinking, music by the Foothills Oompah Band, and German-inspired dress. The food, five stages of music, and kids area make this a family-friendly fête. www.hickoryoktoberfest.com
Oktoberfest | Asheville
October 8
Like Munich, Beer City USA doesn't compromise on its suds. Six Buncombe County breweries will be filling glasses with spicy pumpkin ales and malty Märzens, among other flavors. Bavarian tunes, barrel rolling contests, and German dress lend authenticity.
www.ashevilledowntown.org     
Oktoberfest | Banner Elk
October 8 & 9
Bavarian cuisine, music, and Spaten beer add the German tie to this festival, while square dancing and clogging bring an
Appalachian influence. Craft vendors, a kids area, and the chance to ride the ski lifts at Sugar Mountain Resort for breathtaking vistas make this a high-altitude party.
www.skisugar.com/oktoberfest   
NOCtoberfest | Bryson City
October 28-30
This version of Oktoberfest blends German tradition, including beer and brats, with outdoor activities. Paddlers can compete in The Great Pumpkin Pursuit to amass as many pumpkins as possible while riding the Nanthahala River. Live music, local brews from Nantahala Brewing Company and others, and gear sales are also in store. www.noc.com