Radiant Nights
Radiant Nights:
Light shows, each with their own particular glow, illuminate the holidays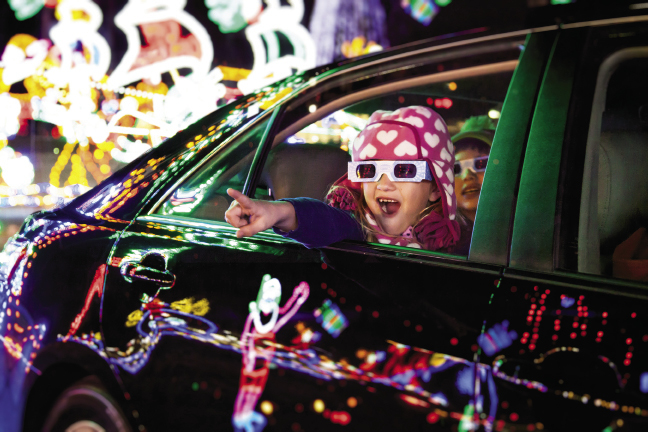 Waldensian Trail of Lights
November 25-December 24 | Valdese
The 11-acre Waldensian Trail of Faith outdoor museum invites visitors to experience the trail at night with a light show. More than 100,000 bulbs display a variety of scenes, from the nativity to a light-animated bocce player. 401 Church St. NW; 6-9 p.m.; free; (828) 874-1893; www.waldensiantrailoffaith.org
Chetola Festival of Lights
November 27-January 31 | Blowing Rock
Giant illuminated toy soldiers welcome guests at the entrance to Chetola Resort, which offers a 10-minute loop drive to view a glowing train conducted by Santa, ice skaters, Rudolph fishing in the lake, and a family of snowmen. 185 Chetola Lake Dr.; dusk-11 p.m.; free; (828) 295-5500; www.chetola.com
Winter Lights at the North Carolina Arboretum
November 20-January 2 | Asheville
Produced in collaboration with former Walt Disney World decoration designer Jerry Stripling, this annual light show draws in the crowds. Guests walk through three acres of installations lit by LED bulbs. Advance ticket purchase is required, as are reservations for Savory Thyme Café's Southern comfort food buffet. 100 Frederick Law Olmsted Way; 6-10 p.m.; $18, $16 ages five-11, free under four, $17 buffet; (800) 514-3849; www.ncwinterlights.com
Shadrack's Christmas Wonderland
November 25-December 30 | Fletcher
Rock out to Christmas tunes while driving through one of the largest music-synchronized dancing LED shows. Music is streamed via car radios during a 30-minute drive through a maze of holiday lights at the WNC Ag Center.  1301 Fanning Bridge Rd.; 6-10 p.m.; $20 car; $40 activity van/mini bus, $80 bus; (888) 321-7547; www.shadrackchristmas.com
Lake Julian Festival of Lights
December 3-23 | Arden
Lake Julian brightens December with a drivable light display encompassing the lakeside park. Opening-night festivities allow visitors to walk the route, partake in crafts, roast marshmallows, and visit Santa Claus. Lake Julian Park, 406 Overlook Extension; 6-9 p.m., December 3 walk through 6-8 p.m.; $5 car, $10 15-passenger van, $25 bus; (828) 250-4260; www.buncombecounty.org
 
Dillsboro Lights & Luminaries
December 4, 5, 11 & 12 | Dillsboro
Downtown Dillsboro lines its streets with 2,500 luminaries as shopkeepers offer extended hours, hot drinks, and baked goods. Horse and buggy rides, carolers, and visits from Mr. and Mrs. Claus are also on order.  Downtown; 5-9 p.m.; free;  (828) 586-2155; www.mountainloversnc.com                        ...