Punch It Up
Punch It Up:
Make the season jolly with a sinfully rich eggnog from Hendersonville's Shine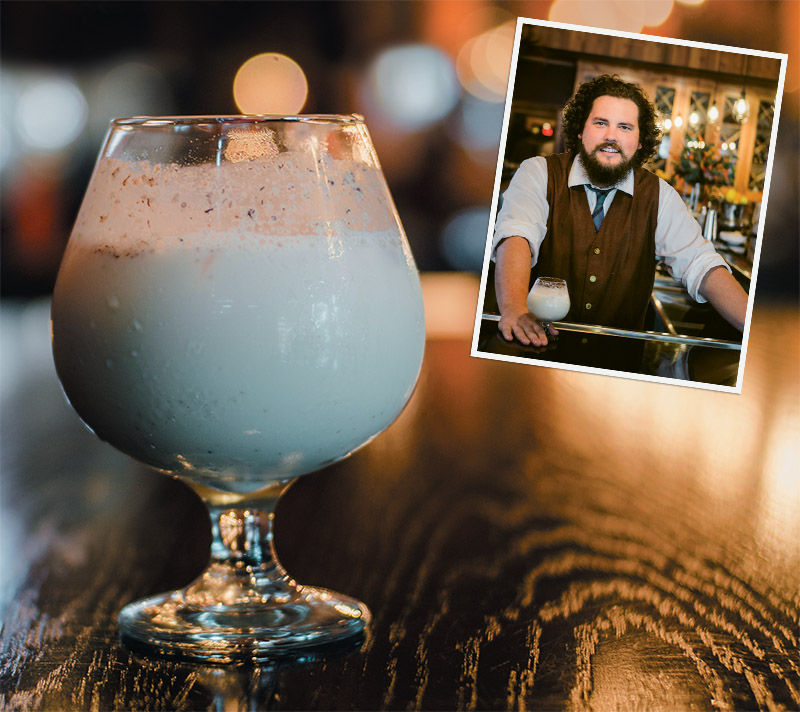 Bartender Sam Waller (pictured inset)
When Layla and Bobby Rogers opened Shine in their native Hendersonville in January, it came as a rather novel concept. Despite a plethora of breweries and cideries, she noticed a severe lack of craft cocktails in town.
"We wanted to reintroduce Hendersonville to the cocktail scene," Layla says. "Most people around here don't go out for cocktails."
To encourage her guests along, Layla started pulling out her old vintage punch bowls and filling them with seasonal concoctions. With the holidays come decadent, crowd-pleasing eggnog, which feels even cheerier when presented in a shiny, decorative vessel.
Traditionally, a basic eggnog recipe includes eggs, cream, milk, sugar, bourbon or rum, and nutmeg. Shine's version uses Crème de Cacao to give it a rich chocolaty feel and Kahlua to lend a coffee kick that is sure to get everyone talking. Revel in its timeless taste at Shine, or whip up a batch for your next seasonal soirée. 
Loaded Eggnog Punch
(Serves 24)
1 gallon eggnog (Shine's recipe follows)
42 oz. Mount Gay dark rum
11 oz. Kahlua
11 oz. Crème de Cacao
In a punch bowl, combine eggnog, rum, Kahlua, and Crème de Cacao and gently stir to mix. Serve on the rocks. Garnish with fresh grated nutmeg.
Shine
202 N. Main St.
Hendersonville
(828) 692-0018
shinehvl.com
---------
Shine Eggnog (Yields 1 Gallon)
Courtesy of Shine
20 egg yolks
3½ cups sugar
10 cups milk
3½ cups heavy cream
1 tsp. almond extract
1 tsp. fresh grated nutmeg
1/2 tsp. ground clove
Beat egg yolks and sugar together in a large bowl until smooth. In a large pot, combine milk and cream. Heat until just boiling. Slowly ladle the hot dairy mixture into the bowl with the egg yolks and sugar to temper the eggs. Once combined, return the mix to the pot and heat over low for three to five minutes, constantly stirring until it reaches 165ºF on a cooking thermometer. Strain mixture through a fine chinois or mesh strainer and set aside to cool. Homemade eggnog typically lasts two to three days and must be refrigerated.
RESOURCES:
Photograph by Andy Lukacs-Ormond