A Product That Sells Itself
A Product That Sells Itself:
How Western North Carolina's craft community became a $200 million force in our local economy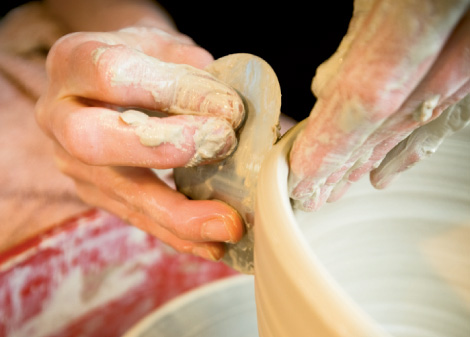 There's an old saying around here that if you shake a tree hard enough a potter will fall out and hit a fiber artist on the way down. The region is so endowed with craftspeople that at any given moment, day or night, someone in the North Carolina mountains is likely burnishing a piece of copper, heating up a kiln, or chiseling dovetails into a choice piece of native hardwood. Yet for all that, it's easy to live here, stroll past galleries every day, and still not be fully aware of the substantial role handmade items play in the region's economy.
"Craft has been described as an 'invisible industry,'" says Geraldine Plato, executive director of HandMade in America, an Asheville-based nonprofit that promotes the region's craft industry. "It's such a commonplace part of our existence, and so widespread in Western North Carolina, that it's often overlooked as an economic driver."
But that cloak of invisibility may be wearing thin. A new study taken during 2008 has brought the industry's annual fiscal impact into focus, and the figures are impressive. Led by the Hendersonville-based nonprofit Center for Craft, Creativity & Design and released in April, the report, titled "Economic Impact of the Professional Craft Industry in Western North Carolina" portrays an economic force with a $206.5 million contribution to the region's economy in 2007—more than double what it was 15 years ago.
By the Numbers
The study targeted roughly 2,200 people in the region who can be defined as professional craftspeople, meaning that the bulk of their income is derived from making handiworks. They're engaged in cabinetry, weaving, bookbindery, basket-making, ceramics, jewelry-making, carving, metalwork, blacksmithing, and scores of offshoots. If an item can be made by hand and serves a useful or decorative function, chances are good that someone is making it right here.
Some of the people who buy these crafts come from nearly 40 states, as well as Canada and Mexico, spending an average of $642 each time they visit the region, according to the study. Craft education and instruction accounts for nearly $12 million in annual commerce in Western North Carolina. Three internationally recognized craft schools operate in or near the area: John C. Campbell Folk School in Brasstown, Penland School of Crafts, and Arrowmont in Eastern Tennessee serve as incubators for future artisans. Craft programs are also in place at many of the region's colleges and universities.
Then there are the long-standing marketing groups like the Southern Highland Craft Guild, with its prestigious semiannual craft fair and numerous boutiques, including one at the Folk Art Center on the Blue Ridge Parkway. Even the publishing world is represented with Asheville-based Lark Books, which releases roughly 60 to 70 new craft-related titles each year.
"When you start thinking about all the strata—from education to enterprise to nonprofit organizations, studio craft artists to the retail enterprises to craft publishing—this really is a remarkable corner of the world," says Plato.
Gallery owner Susan Leveille has run The Oaks Gallery in downtown Dillsboro for the past 20 years. More than 125 craftspeople display and sell their wares at The Oaks, most of them living and working within 50 miles of the gallery.
For 15 years prior to opening The Oaks, Leveille worked as a professional hand-weaver. And while today she's engaged more in the selling of crafts than the making of them, Leveille could be described as a legacy craftsperson. She was born and raised in Jackson County and her father, Ralph Morgan, Jr., established Riverwood Pewter in Dillsboro in the late 1950s using skills he learned at Penland School of Crafts. In fact, it was Leveille's great aunt, Lucy Morgan, who founded the famous school.
"It's a wonderful heritage," Leveille says. "As a kid I thought, 'Well shoot, everyone knows how to do this stuff.' I honestly thought everyone knew how to make an iron poker or where cloth came from. Well, it turns out they don't."
Historic Tapestry
Part of crafts' place in the region's economic fabric, Leveille says, is owed to the persistence of hand skills in a place once isolated by its mountainous topography. The Cherokee had their own traditions of handiwork, and the European settlers who arrived later brought new crafts to the mountains. As late as the middle of the last century, creating handmade goods was an integral part of life for many of the region's rural inhabitants.
"When everyone else was shopping at big stores, people around here were still making the necessities of life," Leveille says. Even as the mountain folkways were fading, local craftspeople were trading on the area's old-time reputation. In 1929, for example, a mail-order catalog, designed for wide distribution from Asheville's Sunset Mountain Pottery, alerted readers that "Th' Three Mountaineers air a-comin' to the Shows" in northern metropolises such as Chicago, New York, and Philadelphia.
Separated by nearly a century from Sunset Pottery's Three Mountaineers, Asheville jewelers Elijah Wyman, and his wife, Rhonda, likewise look outside of the region for much of their sales. As owners of Figs & Ginger, a jewelry company dedicated to the use of environmentally friendly materials, the couple sells the bulk of their production at wholesale markets across the country, with wares represented at more than 100 boutiques both here and abroad.
They also employ forms of marketing that the Three Mountaineers could never have dreamed of: online sales through their virtual storefront and the popular handmade marketplace, etsy.com, as well as social-networking media such as Facebook and Twitter. The Wymans' global reach is in part a dictate of necessity; while allowing that Western North Carolina is very nurturing for craft-business owners like he and his wife, Elijah is also frank about the region's limitations.
"I wouldn't say that living in Asheville gives you any better chance of making a living than anywhere else," he says. "There are only so many people in a city of 70,000 that you can sell a necklace to." Yet, he's quick to add, there's also "no limit to the number of people you can draw inspiration from."
Given the region's apparently magnetic effect on craftspeople, it's tempting to wonder if the day will come when there are simply too many of them.
Short answer? "No," says Dian Magie, Executive Director of the Center for Craft, Creativity & Design. "There are still some woods left to live in around here," Magie says with a laugh. For example, she points to the newly opened Marshall High Studios, near downtown Marshall. Opened a little more than a year ago in a once-abandoned school building, the refurbished 28,000-square-foot space is already brimming with artists and craftspeople.
One benefit of competition is that it breeds excellence, and as long as the standards of quality and creativity continue to rise, the mountains seem likely to remain a top-tier destination for crafters and consumers alike.
"This place is a magnet for people seeking out the best work," says Magie. "The market is coming to the artists, rather than the other way around. That's a great advantage for us."
Raw Materials
The supply side of the craft world is currently a $15 million-a-year business in Western North Carolina. Well-represented here are shops selling Appalachian hardwoods, manufacturers of clay, and suppliers of paper goods and weaving supplies.
For a glimpse of this world, you could hardly do better than to pay a visit to Spruce Pine Batch Co., a glass-blowing supplies business in the Mitchell county town.
Since the mid-1980s, the company has been making and selling a proprietary blend of raw art glass—called batch—bagged and pelletized for the convenience of glassblowers across the country. The company was founded in the 1980s by Harvey Littleton, a Wisconsin teacher who sparked glassblowing's resurgence as a craft in this area. "Harvey was considered the god of glass," explains Brenda Wilson, who works there. "He's the one who pretty much started the small studio movement."
Today, Littleton's son, Tom, owns the company, which manufactures and ships an average of 250 tons of batch each month. "We ship all over the United States and to Brazil, Israel, and Canada," says Wilson. Spruce Pine Batch Co. has diversified its offerings over the years to include packing supplies, tools, and shipping services for glassblowers throughout out the area.
Craft in Crisis
Like other sectors of the economy, the craft industry has suffered considerably in recent months. In at least one important sense, it's more vulnerable than other trades since crafts are by and large considered luxury goods. And as discretionary spending goes, so goes the fortunes of the craft industry.
"When the economy is good, we're good," says Wilson. "Unfortunately, that's not exactly the case right now."
The current economic strain is also evident at the downtown Spruce Pine headquarters and storefront of the Home of the Perfect Christmas Tree, a craft collective that draws its name from a popular children's book by Gloria Houston. Founded in response to the abrupt job losses brought on by the overseas movement of furniture and textile manufacturing, the group sells and helps support the handiwork of more than 50 local craftspersons.
In 2006, ornaments from the Mitchell County group—including hand-blown glass bulbs—decorated trees at the White House. Of late, though, things have been a little rockier. "We're struggling like everyone else is with the economy being what it is," says Shirley Hise, head of the Mitchell County Chamber of Commerce. "But I'm happy to say that we have our head above water."
As manufacturing has suffered across the region, the emphasis has shifted to cottage industries. With its modest population of roughly 16,000, Mitchell County manages to have one of the nation's highest percentages of home-based businesses. "That's really been our savior," says Hise.
"If you look at the infrastructure of our area, we really can't compete with Morganton or Charlotte," she continues. "Would we love to have manufacturing plants that employ 500 people? Of course we would. But we're also realistic. What we do know is that we have to build an economy that cannot be outsourced. Because we've been down that road before."
Plato shares Hise's sentiments. "The thing that I love about craft is that it's an industry that developed right here," she says. "The inspiration for it and the skills came from right here. It can't be shipped overseas."
Still, the industry has its vulnerabilities, including the growing cost of living. "Historically at least, artists and craftspeople are lured into areas to help revitalize them," says Plato. "But when they eventually do, too often they get booted out because of higher rents." The trend is especially acute in places like Asheville, where upscale development and urban renewal is claiming the once-low-cost work and exhibit spaces craftspersons have relied on for years.
Even so, craft has deep roots in Western North Carolina, roots that even a lengthy recession or the challenge of rising rents seem unlikely to wither.
"Does the craft industry change? Sure it does," says Leveille. "The economy goes up and down. People move away. Craftspeople age. There is attrition." But, she adds, at least one fact remains constant in the world of craft, and it just might be the industry's greatest strength.
"You can give 50 potters eight ounces of clay, and every single one of them will make something different than all the others," Leveille says with a smile. "There's nothing else like it in the world."