Postero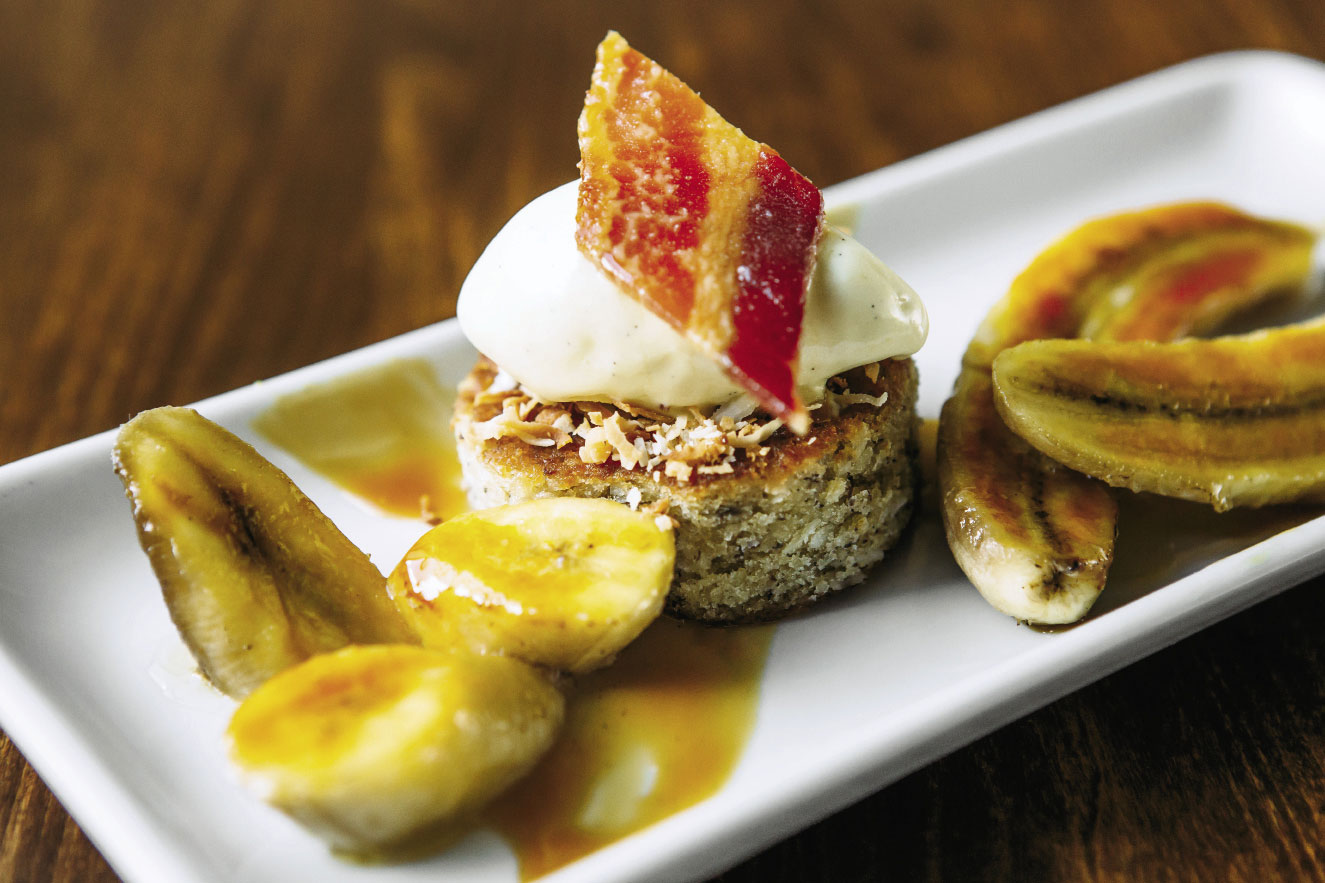 Banana and toasted coconut cake
Chef Jason Reasoner is about to hit his stride. The Henderson County native's restaurant Postero, which he co-owns with his wife Stephanie, has given Hendersonville's Main Street a hot spot for adventurous dining and elegant nights out.
The elegance appears on the plate and in the simple, clean lines of the interior of this former bank building. Feel free to come as you are, but be prepared to be wowed by the food and the presentation.
Postero is filled to capacity on a recent Thursday evening, with tables turning quickly throughout the dinner rush. The eatery doesn't miss a beat in producing beautiful plates dotted with jewel-toned salads and gracefully stacked entrées. That's not to say guests aren't lingering over their meals. The chance to relish a sensory-filled farm-to-table dinner without pretense was part of the impetus for opening Postero, says Reasoner.
"Every time we wanted to have a special meal, we felt like we had to leave Henderson County," he explains. "We wanted to provide that place for a memorable meal in a relaxed atmosphere. You can have fois gras and lobster, but you can have it in flip-flops."
 Reasoner, a Johnson & Whales-trained chef, eyes every plate leaving the kitchen. A crab hush puppy appetizer has a comforting crunch and steaming cornmeal interior, redolent of sweet crab meat but with a disarmingly zesty punch of heat from the kimchi rémoulade. A tiny garnish offers a perfect bite of pickled radish and root vegetable slivers over Napa cabbage.
My dining companion and I are introduced to more layers of spice with the lamb merguez meatballs, served with pliable lavash bread striped with grill marks and pillow-soft mounds of preserved lemon ricotta in a red wine-tomato sauce. Fire-roasted red peppers add a smoky sweetness to the dish. Reasoner sources his lamb from Border Springs Farm in Virginia, the tomatoes from Holly Springs Farm in Georgia, and for other produce often relies on nearby Oliver's Organics.
The trout and grits entrée surprises, with a North Georgia speckled grit cake beneath moist fish that's perfectly browned and crisped. Shiitake mushrooms and the last of summer's sugar snap peas are married with a riff on tasso gravy that acts more like a savory, smoky broth.
The hearty wood-grilled pork chop gets its flavor from ancho peppers in a bourbon demi-glace. A healthy serving of toothsome Anson Mills Carolina Gold and Sea Island Red Pea Hoppin' John complete this standout dish.
While Reasoner grew up in the South (with homage given via pimento cheese and fried chicken on the menu), he takes pleasure in "doing things people haven't seen," he says. With degrees in both culinary arts and food service management, he credits his mother's kitchen for his interest in a range of flavors that borrow from many cuisines.
"Mom was an Army brat, and on any given night she was making nori-toasted rice and rolling sushi, or cooking ramen," he says. By the age of 10, Reasoner was allowed to commandeer the family kitchen one night a week for his own experiments.
Working at Highland Lake Inn and later Kenmure Country Club, both in Flat Rock, gave Reasoner impetus to challenge himself. "If you have a captive audience, you are challenged to push and evolve," he notes. The unique and versatile berbere spices, a traditional Ethiopian mixture, that often find their way into his dishes came from those trial runs. More common but equally superb items, such as cheeseburgers and house-made ruffle-style potato chips, are also in constant supply.
While he'll soon hire a pastry chef, Reasoner and his team already create the perfect finish to a meal with small cuts of banana and toasted coconut cakes served with maple-bacon ice cream, for example.
Recalling his early years of studies in Providence, Rhode Island, and restaurant work there, he says he learned from his executive chef that "you are only as good as your last dinner that you sent out, and it's all about the plate you are working on now."
And for Postero, that is a beautiful, distinctive plate full of promise.  
The Draw: Beautifully presented New American, locally sourced cuisine, in a venue where you can dress to impress or come as you are
The Drawback: Some dishes are on the spicy side; ask your server first
Don't Miss: Experimenting with the great variety of small plates
 
POSTERO HENDERSONVILLE
401 N. Main St.; (828) 595-9676
www.postero-hvl.com
L (Wednesday-Saturday)
D (Tuesday-Saturday) $$-$$$