Pipe Dreams
Pipe Dreams:
Craig Tarler managed to stoke a faltering, century-old tobacco business with high-quality blends, an organic angle, and a sense of humor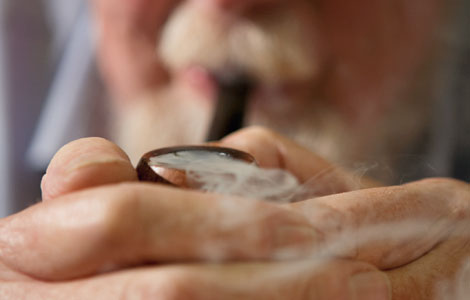 Smoke rolls into Craig Tarler's mouth like fog, curls around the tongue and cheeks, coats the taste buds with flavor—fruity, spicy, nutty, sweet—then billows out in a fragrant cloud. Tarler started smoking a pipe in college more than 50 years ago. His palm seems made to cup the pipe he carries around Cornell & Diehl, Inc., the pipe tobacco manufacturing business he and his wife, Patty, own. It's believed to be the only such operation in North Carolina and one of a few in the United States. The warehouse is suggestive of a kitchen, with shelves of bottles that hold coffee, rum, and brandy next to flavorings of apricot, ginger, and maple, as well as file boxes of worn recipe cards for the more than 200 blends the company produces.
"This is the key to the whole operation," Tarler says of the catalog of cards, with measurements for each ingredient of the hand-blended tobaccos, which include aromatics, or flavored varieties, plus English, burley, and Virginia tobaccos. Cornell & Diehl is known for its unusual blends, whimsical names, and playful tin labels. In many ways, the emphasis on small production, distinct flavor, and definitive styling is reminiscent of an independent winery. Tarler knows all about the craftsmanship, mystique, and taste pipe smokers crave, and he's not shy to deliver.
When he bought the company, it was going up in smoke. Now it's on fire. The number of stores that sell his tobacco has quadrupled to about 400, with thousands of customers around the world. Tarler says the business will make close to $1 million in gross sales in 2008, and he believes Cornell & Diehl became the nation's only certified organic pipe tobacco producer when he branched into that realm earlier this year.
"They're very highly regarded and very popular among pipe tobacco connoisseurs," says Sykes Wilford, who owns Smoking-pipes.com, a pipe and tobacco retailer in Little River, South Carolina. Cornell & Diehl is "kind of a niche within a niche. Pipe smoking in general is not a fat market these days. They target the upper end of that clientele."
Striking a Match
It was a long way up for Tarler when he bought the business in 1990. Then called Amar Blends and located on Long Island, the company started in the 1880s as The Atlas Blending Co. in New York City. When Tarler took over the outfit, of which he was a patron, it had about 175 individual customers and was sold in 100 stores. He fit Amar Blends' whole operation—some tobacco, scales, flavorings, and blend recipes—into his van and set up shop in the cellar of his Pennsylvania home. Tarler paid $17,500 for the lot of it, the same amount of his gross sales in the first year.
Tarler thought the endeavor would be an entertaining challenge in retirement. He had just left a career in public relations and marketing in New York, on a sabbatical to run what he says was an unsuccessful horse farm. Even he didn't foresee his success with Cornell & Diehl. "Now I've got this little tiger kitten. The more I feed it and the better I take care of it, the larger it gets and the more fun it is," he says. "That's what's kept me at it, and I still don't know how big this tiger is going to get."
All this even as the pipe tobacco market has shrunk. Sales have declined in the United States in the past 10 years, Tarler notes. Still, he decided to dive into the organic arena. "It's another marketing challenge for me," he says. "We're going to try it and see what happens."
That approach has served him well with Cornell & Diehl, a moniker derived from Tarler's middle name, Cornell, and his wife's maiden name, Diehl. The couple expanded the business in 1994, when they moved to Morganton to be near family. Then, the company was based in a garage-size space at the couple's home. After a promising reception at a pipe show in Chicago, they grew again in 2005 by increasing the staff to five and moving into a 5,000-square-foot building.
Blender's Art
The tobacco is mostly from North Carolina and Virginia with some imported from the Middle East. The pungent leaves arrive already threshed, or destemmed: 440-pound boxes of burley; 140-pound burlap bales of latakia, a Turkish variety; 500-pound barrels of perique, grown only in Louisiana. The tobacco is treated with a mold deterrent, moistened, cut into strips, and recut to granulate it. After the tobacco dries, it's bagged and shelved until it's time to blend.
A shiny, stainless steel blending table is the heart of the operation and where the tobacco's taste is refined. Master blender Ted Connelley pulls out the da Vinci recipe card and piles a mound of slightly moist latakia onto a scale. "Then the magic hands get at it," Tarler says. Connelley adds some rough-cut burley and bright Virginia flake and mixes the brown and black concoction by hand as if tossing a salad. For aromatic mixtures, the flavoring is sprinkled on and the tobacco is reblended. "It's very much like cooking. You know what the tobaccos taste like and what they'll taste like in combination," Tarler says. "It's the blender's art."
While a big producer might make 1,000 pounds of a blend, Cornell & Diehl's small batches of five to 100 pounds showcase quality. "It gives them a level of fine-grain control that a larger manufacturer doesn't have," says Wilford, whose store sells most of Cornell & Diehl's varieties.
Kenneth Dial of Franklin prefers the nonaromatics. He started with his father's brand, Sir Walter Raleigh. When Dial picked up his pipe recently after a 30-year hiatus, he packed it with Cornell & Diehl blends, and now that's all he smokes. "Compared to the stuff you buy in an ordinary tobacco shop, I consider it superior, not only because it's natural tobacco, but because of the skill of the blender," Dial says.
Funny Business
Tarler equates conceiving and naming new blends with inventing ice cream flavors. It's the fanciful aspect of the business. For inspiration for one of the funky labels, created by Morganton-area artist Robb Pritchard, Tarler looked to a neighbor's pasture, which is home to emus. Hence the blend Elegant Emu. This year, Cornell & Diehl introduced Exhausted Rooster. The label depicts a rooster with bloodshot eyes lying down and smoking a pipe with a bevy of hens nearby. There's also Bow-legged Bear, Junkyard Dawg, Cross-eyed Cricket, and Haunted Bookshop.
"Craig Tarler likes to have fun, and a lot of people in the hobby appreciate that. He doesn't take himself too seriously," says Chuck Stanion, editor of Pipes and tobaccos, a Raleigh-based magazine.
It's an effective marketing technique, says Jim Patton, manager of Pipes Limited in Asheville, which stocks about 100 of the company's blends. "He has some that are well-known that people certainly go for," Patton says. One is Mississippi Mud, a blend of perique, latakia, and black cavendish. "No one does anything really quite like it," he explains.
Tarler's tobaccos drew the cameras of The History Channel last year, which featured the company in its series Modern Marvels. Some might consider the Tarlers, in their late 70s, marvels, too. The two met at the University of Pennsylvania and married in 1951. Now, dealing with more than a small retirement business, the couple and the company help each other thrive. "At this age, you've got two choices: You can sit around and watch the rocks grow, or you can keep yourself busy and stay involved with an industry, the community, and customers," says Tarler. "It's really a shot in the arm every day."