Perfectly Clear
Perfectly Clear:
Penland-based Terrane Glass Designs artfully raises the bar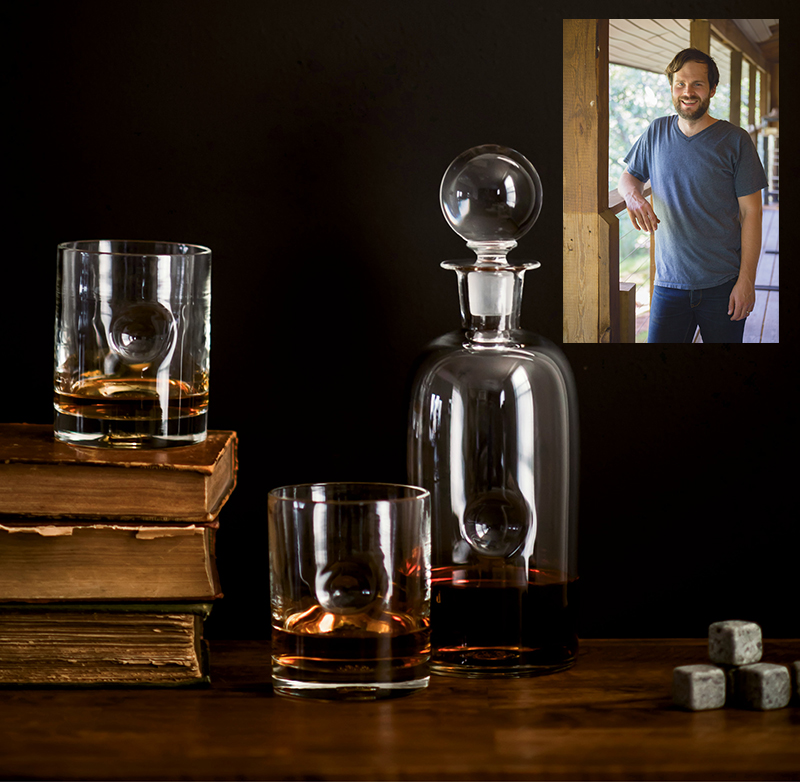 The Oklahoma Whiskey Set features indentions in the glass that serve both as a design element and functionally for grip. (Inset) Colin O'Reilly of Penland-based Terrane Glass Designs
A fine whiskey ranges in color from tawny to copper, gold to amber, always catching the light invitingly. For connoisseurs, to savor the stuff, glass in hand, is one of life's great pleasures, and to enjoy it in a vessel with heft and elegance borders on the sublime. "It makes it a little bit more precious—it adds to the experience, without overpowering it," says Colin O'Reilly of Penland-based Terrane Glass Designs. Terrane's exquisite whiskey glasses and decanters set a whiskey lover's heart aflutter, and this up-and-coming glass studio makes all its work—including vases, bowls, and snifters—with equal grace.
Terrane's Topo Vases, clear with white canes, are made using a 2,000-year-old technique and a special stiff glass.
With glassblowing, timing is everything, and O'Reilly and studio assistant Joe Nicholson work seamlessly, moving quickly together when seconds count, transforming molten glass into bubbles to be molded, blown, stretched, opened, and annealed. The process is an unforgiving one, in which a slight variation can render a piece unusable. On the other hand, leaving a visible sign of the maker is part of what makes Terrane Glass special, Nicholson says. "The tool marks, the deep indent that forms a handle, the texture where the foot meets the body—those are the kind of details that a lot of people overlook, but that make it more than just a clear cup."
Terrane's Aloft Bud Vase (left), with blown glass and a copper base, is an ode to WNC's moonshine roots.
O'Reilly is something of an accidental glass artist. After moving to Santa Fe, New Mexico, to pursue bronze sculpture, he instead ended up studying glass at a "hippy glassblowing studio," he says, later getting a degree in glass art in California and moving to Seattle to assist some of the country's leading studio glass artists. He and his family returned to Western North Carolina in 2015 to work with glass artist Kenny Pieper, and he now works out of the Penland studio of Pablo Soto, a former teacher for whom he apprenticed after studying at Penland School of Crafts.
Although he came up in the studio glass world, O'Reilly knew early on that it wasn't going to be his path. "I wanted to make something that would be used," he says. Function wasn't the only way in which he diverged from tradition—he also doesn't care to work with colored glass.
In early 2018, O'Reilly will launch a line of lighting and open a new studio in Spruce Pine.
Last year, Terrane was the overall winner in Garden & Gun magazine's coveted Made in the South awards and also placed first in the Home category. "That put us on the map more than anything we could have hoped for," O'Reilly says. "We weren't on anyone's radar before that." In addition to the orders that poured in from readers, Terrane produced an exclusive line for the magazine. The tremendous boost in demand put the small studio behind in production for six months (a good problem to have, O'Reilly notes), but now that they're caught up, they're thinking about the future. Expect to see a line of lighting coming from the studio in early 2018.
Also early next year, Terrane will open a studio in downtown Spruce Pine. "This community has some of the best glass artists in the world," O'Reilly says, "but there's never been a studio downtown before." Another bonus to the town: It's in the heart of the mineral-rich geological region from which Terrane gets its name. 
Shop the Look: Terrane Glass designs can be seen at www.terraneglass.com.