Peak Expression
Peak Expression:
25 fall foliage adventures that are big on color and light on crowds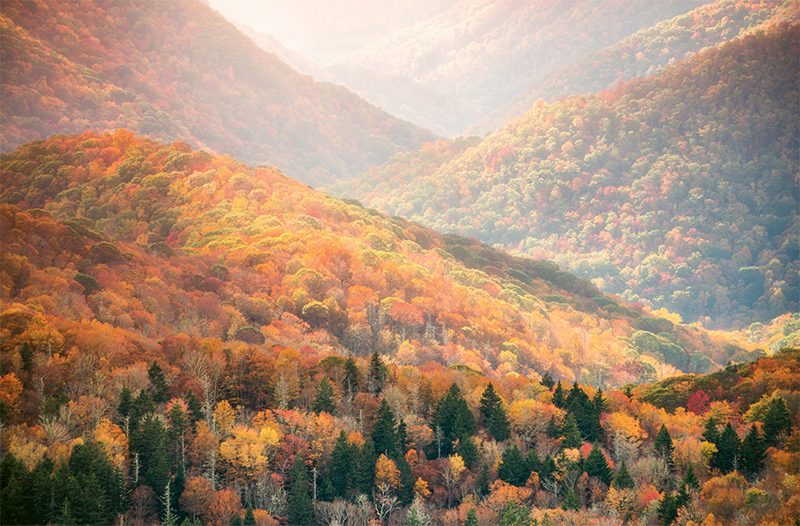 Every October, thousands of visitors descend upon the mountains to glimpse the spectacle of fall, when ideal weather conditions result in a kaleidoscope of crimson red, burgundy, blazing orange, and vibrant yellow against a crisp cerulean sky. Yes, autumn is all about peaks and colors—but let's ditch the "peak color" concept. That elusive single weekend when all the trees reach a perfect climax is a myth. Truth is, autumn isn't one well-timed glow; it's a spectrum of vibrant leaves that starts on the mountaintops and trickles down to the foothills and valleys as the season progresses.
Foliage expert Howard Neufeld, a biology professor and Appalachian State University's "Fall Color Guy," tracks the changing hues every year and knows the drill by heart. "Not only do the temperatures get cooler and the forests turn earlier the higher you go, but the species change too, and that's key to catching fall in the Southern Appalachians," he says. "Unlike New England, where a few abundant species turn bright yellow and red across entire mountainsides, we have many more species here, and the color is more spread out and individualized."
That's why Neufeld directs people to particular elevations at specific times, starting from the top. And if you can't make it at the recommended time, "just come later," he advises. "You can always look down from the heights, and the color will be great below you." From the highest peaks on the state line to the lowest parts in the western Piedmont, "you have a four- to six-week window to find great fall color in Western North Carolina," he says.
So this autumn, turn over a new leaf! To help, here are 25 great fall escapes targeted at three elevations—high, mid, and low—each with a handful of things to do, places to play, and scenic drives to put more "wow" in your wanderings. The approach here is guaranteed to thin the traffic—but try to go midweek anyway.
Foliage Trackers - Check these sources to stay abreast of the seasonal color change.
High Country - wataugaonline.com/fall-color-report
Asheville Area - exploreasheville.com
Neufeld posts weekly fall color reports at biology.appstate.edu/fall-colors, or you can follow him on Twitter at @fallcolorguy.
---------
What Makes Good Fall Color?
According to Neufeld, start paying attention to the leaf change on the mountaintops and weather conditions around the last week of September. The best weather to ensure a brilliant fall is a growing season with plenty of moisture followed by a dry fall with warm, sunny days and cool, but frostless, nights. Drought, unseasonably warm temperatures (like Western North Carolina saw last year), or heavy wind or rain lead to a lackluster leaf-peeping display.
----------
Peak Altitude
In late September and early October, hit the highest elevations for long-range views amid vivid color
Mountain Bike Beech
Grab an early taste of fall at 5,506 feet on Beech Mountain, Eastern America's highest town, whose namesake ski resort opens to mountain bikers in the off-season. Whether you bring your bike or rent one, you'll need safety gear. Beech Mountain Resort combines a top-notch, chairlift-accessible trail system with a slopeside municipal bike park, both with trails for all levels of riders (and lessons, too). Stunning scenery ranges from 50-mile vistas to emerald green grasses waving under a wind-gnarled canopy of the mountain's colorful beech trees. Add miles of gradual gravel resort roads, inexpensive accommodation packages at off-season ski lodges, and one of the country's few slopeside breweries, and Beech is a peak autumn experience. beechmountainresort.com
Roam the Roan Highlands
Roan Mountain's perch on the Tennessee line surveys an epic three-state landscape peppered with many of the East's highest peaks. This auto-accessible summit (a Pisgah National Forest recreation area with a $3 per car entry fee) has trails, picnic facilities, and viewpoints with jaw-dropping plummets of 4,000 feet to deep valleys below. Hike a section of the Appalachian Trail, Rhododendron Gardens National Recreation Trail, or Cloudland Trail. The oranges and yellows of mountain ash and birch pop against the dark, dense spruce and fir forest. Roan is easy to reach at just an hour and a half from Asheville, but take note: the gate to the summit snaps shut for the winter after the last weekend of September, so go early to catch autumn color at its peak.
Getting there: Find your way to Burnsville, and from there, take NC 197N to Red Hill, then turn left on NC 226N. Go three miles to Fork Mountain Road #1338; turn right and go until the road ends. Turn left and follow NC 261N to Carver's Gap.
Black Basalm Knob
Take the High Road
Color often comes early to the Blue Ridge Parkway, before the droves of leaf-peeping visitors arrive later in October. Set off mid week and take the Asheville to Great Smokies section (mileposts 390 to 469), which crosses the scenic byway's highest point at Richland Balsam (6,053 feet). Stops along the way include great overlooks of Looking Glass Rock and an easy mile round-trip hike to views near Shining Rock Wilderness from the balds of Black Balsam Knob. Do not pass Pisgah Inn, the Parkway's classic inn and eatery, without lunch or a prehike bag of ham biscuits. The food is tasty and the portions generous. The views are equally ample, with dizzying vistas off the Blue Ridge from an elevation of 5,000 feet.
Getting there: Just south of the inn, take Forest Service Road 816 at milepost 420.2 for awesome roadside views of Shining Rock Wilderness. Park at the first trailhead on the right for a short .4-mile out-and-back on the Art Loeb Trail to the waving grasses and open views of Black Balsam Knob (6,214 feet).
Near Cherokee, veer off at milepost 458.2 on the high-elevation Heintooga Spur Road (be sure to stop at Mile High Overlook). This road eventually becomes the one-way, gravel, Balsam Mountain Road to Cherokee (no trailers or RVs), a 28-mile drive through the Great Smokies backcountry known for early color (it closes in late October).
----------
Carver's Gap
Want to see Roan after September 29? Just park below the gate at Carver's Gap, walk up the summit road 300 feet and go right to reach the Appalachian Trail. The AT connects to the road to reach all the other trails mentioned. Or cross Carver's Gap and take the short eye-popping hike north on the AT up beautiful Round Bald for all encompassing vistas of fall color. fs.usda.gov/recarea/nfsnc/recarea/?recid=48626
----------
Pitch a Tent on the East's Highest Mountain
Tent campers on Mount Mitchell can savor the temperatures and colors of fall before the masses even imagine the game is afoot. The East's tallest peak is accessible by car, and it's a short, easy stroll to campsites, some with views of the summit tower. Don't expect showers or hot water in the restrooms though. If you wash your hair in the sink, hold on before your entire head goes numb. The campground (and the restaurant you'll flee to for breakfast indoors) closes October 31, or earlier if temps drop below freezing. ncparks.gov/mount-mitchell-state-park/camping
Top Out on Old Smoky
Max color on the crest of the Smokies happens early. Take Newfound Gap Road to Clingman's Dome Road to reach the park's highest peak in very early October and you might see great color without too big a crowd. Caveat: the Smokies is the country's most-visited national park, so be sure to go midweek and hit the summit early in the day. On the way out the Dome Road, take the Spruce Fir Nature Trail, or any of the a handful of Appalachian Trail access points, to wander above 6,000 feet, where evergreens alternate with flaming foliage. nps.gov/grsm/planyourvisit/clingmansdome.htm
Ride the Ranch
At a mile high on the edge of Great Smoky Mountains National Park above Maggie Valley, Cataloochee Ranch offers a classic early autumn equestrian experience. Foliage starts in late September, and horseback rides or hikes through airy high-elevation meadows showcase the nearby color on 6,000-foot-plus summits inside the national park. Rustic, atmospheric accommodations include lodge rooms and cabins. Activities are open to nonguests at times when the ranch is not fully booked, so call ahead to inquire. cataloocheeranch.com
Linn Cove Viaduct, milepost 304.4 on the Blue Ridge Parkway
Get Off the Beaten Path at Grandfather
Locals who live around the iconic craggy-faced Grandfather Mountain know that the time to catch the best fall color is normally late September, or the very first of October, on the eastern side of the mountain. The highly trafficked Mile High Swinging Bridge is quite the jaw-dropper, but for a less-beaten path where you can catch a mesmerizing chromatic display, try one of these trails:
Black Rock Trail: Inside the attraction, take the moderate 2-mile, out-and-back hike. It leaves the parking lot along the eastern flank of the mountain to reach the craggy, colorful outcrops above the Linn Cove Viaduct, with dramatic views of MacRae and Attic Window peaks and a great wide-angle perspective of the swinging bridge.
The Tanawha Trail: Paralleling the Blue Ridge Parkway for 13.5 miles along Grandfather Mountain's eastern side, two of this trail's sections to explore are the Linn Cove Viaduct and Rough Ridge. Park at the viaduct's visitor center on the Parkway and follow the trail under and along the viaduct to an unobstructed view of the skyway and east toward the Piedmont. (Return the way you came.) The Rough Ridge parking area, just north on the Parkway, offers a short hike to reach boardwalks and rocky peaks, where the low-growing, mountain heather ecosystem allows for expansive views of the Piedmont, as well as Grandfather, Hawksbill, and Tablerock mountains.
----------
Middle Ground
From about October 12 to 24, mid elevations are the place to be for maximum fall foliage
Paddle Price Lake
There's only one way to improve the iconic fall experience of watching the water sparkle on a dazzling golden pond—and that's enjoying the hissing leaves and invigorating breeze from out on the water itself. At Price Lake (Blue Ridge Parkway milepost 297.2) near Blowing Rock, you can rent canoes, kayaks, and, new this year, stand-up paddleboards. Factor in the scent of wood smoke wafting from the lakeshore campground and you're sure to want to linger longer, reveling in the sights, sounds, and smells of the season. Open daily through September 30, then weekends through October. pricelakeboatrentals.com
Ride the Rails
Mid-to late-October is the right time to ride the rails on Bryson City's Great Smoky Mountains Railroad. Colors are blazing, the roads are busy with leaf lookers, and you're taking in the scenery from a comfy railroad car swaying through autumn's spectacle. There are open and closed cars, various classes of service with boxed lunches or fancier meals, and a choice of modern diesel locomotive or a massive World War II-era steam engine. And if the water's right (and you sign on for the Raft N' Rail Wildwater package), you can ride the rails to the Nantahala Gorge and raft back to Bryson City. Families with small children would be advised to plan ahead and book a seat on the PEANUTS Great Pumpkin Patch Express, inspired by Charles M. Schulz's classic story It's the Great Pumpkin, Charlie Brown. gsmr.com
Max Patch
Picnic on Max Patch
Okay, so Max Patch is a popular hike, but go on a weekday to avoid the crowds. It's a 100-yard uphill hike to reach a panoramic picnic spot that offers 360-degree views from one of the Appalachian Trail's best meadow-covered mountaintops. Plan ahead and book a post-hike hot tub at nearby Hot Springs Resort and Spa. Request tub five, which sits at the confluence of Spring Creek and the French Broad River, with views of boaters and rafters heading downstream. nchotsprings.com
Take a Day Trip Through WNC's Northern Reaches
An amble through northern Ashe County along Big Horse Creek Scenic Byway [ncdot.gov], coupled with a short bike ride along the Virginia Creeper Trail just over the state line, is an opportunity to take in a picturesque rural landscape, small rustic towns, and fall color all around.
Start from the junction of NC 88 and 194 at Warrensville and wander through the neat little town of Lansing [lansingnc.us], where you can fuel up on hearty, locally sourced, down-home fare at Country House Restaurant and sip a fresh brew at Molley Chomper Cidery. There's also Pie on the Mountain for artisanal pizza. Work off the calories strolling a new two-third-mile paved greenway along Big Horse Creek, or ride the new 4-mile, ridgetop mountain bike trail with great views of Phoenix Mountain (4,710 feet).
Definitely bring your bike—so you can hop on the Virginia Creeper Trail, a 34-mile rails-to-trails biking path that runs from a high-elevation terminus through Damascus all the way to Abingdon [virginiacreepertrail.com]. Not even a mile after the scenic byway ends at the Virginia state line, the Creeper Trail's Whitetop Station is the route's loftiest access point and the perfect start of a slightly downhill ride. Turn around whenever you want, but the Creeper's Green Cove Station is a pleasant three-mile, 25-minute ride (six miles round-trip). Interpretive displays at both stations detail the history of this old logging railroad that's now a famous cycling hot spot.
Grayson Highlands State Park
Extend Your Stay If you've got two days, just minutes away from the Creeper Trail's Whitetop Station are two major mountains worth tagging before heading home. Mount Rogers, Virginia's highest peak at 5,729 feet, and neighboring Whitetop, the state's second highest, are very close. Nearby US 58 and VA 600 lead to the US Forest Service's Whitetop Road, a gravel climb to the big, bald summit of Whitetop. Mount Rogers is accessible via Grayson Highlands State Park. It's a short walk to reach balds along the Appalachian Trail where wild ponies roam.
---------
Blend Kid-friendly Fun with Fall Foliage
--------
Meander Through Forests and Falls
There's no more colorful a drive through North Carolina's southwestern mountains than along Waterfalls Scenic Byway, a 98-mile ramble on US 64 from Rosman to Murphy. While you could make the drive in three and a half hours, it's easy to spend a day (or more) on this winding byway, where waterfalls take top billing.
Take off from Brevard to Rosman. Ten miles before Cashiers, pull off near Lake Toxaway for the massive slabs of Toxaway Falls. Cross Lake Sequoyah, and about three miles past Highlands, stop at Bridal Veil Falls. The old highway that used to run behind the spritzing water is now a walkway that puts you at a unique vantage point behind the spray. Same for nearby Dry Falls, but don't expect a little trickle. This falls thunders, which is why it's the major sightseeing stop in spectacular Cullasaja Gorge. Take the half-mile trail to look down the river from behind the 80-foot curtain of water. Nine miles from Highlands, at roughly the halfway point of the drive, keep your eyes peeled for a view of Cullasaja Falls. The rest of the journey takes in Native American history (particularly in Franklin), scenic overlooks (along the 10-mile ridgeline of the Chunky Gal Mountains), and local crafts (at John C. Campbell Folk School in Brasstown). And along the entire route are quaint towns deserving of their own exploration.
Hit the Road Visit ncdot.gov for maps and info. Or download Asheville-based UGoTour's free mobile app covering North Carolina Byways and follow along. ugotour.com
Want to make it a loop?
From Murphy, take US 74 north past Sylva, then pop on the Blue Ridge Parkway for 20 miles to US 276, which leads to Brevard for a 150-mile, three-and-a-half-hour return leg. The US 276 segment is part of the Forest Heritage Scenic Byway, with yet another roadside cascade, Looking Glass Falls, and the Cradle of Forestry, a national forest historic site that traces the birth of forestry in America to Biltmore Estate
Lay Low
Come late autumn, follow the fall color into the valleys and lower elevations
Asheville Hot Air Baloons
Get High in the Sky
Take in sunrise views over golden treetops during an hour-long hot air balloon ride. For $300 per person, you can float over Buncombe County's rippling ridges with Asheville Hot Air Balloons.
ashevillehotairballoons.com
Forage and Feast
With bright color overhead and the smell of the earth below, late fall is a great time to head into the woods to hunt for and learn about wild edible plants and mushrooms during a three-hour foraging adventure with Asheville-based No Taste Like Home. Perhaps the best part: it includes the opportunity to have your bounty made into a free appetizer by a trained chef to accompany your lunch or dinner at select Asheville restaurants. notastelikehome.org
Boat Lake Fontana
Lake Fontana is a major body of water with spectacular views of the massive Great Smokies soaring multicolored into the blue autumn sky. Fontana Guides gets you out on the water via whatever method of floating appeals to you, from stand-up paddleboards to kayaks. The Guides' motorized tour boats make it easy for families and groups to travel a significant distance into the watery expanse and really appreciate the scale of the summits overhead. fontanaguides.com/tours.html
Bathe in the Surroundings
Take in Lake Fontana from a more elevated vantage point from your own private Treetop Soaking Cabana. Lakeview at Fontana inn and spa offers secluded, open-air bathing cabanas on a forested hillside overlooking the lake. The oversized tubs are large enough for two, and the aromatic salt soak that awaits is the perfect remedy after a day of hiking in the Smokies. lakeviewatfontana.com
Kistler Memorial Highway thorugh Linville Gorge
Take a Gorge-ous Dirt Road Drive
The mountaintops may be looking a bit leafless by late October, but the hour drive from Linville Falls down the winding road clinging to the edge of the Linville Gorge quickly dips into still-vibrant color. The historic Kistler Memorial Highway (NC 1238) is a dirt road that winds down to Lake James near Morganton. On the way, be sure to stop at stunning Wiseman's View. There may be no better glimpse of the gorge's most rugged scenery, all lit up by colorful trees at the base of the canyon.
Mountain Bike the South Mountains
This mountain range rises a surprising distance at the western edge of the Piedmont, and the state park is among the few in North Carolina to permit mountain biking. The park's rugged 17-mile loop will challenge even fit bikers as it climbs across 3,000-foot peaks via wide forest service roads built by the Civilian Conservation Corps. There are a handful of great views, but the vast low-elevation acreage also keeps autumn color cruisin' until late October and early November. ncparks.gov/south-mountains-state-park
Chimney Rock and Lake Lure
Climb the Chimney
Since its 2007 acquisition as a state park, the 1880s landmark outdoor attraction Chimney Rock Park has morphed into one of North Carolina's conservation achievements. That includes the preservation of extensive acreage in Hickory Nut Gorge and many trail improvements, including old boardwalks and steps that are now state-of-the-art walkways. Take a hike, or just ride an elevator to the top of Chimney Rock for awesome vistas. Go late, when the valleys will still be colorful while the leafless heights afford excellent views over Lake Lure and back toward the gorge. And before you leave the town of Chimney Rock, take a stroll on the riverwalk that runs along the Rocky Broad River, a nice natural walkway with a stone bridge and access to shopping (don't miss Bubba O'Leary's General Store & Outfitters). Between Chimney Rock and Lake Lure, stroll The Flowering Bridge, a classic old highway bridge now devoted to pedestrians and flower gardens galore. chimneyrockpark.com
Toast to Color in the Yadkin Valley
Late autumn is prime time to savor the rich russet hues of lower elevation foliage in the Yadkin Valley. No sweaty hike or crowded roads; just a super scenic setting of rolling foothills below the Blue Ridge and fall colors that last into November. Start in Elkin on North Carolina's 65-mile Yadkin Valley Scenic Byway and make a big loop that passes dozens of wineries that have made North Carolina's first American Viticultural Area a wine destination with a rising reputation. On or off the official state byway, or touring one the four "wine trails" (tailored day excursions that each hit four to six wineries), the back roads of Wilkes County's Brushy Mountains are a great place to just sit outside, clink a few glasses, and toast the end of autumn. yadkinvalleywinecountry.com
Try an Off-road Driving Experience
Tour George Vanderbilt's colorful vast parcel via the Land Rover Experience. This is a bonafide backwoods way to appreciate a place everyone else sees on paved roads or walking the Frederick Law Olmsted-designed formal gardens. The program comes in one- and two-hour drives, half- and full-day experiences, featuring modern or "heritage" Land Rovers, all with expert instruction and skills training (including sessions aimed at specialized techniques). It's a totally immersive autumn adventure—if you can take your eyes off the "road" to look at the leaves—with invaluable driving lessons and wish-I-owned-this auto envy thrown in. biltmore.com/visit/thing-to-do/outdoor-activities
---------
Celebrate the Season at Two Leaf-centric Festivals
The Fall Color Ramble - October 1-11 >> Linville
Explore the peak of color on Grandfather Mountain while learning about the many species of deciduous trees during a 20-minute guided hike with a park naturalist, offered daily at 1 p.m. After the event, you can still glimpse good color; just stop by the Nature Museum for a map and info on where to go. grandfather.com
Cashiers Valley Leaf Festival - October 11-13 >> Cashiers
This event brings hundreds of visitors and artisans to the charming town of Cashiers to celebrate the changing season. It's a chance to shop for handmade goods from more than 100 artisans, and take in food, drinks, and live music amid fall foliage. villagegreencashiersnc.com
----------
RESOURCES:
Photograph by Jason Penland; Photograph by Tommy White; map courtesy of Howard Neufeld and Michael Denslow; Photographs (roan mountain) by Mark VanDyke; (biking) courtesy of Beech Mountain Resort; (looking class rock) Shutterstock/Jill Lang; (black balsam) shutterstock/Anthony Heflin; (Deck) courtesy of Pisgah Inn; (biscuit) Shutterstock/ButtermilkgirlVirginia; Photographs courtesy of (Newfound gap road) Shutterstock/Larry Knupp; (mount mitchell) NC division of Parks and recreation; (Clingman's dome) Shutterstock/Jason Sponseller; (horses) Cataloochee ranch; Opposite page: (tanawha trail) shutterstock/Craig Zerbe; (grandfather mountain) shutterstock/Menn Ooyen; (viaduct) Shutterstock/Pierre Leclerc; Photographs by (Price Lake) shutterstock/TheBigMK; (railroad) courtesy of Great Smoky mMuntains ailroad; (hot springs) by Caitlin Ragan; (Max Patch) Tommy White; Photographs by (Molley Chomper Cidery) Revival Photography; (Virginia Creeper Trail) shutterstock/digidreamgrafix; (Grayson Highlands) shutterstock/Mary Terriberry;(sandburg home) National park service, Victoria Stauffenberg; (Owl) wnc nature center; (apple hill farm) Bryce Alberghini; (Family) Courtesy of the orchard at altapass; Photographs by (Dry Falls) Shutterstock/Dave Allen Photography; (Cullasaja Falls) Shutterstock/Jay L.; courtesy of John C. Campbell Folk School; Photographs (aerial view) by Jack Daulton; (falls) courtesy of Chimney Rock State Park; Photographs (Land rover) courtesy of the Biltmore Company; (Winery) by Ben Hermann