Pattern Recognition
Pattern Recognition:
From rugs to purses, Alexander Wyly Smith's textile designs reach retail markets worldwide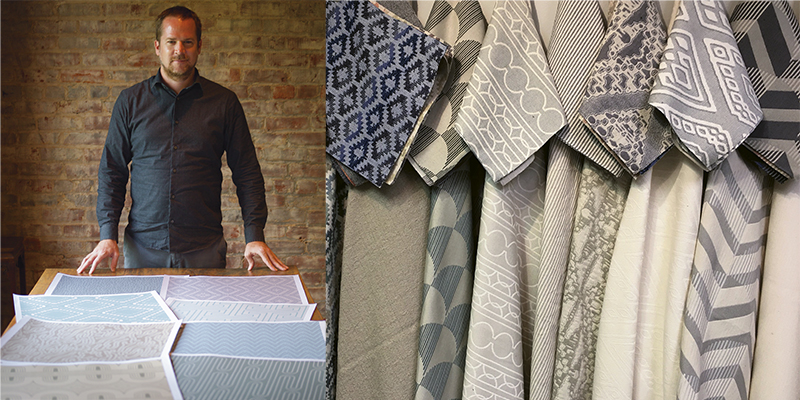 Stylish Samples: Smith shops his geometric, two-toned patterns to fabric companies all over the world.
Standing in his light-filled studio on Blannahassett Island in Marshall, Alexander Wyly Smith exudes both boyish charm and a keen curiosity. The Atlanta native has had these mountains in his sights for a long time. "I would come up here for summer camp in Brevard," says the designer and collagist, "and sleeping in nature had a big influence on me." He returned to the area five years ago. "Marshall is quiet; it's very small," he says. "I'm getting to know the seasons in a way I never have before."
Smith may be loving his local surroundings, where the sunlight sparkling on the French Broad makes the brightly painted walls of his studio pop, but his world extends far beyond the island. He's making a name for himself as a textile designer working with international companies, including Surya, an Indian manufacturer with a base in Georgia. Smith creates patterns digitally that are inspired by exotic cultural traditions, his own travels, and the graceful lines and arcs of the natural world. One pattern evokes an art deco village in New Zealand, another Peru's ancient Nazca lines. Others echo butterfly wings, flourishing vines, or the sheen of oil slicks on pavement. "I equate the process of pattern creation to music," says Smith. "These are riffs and motifs that I play around with. I gather inspiration and ideas everywhere I go."
World of Influence: Smith draws inspiration for objects like pillows from architecture and plant life.
Educated at Pittsburgh's Carnegie Mellon University and the Arts Institute of Chicago, Smith concentrated in painting and drawing but became acquainted early with the business side of art, particularly after he moved to Chicago. The Art Institute gave him experience in art handling and archiving. After school he returned to Pittsburgh, where he became a curator and event planner at the Center of the Arts and Three Rivers Arts Festival. He later moved to New York City to work with the Phillips auction house as an art specialist, collaborating with clients on what he calls "the commerce of art."
"By the end, I was a little burned out," Smith admits. His desire to be in nature and to live closer to family in Atlanta led him to take a position as an archivist and designer at Valdese Weavers in Hickory, developing patterns and storing the company's vast collection in a more sustainable way. After a year, he set off on his own, shopping his patterns to fabric companies and weavers around the world.
Smith primarily creates two-tone geometric patterns that companies can use on everything from rugs to purses. He recently released a line of purses through India Glazes. Moving into apparel design is just one of his goals. "I'd like to get into the fine art of pattern," he says. "When you get beyond what we think of as retail and into the speciality designer world, you start working with precious materials. Things can be much fancier, even luscious. The sky's the limit."
Shop online
Find more of Smith's work, and purchase his products, at www.alexanderwyly.com.
RESOURCES:
Photographs (fabric, pillows, and handbags) courtesy of the artist